NOONBARRA WORKING KELPIE STUD
WHAT OUR CUSTOMERS HAVE SAID ABOUT NOONBARRA STUD KELPIES
---
NOONBARRA BEN II
(Noonbarra Tim X Spinifex Starlight)
Noonbarra Ben was sold to Norm Murray from Sydney as a companion and working Kelpie in 1989. Norm moved to a property which he named after Ben 'Ben's run' and Ben lived on this vineyard until he passed away in 2004. As you will see below he stayed at the exclusive Akuna Boarding Kennels at one stage. (www.pets.net.au)
---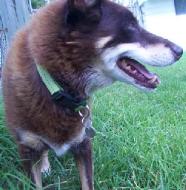 I bought a kelpie from you back in 1988. It's a long time ago and you have many customers; but Ben, as we named him was the one that moved between our farm at Geurie and house in Castlecrag. Time has gone by, and we now (the last five years) live on a vineyard in Broke, Hunter Valley - no more travelling for Ben other than a few days in the kennels from time to time.
Ben will be 14 later this year, and while he still looks very good and seems reasonably fit, he is getting a bit deaf and doesn't seem to see longer distance that well, and not unreasonably balks at walking round the vineyard with me, particularly in summer - the vet says I'll be the same at the equivalent age of 92!!
I am wondering about getting another pup while Ben is still with us. Do you have any thoughts on this? I love him like a baby, and would not like to upset him at this stage;
---
Our favourite Ben story?
Last Christmas, we received a lovely bottle of wine from Norm and Jenny, as a thank you for looking after Ben throughout the year. Upon opening it I glanced at the wine label and thought to myself I know that dogs silhouette, and then I saw the wines name – "Bens Run". Sure enough the photo was of Ben and the dedication on the back went as follows.

"Bens run is named for our kelpie dog for graciously allowing part of his retirement run to be converted into a showpiece Shiraz only vineyard."
The wine by the way was delicious.
---
What is your favourite Ben story?
I got Ben from Noonbarra stud near Manildra in 1988 as a pup. I specifically wanted a dog to work sheep, but who would also be at home in our house in Sydney - a rare combination of working dog and pet and farm dog and city dog!

As a working dog he ranged from brilliant to appalling depending on his mood I suppose; but it is a big ask to have a kelpie act as a paddock, yard and truck dog all in one day, then bundle him into a car bound for the city five hours away. He coped, and is as loved in his (very!) old age as he was as a pup.

When we sold the farm and house in Sydney and moved to Broke in 1996 we came across Akuna by accident, but from my point of view it was a very happy accident. From the start you have been gracious enough to give him the run of your big back yard and from time to time it has been mildly annoying when he pushes his way through the door to greet his mate Bill, and ignores me altogether.

Ben has had a lot of experience with kennels. Apart from Akuna, when we lived in Geurie he has been deposited in Wellington, Dubbo, Orange, Canberra and of course Sydney. I think he likes Akuna most of all.

When he was about four, I had a meeting in Canberra, and the logistics were such that the only logical place to leave him was at an upmarket kennels in Yass. It was mid winter and cold, and the following morning early, I had a cup of tea and a stale biscuit at the motel, then picked Ben up on the way home. The owner observed that because it had been so cold she had given all the dogs a plate of scrambled eggs for breakfast. Bearing in mind my own meagre breakfast, I then had to put up with a five-hour drive with Ben standing on the back seat breathing his egg breath all the way - he nearly ended up on the road!!

I can only hope that Ben has some time left - at fourteen and a half he is not as steady on his feet as before and sight and hearing could be better - but then I'm no spring chicken myself. My family beats me over the head when I say that when Ben goes, I go too; but as a dog lover yourself you'd know what I mean.
---
RETURN TO CUSTOMER REPORTS