NOONBARRA WORKING KELPIE STUD
NOONBARRA BINDI
(Noonbarra Dusty III X Noonbarra Valerie)
Born: 16th July 2000
---
Noonbarra Bindi is owned by Angela Kracht in the Blue Mountains of NSW. She is a companion dog and lives in a normal size house and yard. Angela has put a lot of work into Bindi and bought her originally to work her in TV commercials. She has since accomplished this and we recently saw her in a Toyota Car commercial. She was also featured in the movie 'Jessica'.
Angela has been training her in the dog sports of 'Flyball, Agility, Competitive Obedience, Sheep herding and trick training. She recently won a Sheepdog Yard Trial, which is an amazing feat for a person with no background in stock handling and no sheep! Angela lives in a normal suburban type home.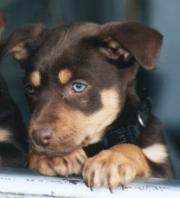 NEWS ... In April 2002 Bindi gained her CDX obedience title.
Bindi now has a CD and a CDX title in a very short period of time which is quite amazing.
---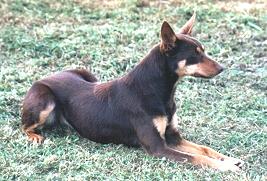 Noonbarra Bindi at 14 months of age. She is certainly an athletic looking Kelpie. She is very fast and agile and took to the sport of 'Agility' very easily without any problems.
"Bindi is doing well."
"She got her Agility Title and 1st place at Oberon Show in Yard Dog Enc. Trial. "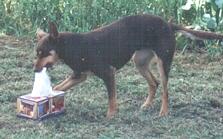 This is Bindi's new trick. She wasn't taught this but watched Angela's other dog Reba perform it and quickly taught herself. When Angela sneezes, Bindi goes over and gets her a tissue.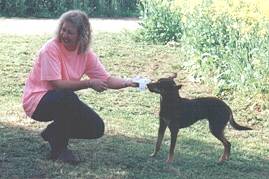 Noonbarra Bindi brings the tissue to Angela. This performance was done in the paddock here when Bindi recently came up for some sheep training. It was great to watch. She also did some 'Flyball' for us.
Bindi also brings in the mail at home and is learning new things every day.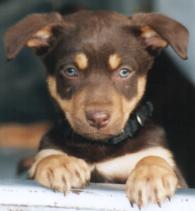 NOONBARRA BINDI AS A PUPPY
Bindi does Toyota T.V commercial for Monster end of year sale.
---
Noonbarra Bindi has done extremely well in Dog Obedience Competition and now has her CDX title as well as a hurdle jumping title (JD) for agility.
Bindi has now had a few sheep training sessions here at Noonbarra and has also been to another training area near Sydney. Bindi has been working extremely well, especially when you consider that she is not on a farm and has only very limited access to sheep. She has very good distance and plenty of confidence to take sheep off the fenceline. She shows a high degree of eye and style when working and is very keen. She never gives up until the job is done. We have worked her in stockyards too and she is doing very well. A very obedient Kelpie that is very special and a lot of that credit must go to her owner.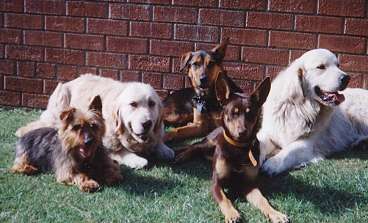 Noonbarra Bindi with doggy friends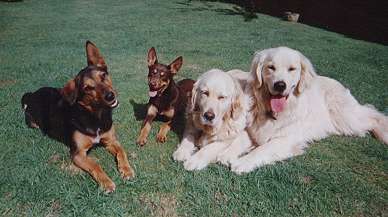 Noonbarra Bindi (centre)
Bindi has leading role in T.V. Mini-Series 'Jessica'.
She was so good and well liked by everyone on set that we had a number of enquiries and sold Noonbarra Ted to Peter Somerfield (actor) soon after.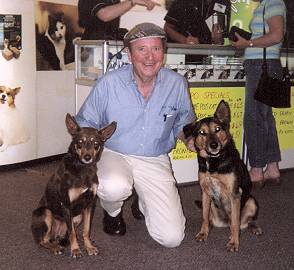 Noonbarra Bindi and Reba meet Dr. Harry at Pet Expo 2004
Bindi is doing well. She got her Agility Title and 1st place at Oberon Show in Yard Dog Enc. Trial. She also scored a 94 at Bathurst Yard Dog Trial...She's had a big year this year also doing a Mc Donald's and a Nutra-Grain Commercial and playing a part in 'All Saints'. She's a good little dog."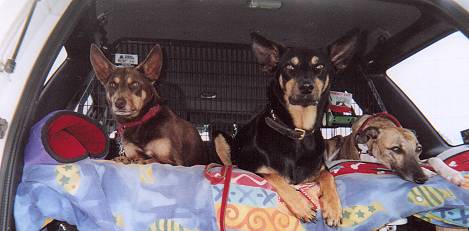 Noonbarra Bindi - Noonbarra Matilda - Charlotte the Whippet.
---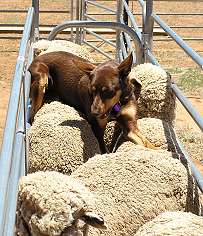 Noonbarra Bindi in the stockyards when she come for a visit to the Noonbarra Stud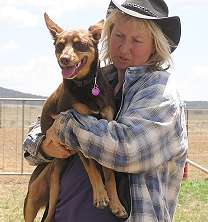 Angela and Bindi
This information appeared on the Blue Mountains Dog Obedience list
Noonbarra Bindi CDX.AD.JDX - Working Kelpie
owned by Angela Kracht
"Bindi" is competing in U.D. in obedience, open level agility and masters level jumping. As a true working dog, she also completes in yard dog trials, where she is required to move sheep around a set of yards and gates.
In her TV career, she plays "Red" the farm Kelpie in the movie Jessica and also appears in the series All Saints and numerous TV ads.
"Bindi" represents Blue Mountains Dog Training Club at demonstrations and Inter Club challenges. Being a very agile dog, she has learnt many tricks such as jumping up onto Angela's shoulder or weaving through her legs, she runs backwards, jumping through hoops, fetches and carries many articles to the delight of her audience. All this from basic obedience taught at B.M.D.T.C.
Bindi barking on command on the backs of the sheep in the race
---