NOONBARRA WORKING KELPIE STUD
WHAT OUR CUSTOMERS HAVE SAID ABOUT NOONBARRA STUD KELPIES
---
NOONBARRA BONNY
NOONBARRA MAX X NOONBARRA LIZZIE
" I forgot to tell you in my last email that Bonnie goes out to pick up the paper when it is delivered 3 times a week. Most of the time she will drop it for us but occasionally she tries to take off with it and play."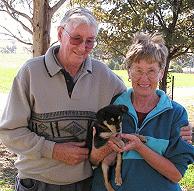 Letter from Noonbarra Bonnie...
Hello Mary & Stephen, I am sending you a couple of my photographs - do hope you like them. My Mum and Dad are so pleased with me. I have them wound around my little paws. They love me so much and think I am so pretty.
I have started swimming now and boy do I love it. I wake Mum up early each morning and we rush to the beach. (Dad stays in bed. He likes to sleep in a little later than 5:30 am.) Mum has to have her walk first (boring) and then if I am a good girl, I am allowed to have a swim. When we get to the beach I drop and wait at the top of the stairs until Mum gets to the bottom and then I go down them. After I have a swim we come home and I have a bath and my breakfast.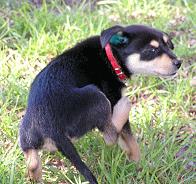 We all go out in the car quite often. I love to go but I have to have my harness and seat belt on. I am not so keen on this but I know if I don't get it on I am not allowed to go. I watch everything that is going on around me.
I love to watch the lizards and birds in the garden but I am not allowed to chase them. I sit, drop and wait until I am told to eat my dinner. I cannot fit through the cat flap in the back door now so I am learning to bang it if I want to go outside.
When we go to the beach in the morning I am so anxious to get there I pull on the lead. Mum keeps stopping until the lead goes slack and then we start walking again. But I keep forgetting and want to run to the beach. Also when we get to the Esplanade, I want to 'round up' the cars. I am getting better especially as Mum keeps reminding me they are not sheep and gives a very stern command of 'STAY'. I generally obey but sometimes I forget to listen - just as well Mum has my lead on. I don't worry about cars in any other place - I just watch them drive past. - Love from Bonnie x x x x
--------------------------------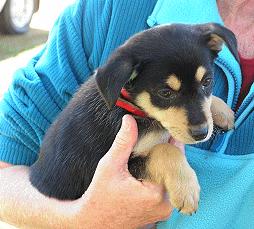 As told to Stephen, we had a good trip home and Bonnie has settled in so well. We spent the first night in the motel and then Wednesday to Friday in Toowoomba at my daughter's home. She lives on 5 acres and Bonnie had a wonderful time with her dog and the neighbour's dog. She was a little wary of the cat.
She has had a few walks down our street and met the neighbours and their dogs. Today she had her first walk to the beach and walked very well on the lead. She met so many people and some dogs. She is not sure about the water. She walked to the edge and she had a taste but did not venture in at all. We will let her take that step when she is comfortable with it. We already have her sitting on command. She has learnt to come in and out through the flap on the back door. Shed can come in and out to a fenced area. She has learnt what 'No!' means.
We are so delighted with her. We will keep you informed of her (and our) progress. Once again many thanks for our Bonnie and your hospitality. Kind regards, Shirley & Denzil
--------------------------------------------------
20th August 2003
Thought you may like to know how Bonnie is doing. She is growing so quickly and her personality is certainly starting to show. She now has one ear up and the other almost up. She had her first trip to our Vet today for vacs etc. He was very impressed with her.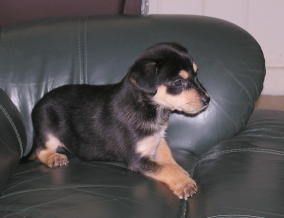 She loves to go for walks along the beach and she is very social towards other dogs that she meets. Sometimes other dogs try to show their dominance but she stands her ground. We take her out in the car as much as we can and she loves it. Today we took her to the Nursing Home where Denzil used to work. The residents and staff gave her lots of attention. We were very proud of her as she behaved A1.
She loves to play in water and therefore we have no trouble with baths - she loves them. We have not had one sleepless night with her apart from getting up to take her out to the toilet if she is a bit restless. She hops back into bed straight away and settles down very well.
We are progressing with her training. Sometimes we have a battle of ' who is the boss ' but on the whole we are very happy with her progress. We are taking her to Toowoomba for the weekend so she will get to play with Jane's (my daughter) dog once again.
---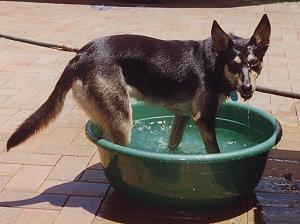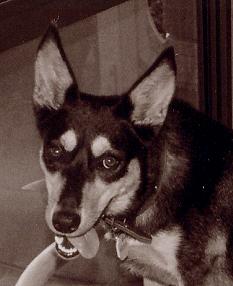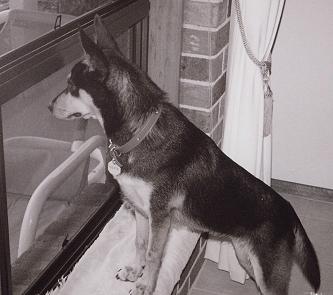 ---
RETURN TO CUSTOMER REPORTS