NOONBARRA BORIS II
(Capree Cobb X Noonbarra Libby II)
Owned by Mark and Nicole Akins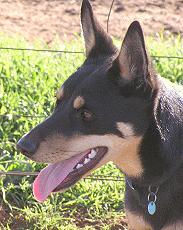 ---
Noonbarra Boris is a nice natured, friendly dog sold to Mark and Nicole as a companion dog. Mark often takes him onto building sites where he works so Boris gets to meet plenty of people. He has worked on sheep and shows some excellent ability and with a few weeks training would be a first class stock working Kelpie.
"Thank you so much for your hospitality on Saturday when we picked up Boris. We just wanted to let you know how he is going. He was pretty playful in the car on the way home, but after chewing on the schmacko he was tired and slept on my lap for the rest of the journey home, with a few toilet stops in between."

"That night we put him in the crate (brilliant invention) and he was so quiet after 5 minutes of whimpering that I had to check if he was still breathing!"
"He is a very loyal dog and very clever. He already knows not to go onto the carpet areas of the house and to stay out of the bathroom (he likes the clothes in the hamper). He loves to just play at my feet when I am cooking or washing up."

"At the moment he is sleeping in the kitchen area which is located at the back of our house. He also has the freedom to run around and play in this area."
"Also wanted to let you know that even in this short period of time he is very good on the lead for such a young pup, he does not mind having it on. He is also great around children. I took him for a visit to see my 15 month old nephew. I was frightened that he might nip at his toes but he almost sensed that there was a child and was so gentle and let my nephew pat him with no problem at all."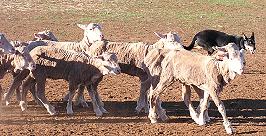 "He is a wonderful puppy and we thank you for choosing us such a great little dog, with a fantastic temperament."

Thank you so very much for the photos of Boris and his brother Jet, they are so cute!
Boris is doing great. He loves sleeping in the laundry in his crate and has made it his den and resting place. We found a great obedience school that runs in conjunction with our vet and Boris is doing really well. He is socialised with other dogs and has learnt to Come, Sit. Stay and drop.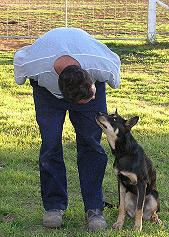 He is growing very quickly and loves the mixed diet that we give him. The puppy notes that you gave us have really come in handy. After he settled in he really did try to push the boundaries to see what he could get away with, but he now knows that the clothes on the line are to stay on and seems to know the difference between what he is aloud to do and what he is not.

I have followed your advice with the dominance behaviour. If I walk down the stairs and he goes before me I make him come back up and wait for me to pass, and he knows the rules.
He enjoys going to work with Mark, however if the building site is too dangerous he is happy to stay in the yard whilst we are at work. We have plenty of toys for him and have set up some tunnels and obstacles in the yard to keep his mind active. I take him for runs with me, but he gets very puffed out quickly.
He is a great little dog, when I take him for walks everyone comments on how cute he is and he loves to get a pat from anyone that is willing to give him one. He is improving in his behaviour everyday and he is a great companion. Once again thank you for the photos and the helpful advice.

Nicole & Mark Akins.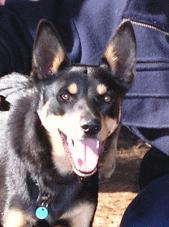 ---
The owners told us about an unbelievable thing that happened to Boris while he was hardly more than a puppy. He was put into a boarding kennel for a week. this was a well known facility whose owner appears regularly on TV so you would think the dog was safe. When they went to pick him up they said his mouth looked funny and were told it was nothing, probably just a knock.
They took him straight to a Vet and were told his whole jaw was smashed and he had been given no medical assistance for it and that it happened days ago and had began to reset. He went to a major specialist in Sydney and it all cost over $2000 but he made a full recovery.
Some time later, Boris was at work with Mark when he accidentally got the hair on his neck caught on a drill!!!
"Boris is doing fine after his brush with my ramset drill at work. I can not believe what has happened. He is still up at the vet, to reduce the infection to his wound; we walk him every night and then take him back to the vet. This will happen until they remove his stiches. You where right about how tough your kelpies are, he acts as if nothing has happened. My mother reckons that Docs for dogs will be after us soon the way Boris is going.
He has had quite a few stiches and they look to be coming out on this Friday 2nd of August. We still want to get another kelpie after Boris turns two, that is if you think we are still fit parents? We will keep you informed to how Boris is progressing.
---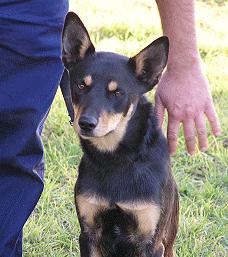 Mary and Stephen, A photo of our little mate. Every thing is fine and he is in good health. He goes to work with me (Mark).
On Sundays we take him to the dog park where he can run free and mix with other dogs in a fully fenced area of about 1000m2. Every body can not believe his great nature and how fit he looks. He is a credit to the purebred working Kelpie and all your good works. Itís true that good temperament comes first and working ability comes with out saying in your dogs. Well done!
All the best for Christmas and the New Year. Mark and Nicole Akins.
---
Boris has since had a trip back to Noonbarra and we had a fun day working him on sheep. He is a wonderful dog! He has such a lovely temperament and a very faithful dog. Mark and Nicole clearly love him a lot.