NOONBARRA CARLY
Noonbarra Dan X Capree Dyna
Owned by Tony Pattrick - Bourke
---
Black & tan female. Born: 27th January 2003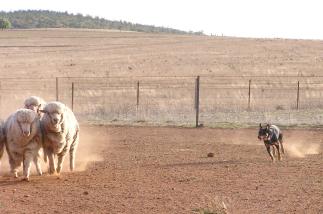 Noonbarra Carly was sold as an adult as a breeder and worker. Her new young owner has got himself a top Kelpie at a very good price and we hope he goes to breed her and start a great new line of Kelpies. He also runs a stock contracting service, so if you need some work done, give him a ring.
This young bitch was one that we intended to keep in the Stud and was going to be bred to Noonbarra Dusty III.
Carly is an outgoing friendly black & tan Kelpie. She is going great in the yards and backing well and is also doing well moving mobs of sheep. She has enormous potential as a great all-round worker. She has a nice point of balance, excellent distance and can force and steady sheep. She is quite easy to command and teach. She comes when called and is responsive to commands. She is very friendly and has a happy outgoing personality. Carly is probably a true all-round worker and can handle just about any situation. She is still very young when we sold her so she has plenty of potential in the future.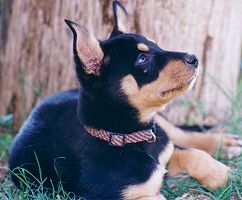 Noonbarra Carly as a puppy
Noonbarra Carly has very nice breeding. She was one of the last pups by Dan and out of Dyna's last litter with us. Dan produced a large number of exceptional workers for us. He in turn was by Bonorong Rex who went back to 3 generations of Noonbarra breeding himself. Rex has won Yard and Arena Trials and very recently put up two incredible scores of 99 and 99 in a trial. Carly's breeding goes back to the famous Noonbarra Butch who won the Australian National and the NSW State Championship as well as the Southern State Championship and Central Tablelands Championships among many others over a long trial career. Dyna was a top bitch we bought from the Capree Stud from the same dam (Poppy) as the famous Capree Boss II who won the NSW State Championship among other major titles.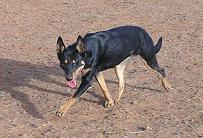 Carly is an outgoing, friendly happy sort of dog. She is faithful too and likes to be with people. She gets along well with other dogs. She is a medium sized Kelpie, not too big or too small. Slightly taller than Sophie and Kate.
Unfortunately, a little while back she had an accident and damaged her eye which later she had to have surgically removed. This has not bothered her one bit. It has now completely healed and because of her dark face colouring, you can't notice that she only has one eye unless you look very closely. This doesn't affect her work or her breeding.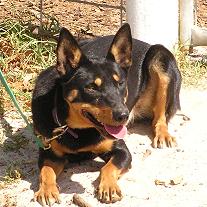 Carly taken just before she was sold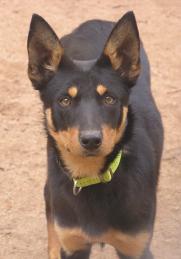 Noonbarra Carly just shortly before her accident
---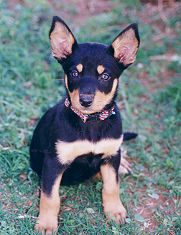 Noonbarra Carly as a puppy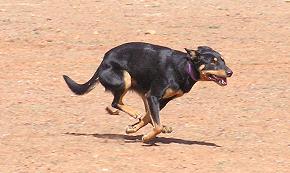 Carly can put on a good turn of speed if needed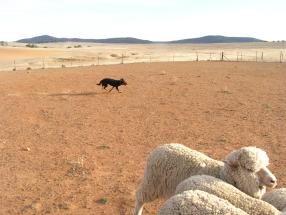 Carly has good distance on sheep but will come in close as well.
Dear Stephen and Mary, Hi there hope some of the recent rain has found you down there as it has us up here. I just thought that I would drop you a little update on Carly. Well all I can say is that everything that you said she could do, se does extremely well. Carly first came good in the yards and now is going from strength to strength, as far as backing and going up the front of the race and coming back through then she is excellent. Now she is really starting to get very good in the paddock as well, she had to learn to ride a motorbike, that may have been the most challenged exercise to date.
I thank you again for giving me the opportunity to purchase Carly and I would love to do business with you again in the future.


Thanking You

Tony Pattrick
Outback Mustering and Rural Contracting Services
"Wilganea" Bourke
NSW 2840
outbackmustering@bigpond.com
---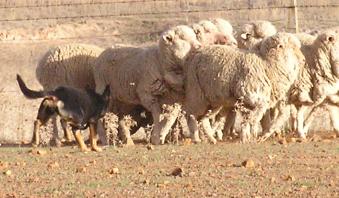 Carly is keen and shows good force on sheep
---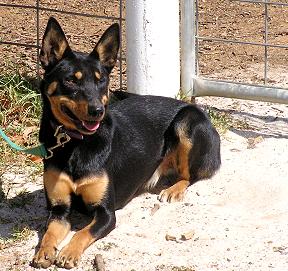 Carly photographed recently - April 2004
---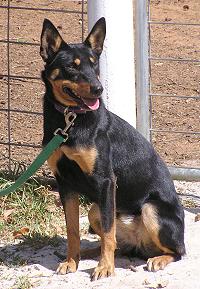 Noonbarra Carly - April 2004
---