NOONBARRA WORKING KELPIE STUD
WHAT OUR CUSTOMERS HAVE SAID ABOUT NOONBARRA STUD KELPIES
SOME EUROPEAN EXPORTS #11
Noonbarra Zvea (Sweden)
---
Owned by Anna Thelin Sweden.
Noonbarra Jackaroo X Barclays Queen
Born: Feb 2010 - Red & Tan Female.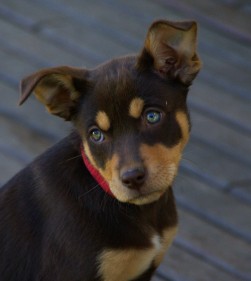 Hello, Everything is perfect with Zvea. She likes her new friends "The Rottweilers" and they like her too. She sleep very well in the crate, you have done a big job with that, I think she feel very safe in the crate. She have been travel in the car every day and that's going perfect also. She sleep in the kitchen next to the other dogs, and sleep all night long.
I never have her in a leash, she's free when we are home at the farm, she follow me everywhere.
We have been at my work in town then she most have leash when we going from the car, I have here with me every day, she have already been to an track competition at Saturday and meet other people and see new dog breeds. I send you photos later.
Thank you for selling her to me, doing all the extra job just for sending her to me, she is a wonderful little puppie.
----------------------------------------------------------------
Here is some photo of Zvea I took this weekend, now she have both of her ears standing up all time, she is so pretty.
Everyone I meet and at my job ask what kind of breed she is and also say something about her nice markings and the brown colour.
She like all people we meet, and as you say she is very fast and lithe.
A friend was her yesterday and she have purchase a puppie to, her puppie was in the same age. Zvea and the other puppie play and have a lot of fun. I was thinking to do a little test with her, When the play I just call her name, she immediate stop playing and come running to me. She's fantastic.
I have also do the "down-stay" and its work very well.
Thanks again for a terrific dog:) //Anna Thelin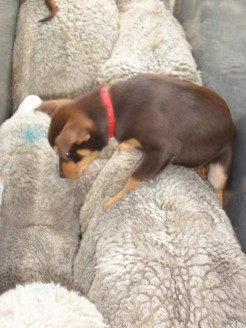 Little Noonbarra Zvea meets the sheep at the Noonbarra Stud in Australia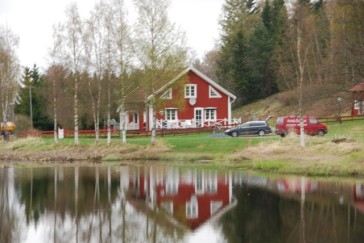 Zvea's new home in Switzerland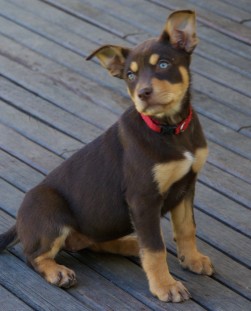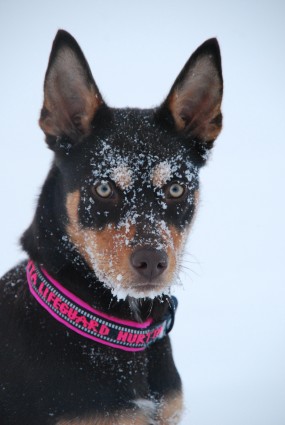 Noonbarra Zvea in snow Christmas 2010.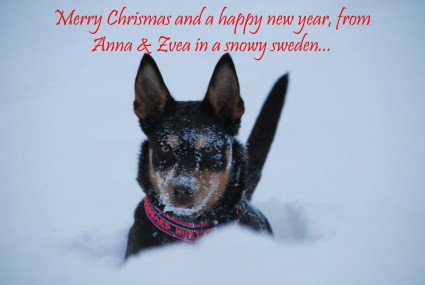 ---
---
RETURN TO CUSTOMER REPORTS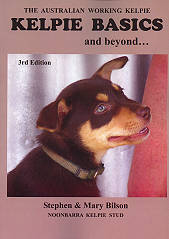 Latest edition of this very popular manual designed for all Kelpie owners of every level from raw beginners through to experienced trainers. This practical manual deals with everything involved in owning and training a Kelpie to ensure he grows up to be a well mannered, obedient dog.
The book is not about training on livestock! It deals with general obedience training, socialising your Kelpie, feeding, crating, toilet training, preventing problem behaviour, dominance issues, car travel, bathing, digging holes, stealing food, walking on a lead, coming when called... and much more.
Over 100 pages.