NOONBARRA WORKING KELPIE STUD
WHAT OUR CUSTOMERS HAVE SAID ABOUT NOONBARRA STUD KELPIES
Some European Noonbarra Kelpie Exports #3
Noonbarra Mudgee (Switzerland). Noonbarra Janis (Switzerland)
---
Noonbarra Max X Noonbarra Jessie II
Red & tan Male Born: 29th May 2005
Owned by Dominique Chollet of Switzerland
---
Update 2007 - Noonbarra Mudgee has WON the Swiss National Agility Championships!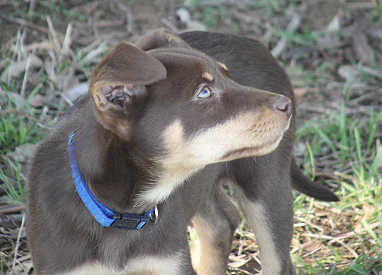 Mudgee was a real sweetie of a pup and we originally considered keeping her ourselves. She was very easy to handle and a very good crate dog and very biddable. She had a lovely friendly personality and a sense of fun. We sold her to a nice family on a small farm in Switzerland where she sounds like she is doing very well.
"Thank you for this marvellous small Mudgee…..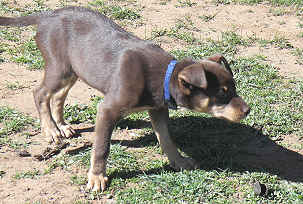 SEPT 2005
Hi again, You where wrong when you said you had sold us a 'lovely puppy'. This is not a lovely puppy, this is a huge baby! After only one week the call back (with many praises as recommended) is no more a problem, in any circumstances.
Even if we know by our experience that it will perhaps not be for ever, it's actually very useful: for example, we where to the vet. on Thursday. He found her a perfect young dog, and she found a perfect new friend to lick!
On Saturday it was the first day to the puppies' school. For the socialisation, the "seven" rule is exceeded nearly every day, and Mudgee like this very much. … Anyway, as Dominique said to me: "you must be grateful, because that's a gift they made to us". For myself, unforced, I agree completely with this. Thanks a lot!
Pascal & Dominique ( and Mudgee of course )
Pascal and Dominique take Noonbarra Mudgee to dog obedience classes every Saturday and she often gets to have a run on the Agility course. Her friend Teresina has been a big help in showing her how to do the agility obstacles. Mudgee is very friendly to people and often gives everyone a big lick.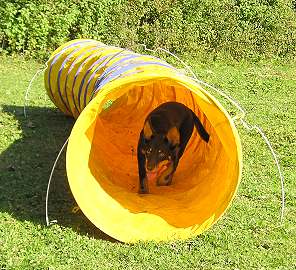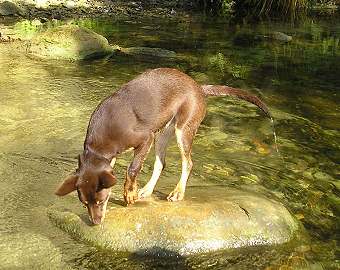 "Mudgee becomes an "all weather dog", growing up stronger and wiser. Without any problem with puppies school and the beginnings of agility (maybe Dominique should have some, if she continues to do it so fast!), next week she will meet a famous sheepdog trainer , so that we can look if we (she & us) have fun with sheep, and perhaps buy some on the next spring."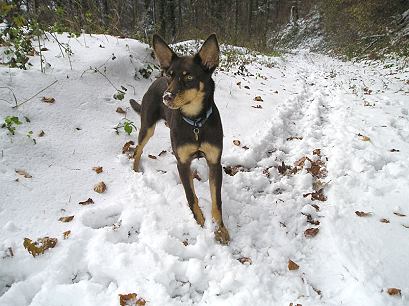 Noonbarra Mudgee in the Snow!!!
---
July 2007
Dear Stephen, dear Mary,
I hope your health problems are on the mend. We know that treatments, in Australia as well as in Switzerland are second to none.
It may cheer you up a bit to know that Mudgee, now aged about 2 years, is promised to a bright future as far as agility is concerned.
We have now entered the Swiss circuit for about two month and the results are spectacular. Furthermore, the dog not only is known for her capacity and speed but is also attracting the attention of the other owners by her concentration and decision making process. Most of them are right down impressed of her performance. That dog is really unbelievable.
You had promised that, once the contact with the dog was clearly established, Mudgee would be very generous, calm and collected. You were right on the spot.
As a matter of fact, on her second trial, she managed to win it. That may explain why the other owners are either envious or jealous. I join the result sheet so you can appreciate the difference in time in between first and second.
That being said, her best quality is her kindness, her intelligence and playfulness. Had I had the possibility to design my own dog, I would have designed it exactly as Mudgee.
I join a few pictures so you can appreciate the quality of the pup you send us. What a success.
I'm sure your health problems will be resolved in the near future and will keep you posted as I believe Mudgee in the coming of being the next Swiss champion.
Regards,
Dominique.
---
NOTE: Update - Noonbarra Mudgee has WON the Swiss National Agility Championships!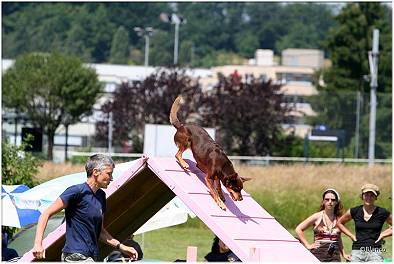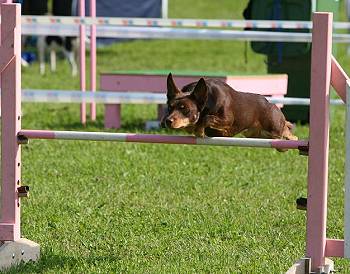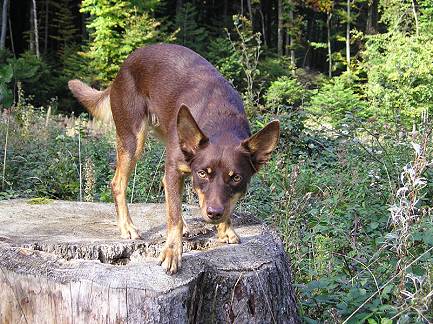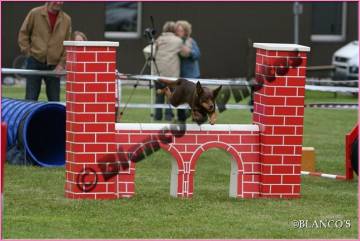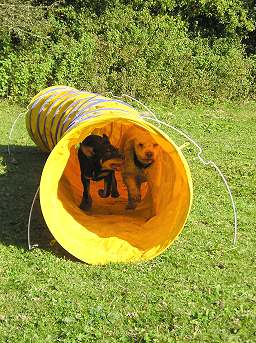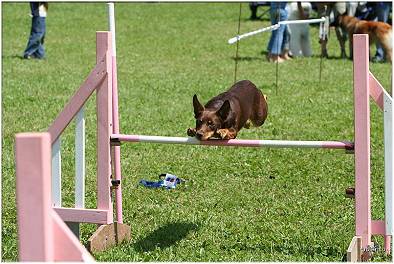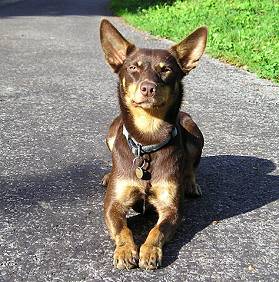 April 2009:
Dear Mary, dear Stephen,

It's time from me to give you fresh news of Mudgee.
She's just about to turn four and it has been four years of full bliss with that little bitch.
For her, working is everything (fetching things, playing and, above all, practicing agility). She's always happy and never seems to be tired.
As far as agility is concerned, we both have made good progress. She's always concentrating on her task, very reactive and fast.We are always running within the time of the borders that are basically faster dogs. As a matter of fact, we are very seldom off the podium. Her health is as good as her character.

I am now thinking of acquiring a second kelpie bitch from your stud to offer company to Mudgee. Should you plan a future litters with Max and Jessie, I would be more than interested.

I hope that everything is fine for both of you.

Dominique
---
Noonbarra Jackaroo X Noonbarra Jessie II
Owned by Dominique and Pascal in Switzerland
Born: 28th July 2009 - Red & tan.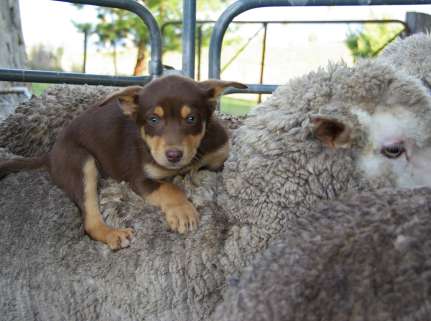 Dominique already owned Noonbarra Mudgee who was exported in 2005.
Oct 2009: Just a word to confirm that we have received Janis this morning. She's full of life and already very confident about her new environment. She did eat well and is now sleeping.
Mudgee, on the other hand, does not think that it was such a good idea to add another member to the family. However, she's well behaved (as she normally is) and I have no worry that everything will be fine once they got to know each other (and know who the boss is). I, obviously, will keep you posted about my (now) pack of kelpies.
Regards, Dominique
------
Dear Mary and Stephen, Just a few words to keep you posted about the life of the kelpies in Switzerland.
J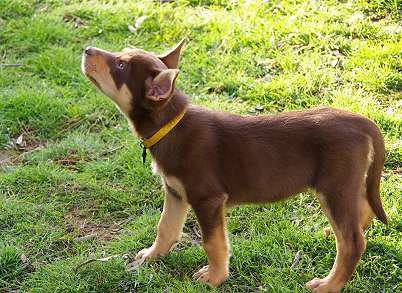 anis is growing to be a solid dog. She is indeed easy to train, faithful, very friendly and most clever. The relation to Mudgee is perfect as they play a lot together while Mudgee takes an important part in her education. So far, I've contented myself to take Janis around with me and confronted her with odd situation. Her reaction is always very positive and she seems to feel comfortable in any situation.
I should wait for the beginning of (northern) spring to start a light training in agility. As you can judge by the attached pictures, she is indeed a very good looking dog. I should thank and congratulate you for breeding such perfect pups. I wish you a very good new year.
We are very happy with Janis. She is clever and joyful. She integrates herself perfectly with the others. It is a real pleasure.
PS: Yes, degree 3 is the highest level for Agility in Switzerland :-)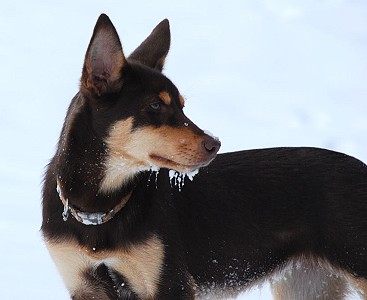 Gets a bit cold in Switzerland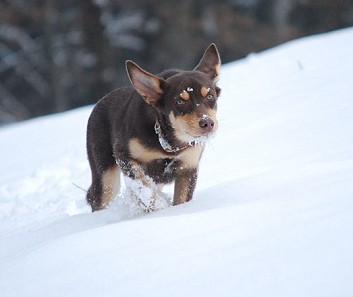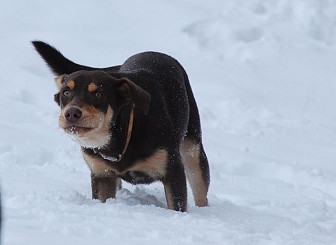 ---
RETURN TO CUSTOMER REPORTS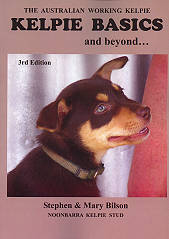 Latest edition of this very popular manual designed for all Kelpie owners of every level from raw beginners through to experienced trainers. This practical manual deals with everything involved in owning and training a Kelpie to ensure he grows up to be a well mannered, obedient dog.
The book is not about training on livestock! It deals with general obedience training, socialising your Kelpie, feeding, crating, toilet training, preventing problem behaviour, dominance issues, car travel, bathing, digging holes, stealing food, walking on a lead, coming when called... and much more.
Over 100 pages.