NOONBARRA WORKING KELPIE STUD
WHAT OUR CUSTOMERS HAVE SAID ABOUT NOONBARRA STUD KELPIES
MORE EUROPEAN EXPORTED NOONBARRA KELPIES #6
---
(Karrobar Moss X Noonbarra Libby)
Black & Tan Male Born: 15th Sept. 2001
Owned by Letnetti Kelpie Stud in Germany.
---
Kirsten bought two of our Kelpies together. The other one is Noonbarra Mate who has his own page on this web site. .Kirsten has been in constant contact with us since buying her two Noonbarra Kelpies in 2001 and came out to visit the Stud in November 2006.
In late 2005 she sold Noonbarra Scott to the Letnetti Kelpie Stud in Germany and now has a breeding female from them, Grawoodglen Patsy.
This page is only a fraction of the feedback and photos we have received from Kirsten. She has even sent us calendars made up of photos of her dogs as a present. We are very lucky to have a customer like Kirsten who clearly appreciates her Kelpies and has developed them into excellent working dogs on her farm in Germany.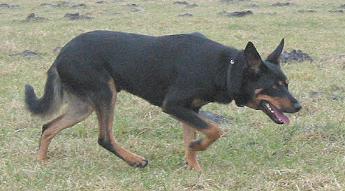 SCOTT SHOWING EYE AND STYLE
Noonbarra Scott is a full brother to our top sire, Noonbarra Roy III and they work in a similar manner. Both have a style that is very similar to Karrobar Moss and they can be trained to be very precise. Moss won the big National Australian Open Sheepdog Championship a few years ago. He is also a winner in Arena Three Sheep Trials. I spent some time with Noonbarra Scott before he flew over to Germany and did his basic training here. I liked his strength and ability right from the start.
"Scott is really obedient. He gets every sheep moving and shows no fear at all. He seldom looses any sheep. But I have trouble to get him to keep some distance to the sheep.
"Took Scott on a lead to bring in the cows a few times. I think he got the idea and was not scared. But will wait with both dogs until next spring when I got them under control with the sheep."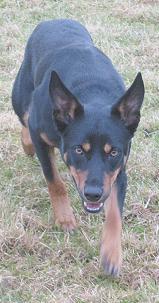 NOONBARRA SCOTT
"They travel very well and stay in the back of the car without trouble. .. People are impressed how good they behave and like the look of them."
"Just had a little lessons on sheep with a friend border collie trainer again. He was really impressed how keen they are and how well they are working and even 7 months now. They cover very well and spot every sheep wanting to escape. They are really keen and love to work! What I saw in their style of working should be exactly what we want for our cows. But will not start on cows until they are good trained on sheep."
They cover very well and spot every sheep wanting to escape. I am only a bit insecure because of there might be a different way of training them from BC do not want to mess the dogs up or confuse them. Maybe you have some tips for me."
"They really got part of our little family and I think I would not like to miss one of them. I try to take them a lot with me, this week we might even have to go on a train. In Summer we will take them with us on holidays to Denmark."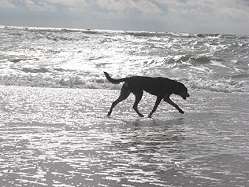 NOONBARRA SCOTT ON THE BEACH
---
SUMMER HOLIDAY
"As you can see we took a few days off and went to Denmark. Weather was not too good which was good for me because there were not too many people at the beach so the dogs had a good time. They met a lot of people and dogs, had to go to restaurants and do a lot of new things and there were no problem at all."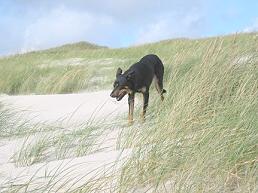 "This morning I had a date to have my sheep shorn. All of a sudden it started to rain. So I rushed out with Scott, let him put the sheep in the pen and loaded them on the trailer. I think this is satisfying for an eight month old pup!"
---
Jan 2005
"Scott is coming along nicely. I have to watch him that he does not clap too much and have to keep him on his legs. I work him on a mob with 20 lambs and a group of 2 flighty lambs. With the two he is doing a great job, getting fairly wide and carefully. Since he understood that I am able to block him he has changed totally in his attitude towards his sheep.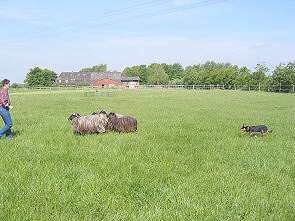 NOONBARRA SCOTT WORKING AT HOME
I will put Scott back on to sheep as soon as silage harvesting is done. I want to try him also on calves this year. I still have him in agility which is fun (but time consuming) and he is doing very well. But he gets excited when I am making mistakes and when I am too slow (which is quite often....). When I am right on the track you can not beat him!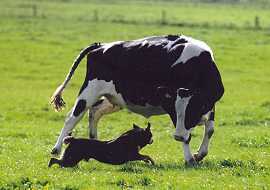 Noonbarra Scott with a stubborn cow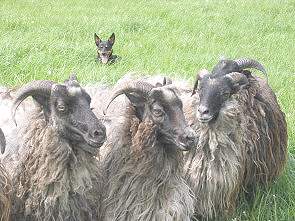 NOONBARRA SCOTT AT WORK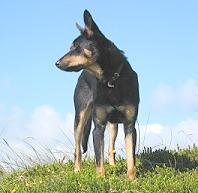 NOONBARRA SCOTT
"Thank you for all the support you gave to us and the two wonderful dogs."
---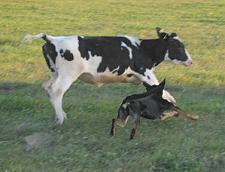 Noonbarra Scott bringing back a runaway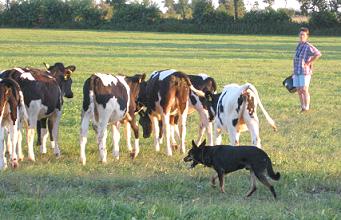 Noonbarra Scott on Cattle in Germany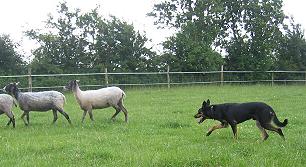 ---
Noonbarra Scott was later sold in 2005 to the Letnetti Kelpie Stud in Germany and a female for breeding purchased by Kirsten. We had the following letter sent to us.
Hi Mary , Hi Steven, As you already know , Noonbarra Scott found a new home on our sheep farm . I know , Kirsten contacted you regarding this but I would like to send some infos , too.
"We tested Scott over a month in different working situations - flock work and on a few sheep and he showed a very good work-wise and teamwork with my husband .
Scott is easy to handle and has a very friendly temperament . He fits in the pack and there is no problem at all .What he likes is to work independent and he do not need a lot commands ( that is what we like , too .... ).
I'm sure he will be able to get the job done extremely well in paddock and yard - and if there is time, in trials, too.
It is lambing time and the sheep are in the stable - not much training at the moment - but if I get the chance for a good working photo I will send it to you .
Greetings to all , Antje Roettgers-Schulte
Letnetti Working Kelpie Stud. Germany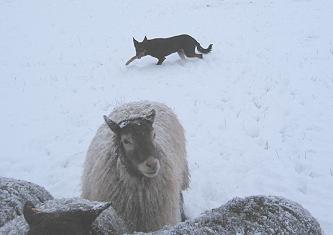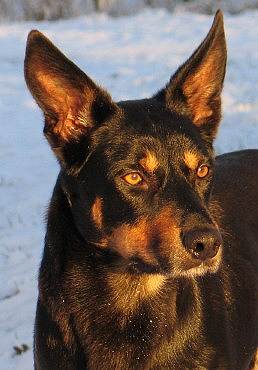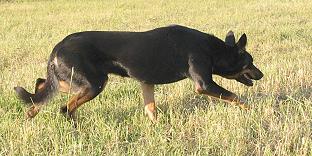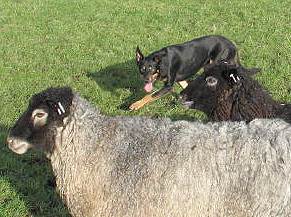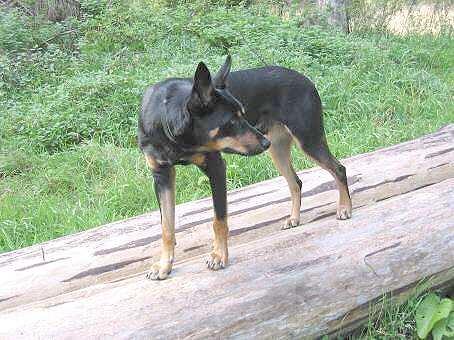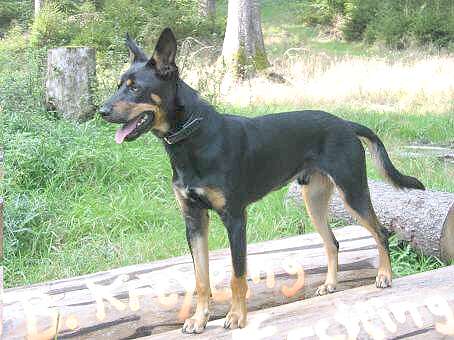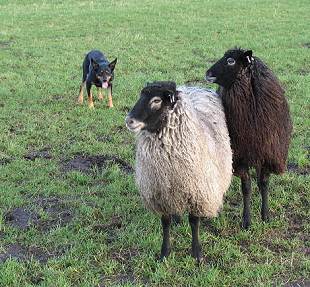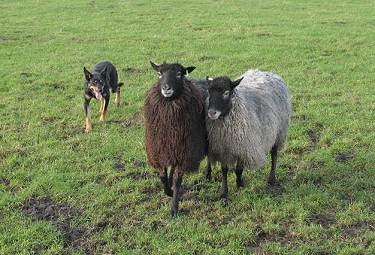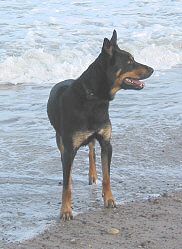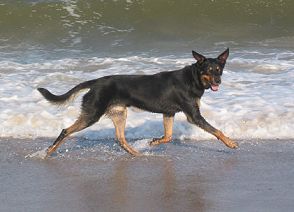 ---
---
RETURN TO CUSTOMER REPORTS