NOONBARRA WORKING KELPIE STUD
WHAT OUR CUSTOMERS HAVE SAID ABOUT NOONBARRA STUD KELPIES
---
NOONBARRA MAX X NOONBARRA CHLOE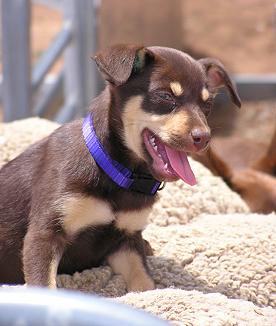 Hi Mary & Stephen, Thanks for your email and help with Nova. We had our first puppy school on Tuesday night and she was having such a good time - playing with all the other puppies and did me proud in her training. She was the only one who could do come, sit and lie down all in a row! I was so proud (as a mother should be!) She even did half a roll over (but don't think this is a very important skill - more of a show off thing).
She is so good at all of these commands now, I don't even have to bribe her with treats - just lots of praise and pats. She's doing really well with it and also knows "go outside", "go to the toilet" (to a degree), and "out of my room" (she has drawn herself an invisible line and won't cross it, which is really funny). This week we are learning "heel & stay". She gets "stay" a bit...but then runs off. So hopefully some new trick will be taught to me to get her to do it & keep her out of mischief.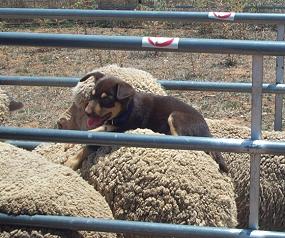 Not sure if you got the photos from Leigh & Kit, but here are some he sent me of Nova & Kit on the back of the sheep. That's Nova in the sheep yard facing of the sheep. She's got the whole sheep dog thing happening - I took her to the park last night, and she was rounding up the full grown dogs in the park and has fun practicing this skill on my cat - who I might add has been VERY patient with her - though she did get a smack on the nose yesterday for trying to herd him into the kitchen. Luckily Axl (the cat) has three dogs next door he hangs out with otherwise I'm sure we wouldn't be so lucky with his tolerance levels.
I took some pics of her at the beach in Byron Bay - she went swimming and chasing seagulls and travelled REALLY well - considering it was a twelve hour drive. We stopped at regular intervals and let her run around and go to the toilet and have something to eat or a swim and she had a great time there & back. I'll send the photos when I get them developed (I'm not digital yet!!).Thanks again -Love Nova & Kylie
NOONBARRA NOVA
---
NOONBARRA MAX X NOONBARRA ANGEL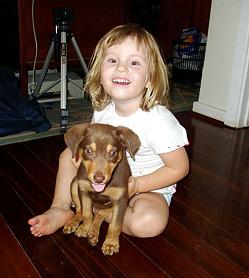 Thanks for sending the pictures, you should have seen the smile on my little daughter's face when she saw the pictures! It was ALMOST as big as mine!

The puppy you sort of picked for us looks great. We have been thinking of a name for a male pup and have come up with the name JAX.
----------------------------------
Hi Mary and Stephen, Well it has been a very eventful time since Jax arrived, it seems the trip didn't hit him until lunchtime today as he was quite energetic last night and this morning. Jax seems to be settling down quickly and is a wonderful dog.
Jax seems to be quite smart when it comes to going to the toilet, he has only had a couple of wee accidents inside, all the hard stuff has been done outside without any real prompting. I must say, he is a good looking dog. Attached are a couple of pictures. Regards, Michael Radalj
-----------------------------------------------------------------------
Yes, Jax can be a calm dog...when either he is asleep or my daughter is asleep. *laugh* Seriously, all in all, he is a very good natured dog who is calm but likes to play when prompted to.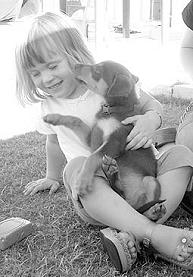 I just got home from a day trip to Broome for work and came home to see them taking turns chasing each other around the backyard. It seems that they both love each other and I think Jax has taken to my daughter more than probably my wife and I at this stage is because she doesn't understand the meaning of being "gentle", she is constantly firm with Jax and he really listens to her.
We have noticed over the last day or so that he is responding more and more to our calling him and responding to our instructions. He is also growing really quick, we had to loosen up his collar before as it was getting a little tight around his neck.
As for sleeping in his crate, during the day when he wants to rest he goes into his crate on his own and sleeps. Each night since he came he has slept in his crate but over the last two nights we have noticed that when my daughter starts to nod off he lies next to her and goes to sleep and then when my daughter goes to her bed he tends to make tracks to his crate and sleeps in there.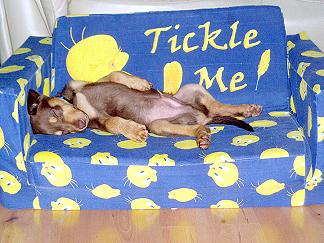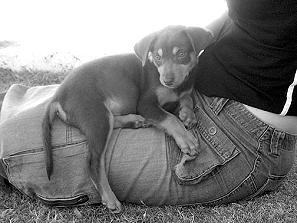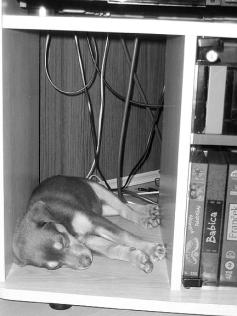 NOONBARRA JAX FINDS SOME STRANGE PLACES TO SLEEP
---
RETURN TO CUSTOMER REPORTS