NOONBARRA WORKING KELPIE STUD
WHAT OUR CUSTOMERS HAVE SAID ABOUT NOONBARRA STUD KELPIES
---
(Noonbarra Dan IV X Noonbarra Jillaroo)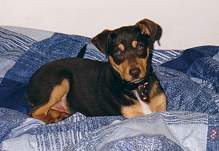 Belle was sold to a family in South Australia for working dairy cattle.
"Just writing to let you know that Belle is going very well. She is very alert and already showing how intelligent she is ... we are very glad that we decided to get her from you."
---
NOONBARRA DAN IV X NOONBARRA BECKY II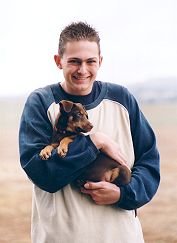 Hi just dropping you a line to say Rex is going well. He had his first puppy pre-school lesson Monday night and did well. He was playful with the other dogs and people. Currently he can sit, stay, come and the down command is almost there. Rex had his 12 week needle also on Monday as well as a vet check which was fine. He surprised me how quickly he learns and how he behaves around the other dogs at the pre-school. He preformed all the commands first time even with the other dogs around him, the others struggled to do this. We joined the class a week late but he is a couple of weeks ahead anyway in the case of basic obedience. I am very happy with Rex and so are a lot of other people who have seen him.
Thanks Nicholas & Rex
---
NOONBARRA MAX X NOONBARRA JESSIE II
Red & Tan Male Born: 23rd September 2003
Owned by Mark, Sharon and young Michael Waldron of Bathurst.
------------------------------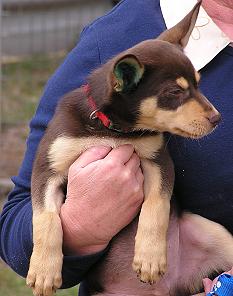 Noonbarra Rex went to the Waldron family who previously owned Noonbarra Max III. They have dropped in for a visit with Rex a couple of times and he is doing very well.
"Rex is growing up and is starting to loose his puppy ways. He is generally a much more sensible dog now. He is playing with Michael wonderfully Ė Michael loves rumbling with him and at times Mark joins in. Michael is playing a lot of cricket and Rex thinks this wonderful as he gets to chase the ball."
"We are so happy with him and enjoy every moment. He is just a lovely dog and so gentle and calm. He just loves everyone." -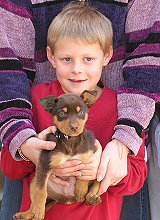 A very Young Michael with Noonbarra Max II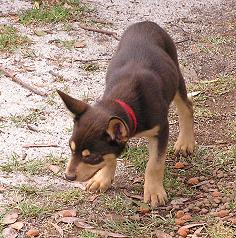 Noonbarra Rex II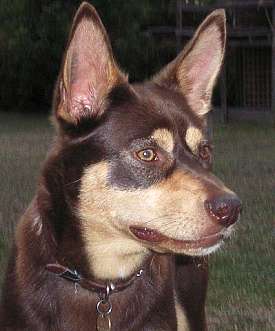 Noonbarra Rex II has turned into a nice natured friendly handsome adult!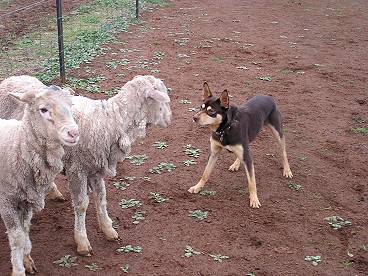 This photo was taken when Noonbarra Rex II visited the Noonbarra Stud and we gave him a quick run on the sheep. He showed a lot of good natural talent but didn't have a lot of experience.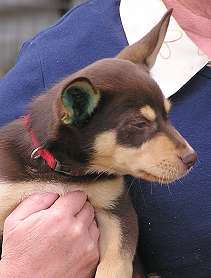 Noonbarra Rex II as a puppy
"Hi Mary and Steven, we hope all is going well with you at Noonbarra. Our Rex has had his third birthday yesterday and we thought we would send a note to let you know how we are going. We have also taken some photos for you. I hope that you can see the photos, but if you have any problems, please let us know and Iíll try and send them again.
Rex is a great joy to us. He has turned into a wonderful dog. Michael just loves playing with him and Rex delights in games of soccer. (He cheats though by picking up the ball in his mouth!). When Michael has friends over Rex gets so excited to have someone else to play with and the kids donít have any problems playing with him. Another treat for Rex is a trip to the kennels where he gets to play with other dogs. The owners of the kennels say he doesnít stop and loves to run around all the time.
We absolutely love having Rex.
From The Waldren Family
Mark, Sharon and Michael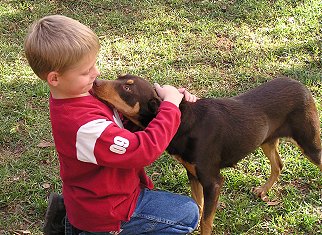 Michael playing with Noonbarra Cassie in 2003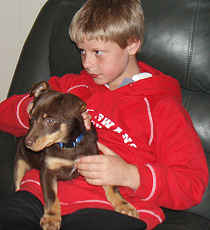 Michael in August 2005 playing with one of our puppies on a visit to the Noonbarra Stud.
---
KARROBAR MOSS X NOONBARRA ABBY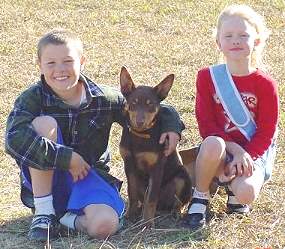 Hi, Mary & Stephen,
Just a short e-mail to let you know we arrived home safe. Nippa travelled well for such a long trip for him. He was a little unsettled on his first night at home. He has bonded well with the kids and joins in for some fun. He has been on numerous walks with the kids around the streets near home. We took him down to the property we have bought and he had a great time running with the kids through the paddocks, then down to Robyn's parents place for lunch where he meet 2 other dogs and played with them. He saw his first cow & calf today and thought wow they are big sheep. He went for a ride in the back of a Ute with the kids around their poppy's farm.
We came home and he had a couple sleeps and a chicken baked dinner for tea. He seems a lot more settled to night and is sleeping in his new home. We will keep you updated on Nippa's progress and hope to have some pics to go with it. Once again thanks for him, I think when we work out who is boss things should be fine.
Ian & Robyn Townsend
---
NOONBARRA DAN IV X NOONBARRA BECKY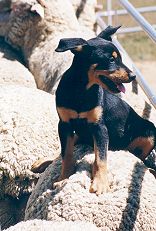 Dear Mary and Stephen, A short note to keep you up to date on "Kell".
We had a really good trip home. Kell slept most of the way. We stopped in Cowra for dinner. A delightful picnic of McDonalds on the local oval. Kell enjoyed an Oz burger and some fries. Once home, before we put him to bed, supper included some Pal Puppy kibble and some Puppy Pal tin food. He's a terrific little eater. He's really quite chubby, even though he tears around with the "big dogs".
He settled in immediately, the other dogs have really taken to him ( not in a bad way, of course!) . We'll email a photo of the tribe soon. Neville believes Kell's a really smart dog...sometimes too smart. He's already learn't that even though chooks are a better size than sheep, there out of bounds. ( day 1- a mouth full of feathers, and a full on chase. First with Kell rounding up a straying chook, then with Neville after Kell. He doesn't chase chooks anymore.) He quickly learn't that puppies don't socialise with geese. Their not as big as sheep, but they're mean, and they like to bite little puppies.
He's spent a little time helping the big girls with the sheep. Both girls are on heat at the moment, and even at 10 weeks, Kell seems to know what he'll be able to do a little later down the track. They smell really nice, and he's got the hip movement up against the back leg thing going too. All in all, we are delighted with him. We'll keep in touch. Leanne
---
NOONBARRA DJ (For Dusty Junior)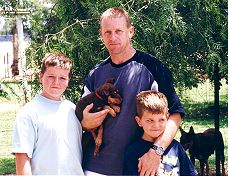 NOONBARRA DUSTY III X NOONBARRA CASSIE III
DJ was sold to the Brown family pictured below as a companion dog.
---
(Noonbarra Dan x Noonbarra Megan)
Rusty was a wonderful young dog sold to Mick Ferris.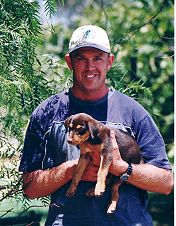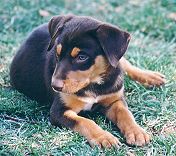 ---