NOONBARRA WORKING KELPIE STUD
WHAT OUR CUSTOMERS HAVE SAID ABOUT NOONBARRA STUD KELPIES
---
NOONBARRA ROY III X NOONBARRA MEGAN
Red & Tan Male. Born: 27th May 2005
Owned by Dave Kennedy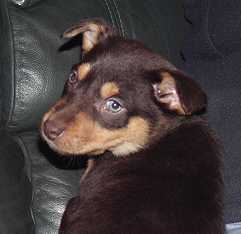 Dave Kennedy works with the Police force in livestock control. He has had problems with dogs he has owned not being dedicated to the job and often not strong enough to move stock off fencelines. We recommended a pup from this litter as it is a good proven mating from two of our finest Kelpies and they have a strong work ethic and a lot of versatility with different livestock.
Dave drove down to pick up Buddy and spent two days driving back. He phoned to say that Buddy was very well behaved and easy to travel with.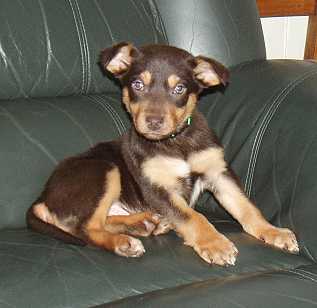 ---
Noonbarra Max X Noonbarra Chloe
Owned by Deniz Huseyin of Greendale.
Red & Tan Female Born: 28th November 2003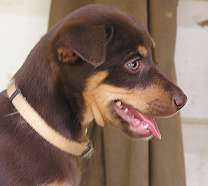 Deniz bought Flame for working his property which runs Goats, sheep and cattle. He needed a very versatile Kelpie who could do just about every job. Although Noonbarra Flame was still just a puppy when sold she was already working on sheep and showing huge potential both in the stockyards and in the paddock.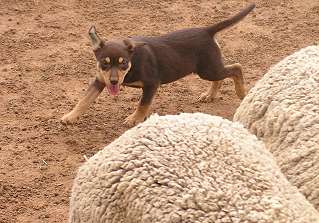 Young Noonbarra Flame working sheep out in the paddock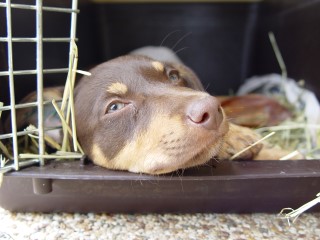 Noonbarra Flame enjoying her crate
Hi Stephen and Mary Bilson

"It's Deniz, how are you going I wanted to let you know that Flame (Noonbarra Max + Noonbarra Chloe) has turned out to be a very intelligent and an obedient dog. She has many talents from herding poultry to cows, knows a lot of (voice, hand and whistle commands), performs a few tricks also enjoys posing for her photo album.
I want to thank you a lot for breeding such an excellent companion she makes life easier because I'm not continuously yelling I can basically talk to her and she understands ."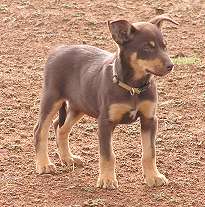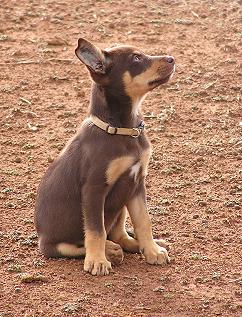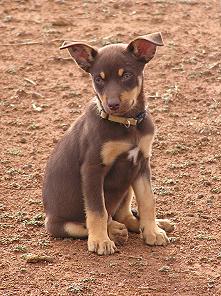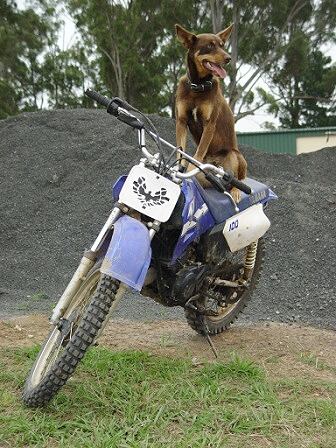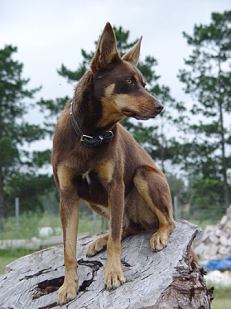 In March 2007, we received very sad news that Flame had died.
This is always one of the hardest things to hear as a breeder. You put your heart and soul into trying to breed a wonderful dog and it is so satisfying to see a customer happy and having fun with their dog and then to lose your mate is terrible and even after all these years it still strongly upsets us.
Hi Mary and Stephan

I am writing to let you know that my best friend and companion has past away. It takes a lot out of me to see that she is no longer here with me. Everyday I cant stop thinking about flame and the times we used to spend together. Flame was poisoned, I took her to the VET and they said she had eaten rat poison or a rat that was killed by the poison. I was always careful of where she goes and what is around her but this time somehow she found some poison.. She spent a few days in hospital and had 2 blood transfusions, she was showing signs of recovery but had a ruff night then when she was showing good signs again she died through the night. As devastating that it is for me to talk about her I cant help but cry but I thought that I should let you know of this diaster. She passed away on 4/02/2007, sorry it took along time to write to you but like I said it is very hard for me to accept.
______________________________________

Hi Stephen,

Thanks for the reply, It was also nice when Mary rang me up. I am glad you guys care as much as I did for Flame and I really think that you love all your Kelpies you breed. I must say that if the rest are as smart and intelligent and if not more than Flame that you must have a heap of happy customers. I just never thought that I could train a kelpie so easily as I did Flame and I believe that it wasn't just my training style and approach but that she came from excellent breeders like you.

When the time comes for me to get another companion I'm sure you guys will be on top of my list. I'm sure all of your Kelpies are intelligent so I'm sure if I do get one I will be satisfied.

Once again thanks for your email it means a lot.
---
Noonbarra Roy III X Noonbarra Gemma
Owned by Joe and Maxine Adams of Kowanyama Queensland.
Red & Tan Male Born: 2nd October 2004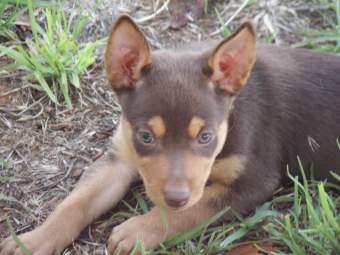 This customer lives in the tough Gulf country in far northern Queensland and bought two Noonbarra Kelpies at the same time. They have phoned a couple of times and are delighted with their dogs.
See Noonbarra Tess II below.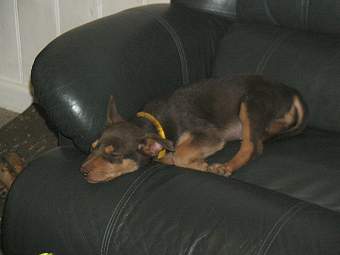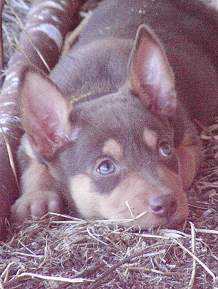 ---
Noonbarra Jackaroo X Noonbarra Sue
Owned by Joe and Maxine Adams of Kowanyama, Queensland.
Fawn & Tan Female Born: 20th October 2004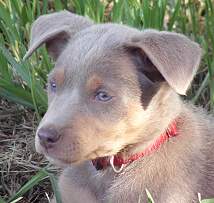 This pup went to the far north of Australia in some of the toughest country on the planet. See Noonbarra Lex above.
" Thanks for your friendly service. We will stay in contact with you and send you photos of these two and let you know of their progress. Come visit us anytime when you are up this way. You would be most welcome. Regards, Maxine & Joe."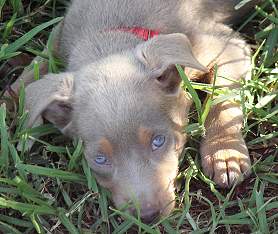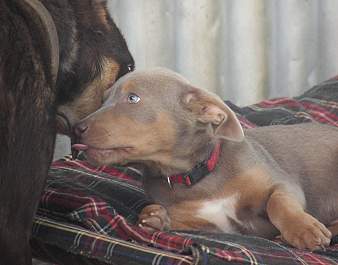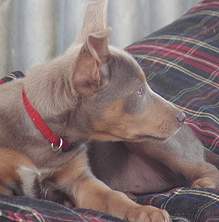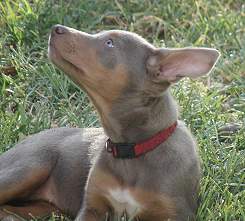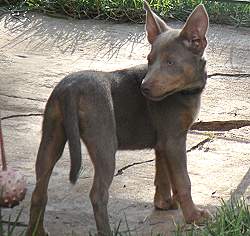 ---
---
RETURN TO CUSTOMER REPORTS