NOONBARRA COPPER
(Noonbarra Dan IV X Noonbarra Megan)
Owned by Narelle of Harbord, Sydney
---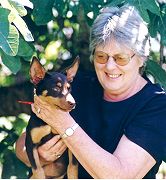 "Copper is just so beautiful and is bringing so much joy and pleasure to my life. Diesel (my other dog) at this time has accepted well and I think is going to take a definite part in the training of Copper. Copper has been introduced to a number of my close friends and becoming a part of an extended family. "
"Played with the Hose (of course did not wet him) but he wanted the round up the water from hose like sheep, he came behind and stalked and moved just at the right time pre-empting where the water was going to go. You could actually see him thinking. What a pleasure to watch."
Stephen thank you for showing me the training of down and we are practising it each night for quite time with TV and before bed. By the way I put the video on and was great, full of lots of information. If and when you make any other video's would like to purchase as thoroughly enjoyable.
Thank you, my life is enriched with Copper in it.
-----------------
"Have attached update photo's of Copper. You can see how much he has grown and I have lots of play toys to keep him amused all day when I am at work.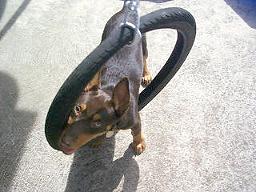 We have only had one accident in the house and is used to the schedule of dinner, play outside with bone 8pm inside on his little bed in lounge room for a play and more chew things. The toilet outside and into Create for sleeping and baby chimes pulled to remind him it is sleep time. Now he wakes in the morning to my alarm. Out side breakfast and more chew things and toys for the day.
I can assure Stephen, I am looking after Copper he loves his baths and likes playing with water. Can't wait till after injections when I can take him to the beach and see his reaction.
Thank you so much Copper has a wonderful personality and with Diesel's temperament and help I'm positive will be the talk of HARBORD.
It is a known fact that in Harbord there is the most wonderful Love affair happening. It is the most beautiful bonding between Copper and Narelle.
My life has been so enriched and I am so blessed for such a special companion.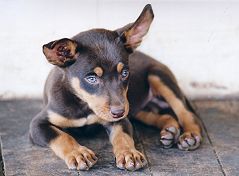 We have been to Puppy School in which you should know Copper shines not only for his playfullness towards the other puppies but for his quickness to learn. He can sit, (copper sit) (copper drop) (copper stay) (copper come well if something distracts him not quite there with this one yet but working on it.) As for coming in the house and having good manners we are 99% the door is open and he waits at the bottom of the stairs until I say O.K. and then he is in like Flynn.
My nephews children 5yrs, 7yrs and 9 years have come and stayed for weekends and all is well. He mixes with my neighbours teenagers who come and take for walks and their dogs come and visit and play sometimes the visit may last for 4 or 5 hours. (a great time is had by all)
Penny brings her two year old Grandchild and Copper does get a bit excited but with Diesels help all is under control. Copper loves water and loves his sand pit, plays soccer with me with a large basketball and has toys of his choice for inside and outside.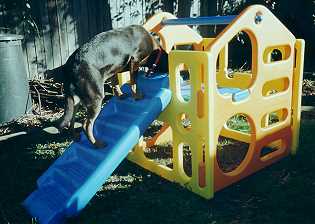 Noonbarra Copper and his playpen
There is one trouble I am having Copper, he is frighten with TRAFFIC Lights he doesn't like the noise or the red and green man. I take him to the lights on the lead and press the button to stop the traffic and he goes ballistic, I pat, calm and he sits and we just stay there, I have taken treats with me and press the button (stoped the traffic two or three times) and I just try to keep him calm and stroke him and he gets a treat for sitting , dropping and just being calm. I do not force him to crossbecause I thought if I kept taking him up to the lights and sitting a little longer each time eventually he would not be so frightened and we would have overcome this problem.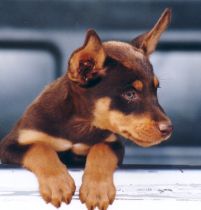 He likes going to the beach, walking on the sand late at night and talking to the fishermen. He like going to the park and seeing the men and boys practicing football. Everyone I see in the street or in their gardens I say would you like to say hello to my pup Copper he is learning and wants to be neighbourly. I will definitely practice the training notes you sent and give you a further update.

Once again, I just can't imagine my life without Copper in it, he has bought so much joy and pleasure and love to my life. I'm sure he feels the same way because we both gaze into each other eyes and I just melt.

Thank you, for keeping me updated as I wish to do the right thing by Copper and ofcourse reassure you I am looking after your baby and my adopted companion.

Hope all is well with you both, God Bless

Regards

, Narelle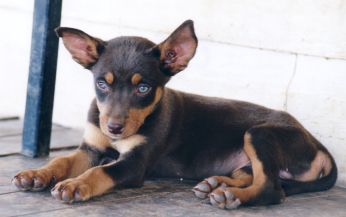 The love of my life, he like a cuddle and loves his feet and hands being massaged. Can't tell you how grateful I am that you allowed Copper to become part of my family (Diesel, Copper and me). I can only assure you, I love him so much and tell you how wonderful he is.
---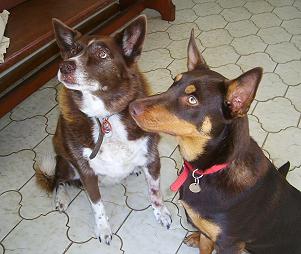 NOONBARRA COPPER AND DIESEL
Copper is just so wonderful has bought so much joy and love into my life. He is so special and I just love him to death. Copper is fine, he is loving has a wonderful personality and just about the most perfect dog in the world as far as I am concerned.
He is very social has his own friends who come to visit and enjoys all my friends and wins them over with his smile and good manners. He is a character when goes down to Manly for walks, he wants everyone to stop and pat him and wonders why some people don't notice him because he is just so beautiful.
---
He has his toys. --- tyre on an ockey strap on a hook that he plays with, sand pit, balls, and eventually now has his own play gym. It is a children's gym has a ladder and lots of holes to go in and out and a plank to walk on and even has a bar at the top which can attach to the hose and will sprinkle water. He love it and shows off quite often when playing. He is completely house trained now and tell me when he need to go out side. He will also relieve himself on demand (when told to) . Just wanted to let you know all is well, Copper is so bright and intelligent.