NOONBARRA WORKING KELPIE STUD
WHAT OUR CUSTOMERS HAVE SAID ABOUT NOONBARRA STUD KELPIES
---
NOONBARRA FRANKIE
BONORONG REX X NOONBARRA SARAH
"She is a wonderfully happy dog - always got a 'smile' on her face and has grown up into a
wonderful companion."
Dear Mary & Stephen,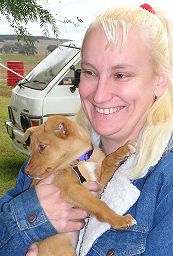 I am back at work and now have access to the internet so thought I should drop you a quick line. Frankie is doing really well, she travelled home like a pro (she was much fresher at the end of the trip than we were, that's for sure!!!) and has settled in just fine. She has been here a week now and has already learned sit, drop, stay, come, speak on command, how to walk on a lead, and not to go to the toilet inside! Not a bad first week at all. About the only problem is that she doesn't seem to like her crate at all, she whines, grizzles and tries to dig her way out of it every time she is put into it, but settles after 15-20 minutes and then sleeps fine. She isn't happy to be in it while in the car either - she would much rather be cuddled on someone's lap!
She is a really friendly little pup, she absolutely loves people and befriends anyone who stops for a pat. We have been out on a few walks and she has made lots of friends with the neighbours. To take her out on the lead is very amusing, she likes to walk herself by holding the lead in her mouth, she walks along just fine as long as she thinks she is in control. Nothing much seems to scare her, loud traffic gets a bit of a look, but she certainly is more curious than scared. About the only thing that worries her is her reflection that appears at night in the glass sliding door. She barks at this evil other dog invading her territory and then dashes outside trying to find it. Very amusing for us onlookers, but she doesn't seem as concerned by it anymore. I am hoping to start her in puppy school in 2 weeks.
Last night she rounded up the chooks and herded them into the chook house, then sat at the door and waited for me to close it. She can be very excitable and full of energy but it was a joy to watch her moving those chickens, she was very calm and didn't get very close to them - just kept pushing them in the direction they should be going in. And she did this without being prompted - she sneaked into the chook yard when I went in to get the eggs. She has also been herding the tame pigeons and magpies in the backyard, it's very cute to see her marching them up and down the backyard.
She is visiting at my Mum's today so all the local birdlife can have a rest. I have just heard that she has been asleep in her crate with no problems half the day, but has spent the other half of her morning sneaking up on Mum and pinching the garden spade and brush and running away with them! Sounds like she is having lots of fun.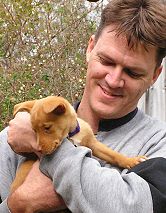 Thank you for the photos and info on the other creams I got this morning. It is interesting to compare the colouring of them to Frankie. Scamper and Panda sure are very pale, it seems Frankie is getting darker everyday. I have had heaps of people ask me if she is a red heeler. And one fool who thought she was a Chihuahua, but we won't talk about that - I set him straight pretty quick! I will keep you informed of how she is going and will certainly send you some photos when she gets a bit bigger. If you still have any of them I would love to see the photos you guys took when we picked her up (especially the one with Graham!!!). Thanks again, will talk to you soon, cheers, Cate.
---------------------------------------
She is a very happy little puppy...she is wonderful in the car, just curls up and goes to sleep.She is incredibly friendly. she just wants to make friends with everyone she meets. We finished 'puppy school' 2 weeks ago, Frankie was definately the class star. She absolutely loved playing with the other puppies... thank you for such a wonderful little friend.
------------------------------------------
Just a quick message to say hi and update you on Frankie's progress. She would have to be the brightest little pup I have ever met. 'Sit' is happening 100% of the time, first command, and 'Down' is almost there too. 'Stay' may take a while however!
She has settled right in at home and acts like she has been there forever. She has put on some weight and is growing up at an amazing rate, her collar has been let out twice now in the last week. She's a nice bold little dog and full of happy energy! She is settling well at night now, one little whimper as if to say "I'm not really ready for bed yet!!" then that is all we hear until next morning. Twice a week she visits at my Mum's place to play with Georgie the West Highland White Terrier - they are the best of mates already, and spend the entire day getting up to as much mischief in the fern garden as they can get away with. And they both sure sleep well that night!
Frankie is enrolled in puppy school starting in 2 week's time, I will be sure to let you know how she goes. I will also send you some photographs as we go along. Hope you are both well, thank you again for such a wonderful little friend. Cheers, Cate.
---------------------------------------
Sept 2003
The difference in this dog in the last 5 days is unbelievable. I read your message a couple of times on Thursday and went home with a different attitude to the one I have had. She looked at me as if I had gone completely mad the first couple of times I took her to task for not instantly doing as she's told, and by this morning I can really see the difference in her attitude.
She managed a drop stay of over 2 hours while we watched telly last night....the stuff in the folder was terrific as you suggested. I will make sure I (we - Graham got instructed in it too, no point only half the team following the rules) read it regularly just to be sure we stay on track. By the way, she met her first sheep on the weekend and was so calm around them - just walked quietly around and got them moving gently, didn't rush into them like I thought she might. An absolute joy to watch. She is also calm around the cattle, although she really doesn't like horses - especially greys, maybe they look funny to her because of their colour. Anyway, thanks for the kick up the bum that I needed training wise, I will keep in touch with how we are getting on.
Cheers, Cate, Graham & Frankie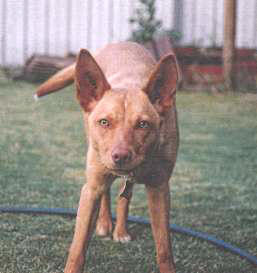 ---
May 2004
Hi! Just thought I would drop you a line and let you know how the "Dingo" is going....she has been so named by a few of the regulars on the trial circuit here in SA, all of whom can't wait until she actually gets to a trial. Unfortunately due to circumstances we missed the chance to have a go in a couple of novice trials early this year (Graham and I were in New Zealand) so she hasn't made it onto the trial field yet, but she is showing enormous potential at the training days we have been to.
Most triallers here in SA run collies, or collie/kelpie crosses, and were a bit dubious about this orange scrap of a pup that showed up in their midst late last year. But she was terrific - took her 5 minutes to work out what this was all about, and within 15 minutes she had a much better idea of what was required than I did.....I think it is her doing the teaching these days. But a wonderful teacher she is being, very patient and understanding!!! :-)
She has grown up into a beautiful dog, very fit and always up for a game or a run. Still a bit of a pup at times - she loves stealing socks and running away with them, but she is only just 12 months old, so I would expect that for a while yet. We don't have any major behaviour problems with her anymore, she certainly outgrew trying to usurp our authority!
I have sent some recent photos of her to the Kelpie newsletter, hopefully she will one day soon be in print and everyone can admire what beautiful dogs your stud produces!
Bye for now,
Cate, Graham & Frankie.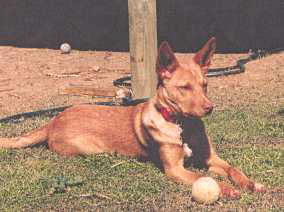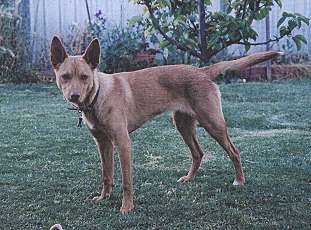 Dear Mary & Stephen, I thought it was about time I sent you an email to let you know how Frankie
is going. She will turn 2 on Thursday....I don't know where the last 2 years have gone! As you can see from the attached pictures, she is a wonderfully happy dog - always got a 'smile' on her face and has grown up into a wonderful companion. At two I would have expected her to be fully grown up,but she is still very much a puppy when the mood takes her, it is wonderful to be around her, she has the best sense of fun I think I have ever witnessed in a dog.

Whenever someone is home we have a shadow, as she wants to be involved in whatever is going on - as long as it doesn't involve cutting her toenails or giving her a bath - although both these indignities are tolerated, it is obvious she would rather be somewhere else!

A dog owner couldn't ask for a friendlier little soul to share their life with - she is a credit to you and the dogs that you are breeding. Thank you for giving us such a wonderful friend.

I am still planning to breed a litter from her in the future, although it will now likely be early next year (2006) before this can occur. I will be sure to contact you beforehand for some advice as to a suitable cross with her.

Warmest regards to you both, please give Sarah a pat for us!
Cheers,
Cate, Graham & Frankie.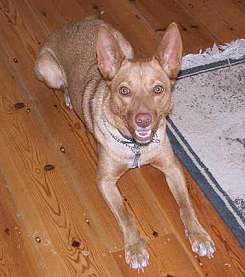 Jan 2006
"I thought it was about time I sent you an update on Noonbarra Frankie. As at 16/12/05 her 'pack' grew suddenly to include the twins, Ben & Jackie. We weren't sure how she was going to react to them - well, we needn't have
worried in the least, she has taken to them from the minute they got home.

She didn't sleep for the first two days they were here, as everytime they made a noise, she was running to their door to see if she could help. The poor dog was exhausted after 48 hours of this, and got to the point where
she would just check that either Graham or I were moving in the babies' direction, then she would go back to sleep.

As you can see from the attached photos, she is very calm around the twins, and is just happy to be near them. She often now sleeps in the doorway of their bedroom.

No one could ask for a dog with a better temperament. Our new house has just started being built, hopefully the entire tribe will be moved onto the 100 acres in a couple of months, and everyone will have a bit more room to move - I know that Frankie will enjoy having the room to run around and the sheep to play with again!

Best wishes to you both,

Cate & Graham Hunt.......& Ben & Jackie & Frankie.
---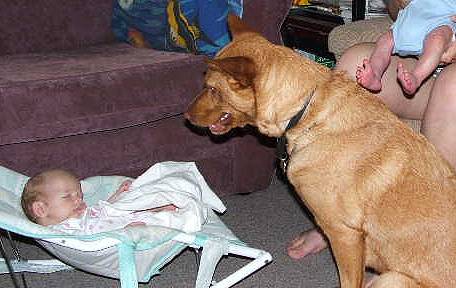 May 2006,
Dear Mary & Stephen, Just thought you might like to see the attached photo of Frankie with Ben & Jackie. She has taken them on just as I hoped she might - she is very protective and gentle around them. If I am at the clothes line or outside and one of the babies wakes up there is almost instantly a gentle prod from an orange nose on my leg to let me know. If we go out for a walk with the pram and another dog or stranger gets too close she is instantly in their way stopping them getting too close to "her" babies, it is lovely.
"And the twins love her too, Jackie's first clear word was "Frankie" believe it or not! I thought I was imagining things, but it was obvious enough that Frankie stopped and turned back to look at her.
Best wishes to you both, Cate Hunt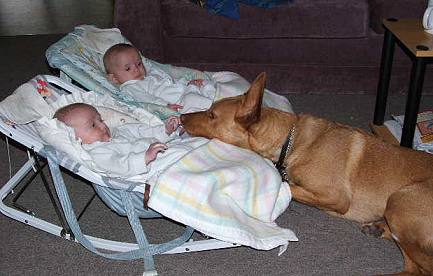 Noonbarra Frankie and the 'twins'
Dec 2006
Cate tried to get the Fawn & Tan male from the Jackaroo X Becky litter in late 2006 but just missed out. She is now waiting for a future litter.
"I would like to get Frankie a companion.... So why not go back to you guys who breed beautiful dogs, where I know I will get a pup of terrific working ability with a lovely temperament and the best start in life."
"Frankie has turned into a wonderful dog, a great companion, terrific with the kids and a good worker in a paddock situation. She is not at all pushy when it comes to yard type work though – not that I expected her to be as you sold her to me as a wide working paddock type dog, and that is exactly how she has turned out. We don't do incredible amounts of sheep work though, maybe once or twice a month, so of course the pup also ends up being a family companion. I have talked to a few other kelpie studs that are closer to us here in SA and none of them want to sell us a pup to be part of a family. Frankie is just terrific in the house and around the kids so I definitely want to get those traits again – another reason why I am contacting you guys!
"We are happy to wait for the right pup. We have both fallen in love with that unusual silver colour and are happy to wait for that to crop up again, we get so many comments about our dingo, goodness knows what people would do if we had a blue or silver one too!!!
------------------------------------------------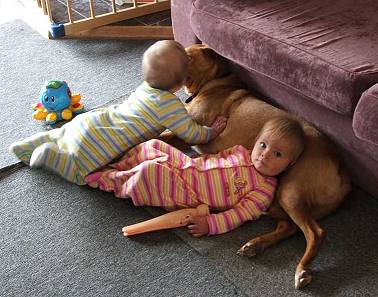 Noonbarra Frankie makes a great pillow!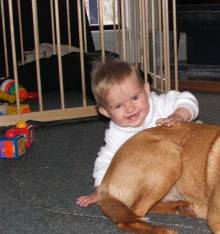 Frankie puts up with a lot from the twins but she loves them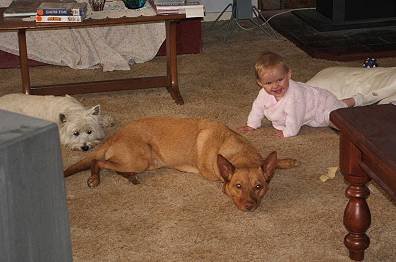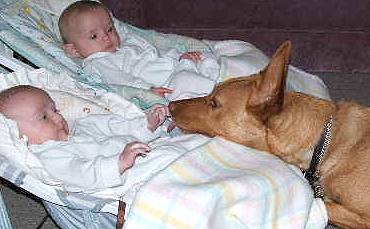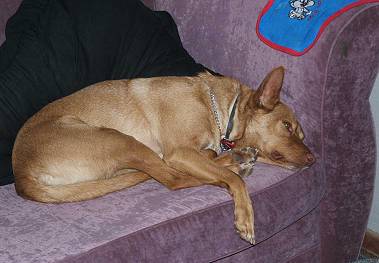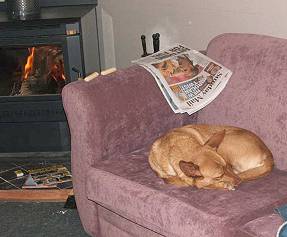 Noonbarra Frankie always gets the spot near the fire
Dec 2006
"Frankie remains the only dog I have ever met that can watch airplanes flying overhead at 10,000 feet - she hears the noise and looks up at the sky until she finds them. She loves going into town as the planes are much lower and easier to spot!
"And she absolutely adores that Frisbee. We hadn't been living up here long when of all things a tour bus full of Japanese tourists drove past one Sunday morning....I think they were very lost....but lots of them took pictures of the mad orange dog running around the front paddock with a bright blue Frisbee in her mouth! Very cute.
"She is constantly trying to get the horses to play with her but they cannot work out what she is up to. And the twins continue to use her as a pillow at every opportunity. She is so even-tempered with them, they cannot seem to make her mad no matter what games they come up with. It is an absolute joy to watch them all playing together and a wonderful credit to you and the dogs that you are breeding.

Best wishes to you both,
Cate & Graham Hunt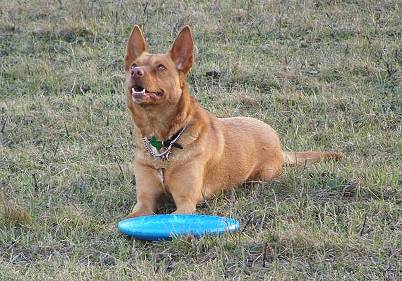 Noonbarra Frankie watching the planes
---
RETURN TO CUSTOMER REPORTS