NOONBARRA KATE III
Black & tan female. Born: 15th Sept. 2001
KARROBAR MOSS X NOONBARRA LIBBY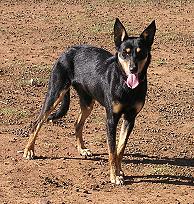 Very well bred young female Kelpie. Kate was kept in the stud until about 2 years old. She was then sold to a customer in northern NSW. She is a full sister to Noonbarra Roy III.
While still a young dog she was already showing a high degree of ability in the stockyards as well as the paddock. She is a small, wirey type of dog with fine features and a pretty face. She has a good turn of speed and very athletic build, a lot like her dam, Noonbarra Libby.
She is a very gentle, soft natured sweet little dog and would not suit a hard or angry type of handler. She is faithful and very easy to handle as well as being a good dog travelling and in the home.
She shows some very nice style out in the field and is heading well. She is quite bold and will come in very close if needed. In the stockyards, she has also shown some very good work for her age and is quite happy up on the backs of the sheep in the drenching race and will give a few barks as well. She is not frightened to be in close or move sheep off the rails.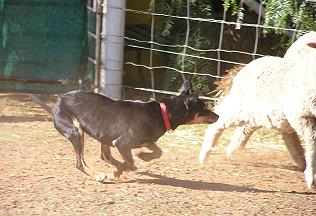 Kate is well behaved, travels well and is friendly. She has often been an inside dog here at the Stud and likes to be around people. We took her into town a few weeks back and sat at an outside cafe with her. People came by and gave her lots of pats including young children. She was completely unfazed by the traffic noise or the crowds of people going past. We could sit and have our coffee while she laid content at our feet without any problems. She was well behaved and didn't jump on anyone or get over-excited in any way.
Her sire, Karrobar Moss is one of Australia's top champions and has won major sheepdog trials including the Australian National title. He is good on cattle or sheep and has had a background of mustering big mobs of sheep. He has won Yard trials, Utility farm trials and the traditional 3 sheep arena trials. He is a friendly dog and has produced very good pups over our females.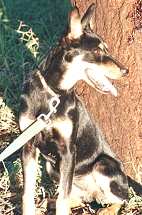 Noonbarra Libby II, her dam, is a well proportioned bitch with lots of agility and speed. She loves to work and is very versatile in any situation. She has the calm inner strength and thinking ability that we like to see. She is very friendly and makes a good companion dog too and is one of our favourites. Libby has some excellent breeding behind her, being by Noonbarra Prince (now deceased) and from Noonbarra Valerie, one of our best ever brood bitches.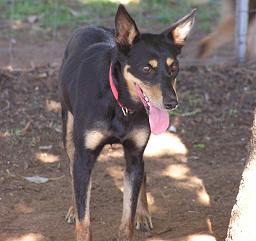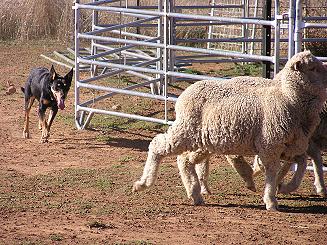 ---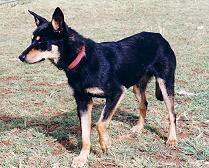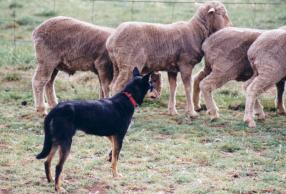 ---