NOONBARRA KARA
Sire: NOONBARRA DUSTY (NOONBARRA PRINCE X NOONBARRA JUDY)
Dam: NOONBARRA WENDY (NOONBARRA BOSS X NOONBARRA TINA)
STUD REGISTRATION NUMBER: 37624 / Stud Tattoo Number: NO13C

---
Black and Tan Female. Born: 5th July 1999
Noonbarra Kara was kept in the Noonbarra stud for a few years and then sold to a small Stud breeder in northern NSW. She had her first litter of pups to a Glendon sire not long after going to her new home.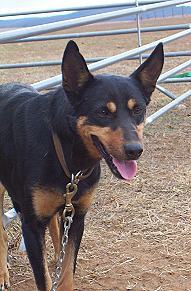 Kara is a gentle, sweet natured young Kelpie and a dog we liked a lot. Kara can be an outstanding dog in many ways and loves to interact one-on-one and has a very loyal faithful nature.
She is beautiful to watch on a mob of sheep. You don't need to be a good handler or even to have much knowledge of sheepwork. She can do it all herself. She likes to gather the sheep and will balance up and guide the mob to wherever you want them to go. If sheep try to breakaway she breaks out wide and re-gathers them. All this without a single command!
She can be directed if you prefer and is very obedient. In fact when you say 'Stop' and 'Down' she drops and stays even with sheep moving in front of her. A very obedient dog with some wonderful working ability.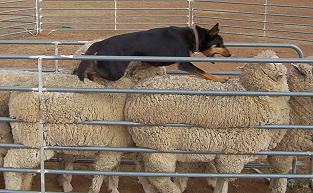 KARA GIVES A FEW BARKS WHILE BACKING THE SHEEP
She works calmly and efficiently and doesn't upset the stock. She can do most work without commands. She has plenty of strength and won't be bluffed. In the yards she is backing on her own and coming through the sheep in a race. She will force in yards and has a bit of bark when she feels it is needed. She could easily be taught to bark on command if you so desired.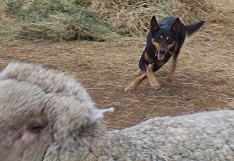 KARA SHOWS GREAT STYLE DOING PADDOCK WORK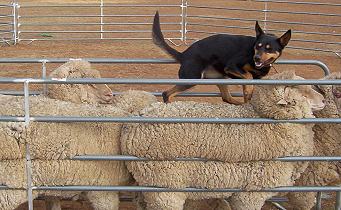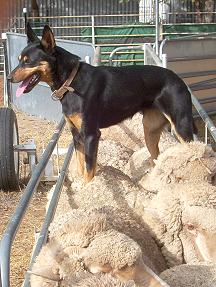 Noonbarra Kara good looking black & tan Kelpie that is very well bred and goes back to all our great dogs such as Noonbarra Gabe, Noonbarra Tina and Noonbarra Tim. And further back to famous dogs such as Liscannor Pace, Glendon Claude, Kalari Basil and Chondo Doll. Noonbarra Kara is a full sister to Noonbarra Keppe in Belgium and Noonbarra Katie in America. She is also a full sister to Noonbarra Sarah here in the Stud.
Noonbarra Kara travels well in a vehicle and will just lie down and be quiet. She has done a lot of travelling. She is in perfect health and up to date with vaccinations, worming etc.
Kara is a very versatile working dog and can handle almost any situation. She is a very keen worker and an easy dog to handle. She has had a couple of goes on Cattle as well and did very well but has not had any extensive training in that area. She loves to work and is a very obedient dog.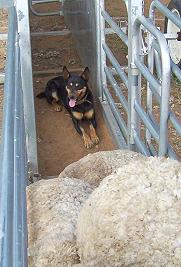 Kara on a Down command in the Yards
She has a very smooth, calm working style and that classic ability of the old-time Kelpies. Kara is already an extremely good dog but with more experience could be absolutely outstanding. She is very cheap at this price for a dog of her ability and breeding.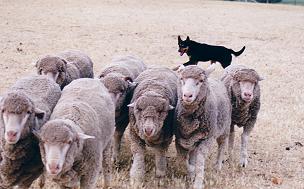 She has a quiet, gentle personality and is not excitable or overbearing in any way. She is an easy dog to have around and not a fence jumper or climber. She is obedient and will sit on command, lie down, stay, come and heel on a lead. She doesn't jump up on people.
· She is sometimes kept inside as a house dog and is well behaved and calm. She would make an ideal quiet companion dog. Kara loves praise and works better with an owner that will be her friend as well. She is faithful and likes to be with you and sit at your feet once you have bonded with her.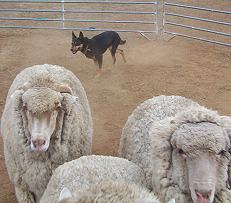 We want Kara to go to a good home where she will be looked after. So please don't phone if you are just going to chain her up and neglect her or you desperately need a dog to do all your mustering or shearing next week or something equally as silly. Kara hasn't been away from the Stud much and will take a little while to settle in to a new home and a new owner.
As a general rule it takes about three weeks for an adult Working Kelpie to settle down in a new place and then probably around 3 months or more before the dog is fully at home and bonding completely to a new owner. Kara is a very intelligent dog and a faithful type and these dogs can take a while before they are working again at their full capacity.
Noonbarra Kara can work a mob or even a few breakaway sheep with good balance and steadiness. Lovely footwork and style. Doesn't upset or stress her stock too much like some dogs can. Just the right amount of eye. Kara can come in close when needed and show good strength without being aggressive. Will stop on command and generally obedient. Beautiful flow in her work. She is a versatile allrounder but with good paddock work and yard work.
She has the stamina and keenness to go all day on big mobs of sheep. Loves to work. Has strong presence on stock and will come in close or go out wide.
Kara has done a fair amount of general farm work such as mustering and work in the stock yards and shearing shed and has a lot of inherited natural ability and keenness. She has never been trained for trial work but could certainly do well in yard trials with training and likely even win a few 3-Sheep trials if the handler was prepared to do the training.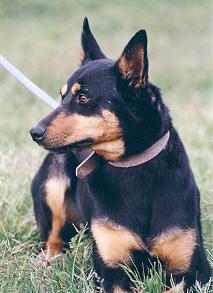 There is also a bit of footage of her working when younger on our 2000/2001 Stud video.
---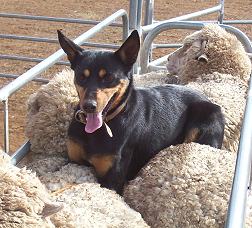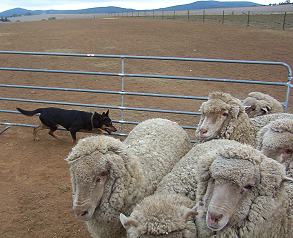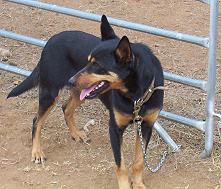 ---