NOONBARRA WORKING KELPIE STUD
WHAT OUR CUSTOMERS HAVE SAID ABOUT NOONBARRA STUD KELPIES
---
"Thanks once again for Sassafras and Kit
We have been lucky to get 2 such beautiful dogs from you."
NOONBARRA KIT
NOONBARRA MAX X NOONBARRA CHLOE
Red & Tan Male Born: 28th Nov 2003
Owned by Leigh & Angela Verner of Brisbane Australia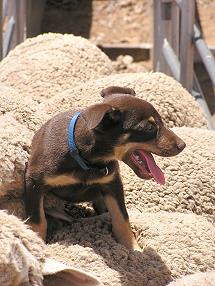 G'day Mary and Stephen, Thanks for your hospitality the other day. We could have stayed for hours! Where to begin. Two days and so much to tell.

Kit settled as soon as we started driving. The first pic is of him at your front gate. Already very comfortable. He stayed there till Molong where he then slept on our laps the whole way home. We stopped every couple of hours
for him to go to the toilet. We never had one accident. As soon as we put him on the grass, he would go virtually straight away.

Since then he has settled well into the backyard. He's very bold at the moment and shows no fear with anyone or thing. At night he has slept with us in our bedroom and has gone to sleep virtually as soon as he is put in his crate. We only had to get up once last night at around 2 to take him to the toilet. From then he slept through till around 5 when Ang got up and then until 6.30 until I did.

I have had him at work with me yesterday and today and he either sleeps in his crate or runs around the office. I am slowly getting through to him that his kong is more tasty and better for chewing than the computer cables.

I'm taking him to the vet today to meet them and get a history started with Kit. Thanks again and I'll speak soon.

Cheers, Leigh


--------------------------------------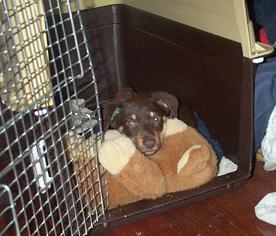 "Kit in cage- His second night at home! He slept through the night with only one toilet required at around 2am. Other than that was quiet until around 7am.
---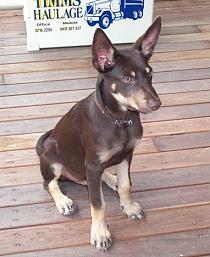 Hope everything's going well and this email finds you and all your four legged friends at Noonbarra in good health. Kit has settled in really well and is very quickly growing up. These pics were taken this morning after his 3km run with Ang and as you can see he's growing into a handsome dog. I know we talked briefly about how far we could exercise him as he's growing so we've been very careful, but I've yet to have a morning we're after his run, he doesn't disappear up the back and start hunting through the mango leaves chasing lizards. Every couple of days I rake up the leaves into a big pile and he quickly spreads them out again chasing the skinks who hide amongst them. Keeps him amused for hours.

He also has his rope (made by Ang's Dad) so we have major tugs of war, his oversize tennis ball (about the size of a basketball) that he pushes around the back yard and is unable to control (although he's getting better now
that he's bigger). His favourite toy is his squeeky ball which he is determined to get the squeek out of.

I take him to work on occasion, but generally he spends the day either doing the above or sleeping on the back deck waiting for us to get home. He and the cat have come to the understanding that the cat stays where he is and
Kit walks in a circular radius no closer than about a metre, keeping a very close eye on him.

We graduated puppy preschool last week. He now knows the commands sit, sit-stay, and we're still working on the down and drop. He's good if its just us, but if we throw some puppies into the mix, he gets pretty distracted. Now that he's had his second round of vaccinations, we'll start taking him to agility training which I'm sure he will love. If we can, we take him with us everywhere. He's wrapped with just being around and experiencing new things, even if its just the car ride going somewhere. He almost tall enough to see the other cars whilst sitting from the front seat.

We had a BBQ for our friends on Sunday to introduce everybody to Kit and the renovations to the house and he behaved very well. He was pretty excited and he was spoilt rotten by everyone. He had a couple of dog friends brought by guests and loved playing with them. I had put one of our old doors at an angle over the stairs so they couldn't get up, but at one stage Kit was determined to come up and play with his human friends. He spent about ten minutes figuring out a way to get around the door and up the stairs, with half of our guests on the deck urging him on. (I was out the front on the bbq and didn't know what was going on until a mighty cheer erupted from our
friends as he managed to solve the problem. Much tail wagging inducing congratulations were handed to him.
At the end of the afternoon when there were only a few people left he was happy to be picked up and sleep on laps
as he was pretty exhausted from all the fun he'd had.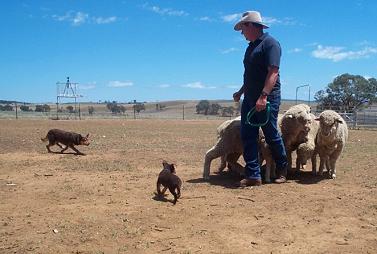 Noonbarra Kit Noonbarra Stud with Stephen Bilson and Noonbarra Max helping to hold the sheep

He's getting really good with his house training. He seemed to be really comfortable with sleeping in the bathroom at night, and while he would avoid going to the toilet in there, he seemed to think the rest of the house was OK. So we know let him have the run of the house at night and even though he still sleeps in a basket near our bed, he's getting the idea that the whole house is his den and that he hangs on till morning.

There's heaps more to tell, but I'd better get back to work. We can't thank you enough for our gorgeous new part of the family. Day by day he's getting bigger and is a pleasure to be with. As mentioned, he is loved by everyone he meets from friends and family, to co-workers, the mechanic, neighbours, builders, delivery drivers, co-early morning walkers, joggers, vets, vet nurses and all his doggie friends. He has won our hearts as would expect and whilst the training is ten times harder than I expected (and you warned), its also ten times more rewarding.

Speak soon. Leigh (and Ange)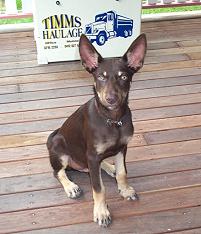 -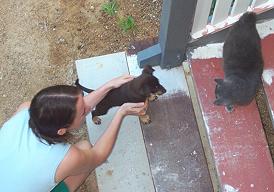 Noonbarra Kit and Davis- this is our Manx cat. Very unsure with Kit at the moment,
but no growling or hissing so far. He just watches from a distance looking very
wary. But he came down the stairs to check Kit out.
In Oct 2004, Noonbarra Kit returned to Noonbarra for the day to see us and had a few runs on the sheep. He did extremely well.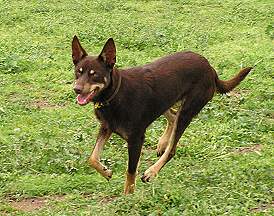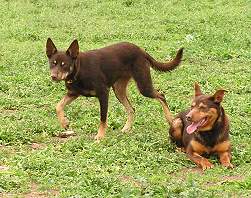 Noonbarra Kit with Noonbarra Megan
Hi Stephen and Mary,
"Leigh and I really interested in buying another kelpie off you… this time a cream girl (preferably) or a cream boy?? Do you have any idea when you will have any cream puppies coming along?? We would love to hear from you.
I will have to find some new photos of Kit to send through to give you an update, he is so gorgeous – we love him to bits!!!
Best regards,
Angela xx
---
NOONBARRA JACKAROO X NOONBARRA KELLIE
Red & Tan Male Born: 11th August 2007
Owned by Leigh & Angela Verner of Brisbane Australia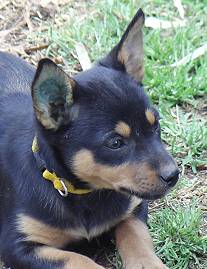 The Verner family now owns two Noonbarra Kelpies. We met Noonbarra Kit again when they picked up Sassafras.
Hi Mary and Stephen,
Thank you so much for our little girl! She was fantastic on the way home a few minutes of playing followed by a few hours of sleeping. She is just adorable and Kit has taken to being older brother very nicely.

It was so lovely sitting there chatting with you both. We would have loved to stay and chat all day we love hearing about your dogs. Stephen you are looking amazing and we hope you get through the rest of your treatment just as well and be through it all soon. - you are an inspiration!
Will send some photos through soon of Sassy settling in.

Thanks once again for Sassafras and Kit - we have been lucky to get 2 such beautiful dogs from you. I have been reading kelpie basics in the car too!

Lots of love and best wishes,

Leigh, Angela, Kit and Sassafras Verner xxxx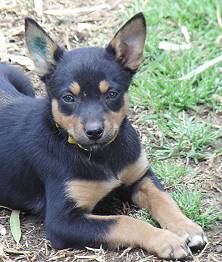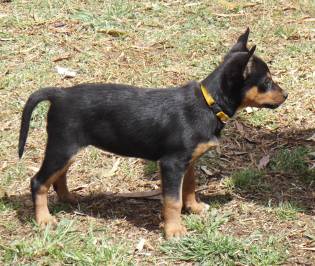 ---
RETURN TO CUSTOMER REPORTS