NOONBARRA WORKING KELPIE STUD
WHAT OUR CUSTOMERS HAVE SAID ABOUT NOONBARRA STUD KELPIES
---
NOONBARRA LILLYPILLY

(CAPREE COBB X NOONBARRA SARAH)
Black & Tan Female Born: 20th April 2002
Owned by Deborah Berman of Idaho U.S.A.
---
Lilly is in Idaho USA and is being trained to work Alpacas. Her owner picked her name from an Australian flower. The family also have a rescue dog Called Daisy who has a number of problems and they were worried how Daisy would react to Lillypilly's arrival.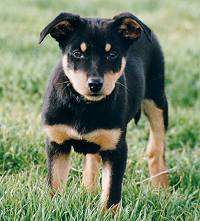 "Well, we've had Lilly now for two and a half weeks and are really pleased with her. Of course, she is very cute, so it's hard not to like her, but she also has a really nice personality."
"As soon as we got her home from the airport, we introduced her to Daisy outside the house. Lilly did all the right things, and Daisy never even barked at her. Now they are very good friends, and one of the high points of their day is going out to the outside pen for their playtime."
"Daisy has mellowed a lot since we got Lilly. I think she derives a lot of security from her presence. Also, Lilly is socializing her. Lilly accomplished in a week what we hadn't succeeded in doing in the 5 months we have had Daisy. Daisy has always gone ballistic when she sees another dog. "
"I've been taking Lilly to interact with the Alpacas nearly every day. I started by introducing her to the male who considers himself the herd leader. He was attacked by a loose dog shortly after our old kelpie died last year, and ever since then he goes ballistic if he catches sight or sound of a dog anywhere around."
"We have been taking Lilly to the Saturday Farmer's Market, and she has gotten compliments on how well socialized she is, including from the veterinarian/animal behaviorist who has been helping us with Daisy."
---
"Just a quick note to let you know that Lillypilly is doing well and that we really like her. We are doing obedience school with her, and she is doing very well. Her ears are half up now, and she is very cute.

I thought you might be interested in this particular behaviour of Lilly's:

A couple of weeks ago we were walking the dogs on our favorite walk on the mountain. Lilly and I were ahead, and we stopped to wait for Daisy and Suvia. I could hear some fairly large-sounding animal moving in the brush
just up the bank, maybe three or four meters away. Where Daisy arrived she started barking at it. I tried to move the dogs on past so as not to harrass whatever it was, (we always walk the dogs an long retractable leads so that they can't actually chase anything very far), but Lilly wouldn't let me. She came and stood in front of me, blocking me with her body. When I tried to move around her, she did it again, and yet again. When I persisted
she stood in front of me and bit at my knees. About that time I realised I was smelling the characteristic smell of bear. Well, I thought that was very interesting, but I thought it might just have been excited puppy behavior, although she had never done anything like that before.

A week or so later we were walking on the same road further up the mountain, and we stopped to look at a track in the dirt that we decided was made by a young bear. The road takes a sharp bend at that point, and there is a place where I had seen bear tracks earlier in the summer where the bears seem to have a trail that leads from a creek in a ravine on one side of the road to a logging road that goes straight up the mountain on the other side.
Well, when we got to the place where the bear trail crosses the road, Daisy got very excited and started following the bear trail up the mountain. Lilly came and stood in front of me and wouldn't let me go forward.

A day or so later we were doing the same walk, and on the way up the mountain neither dog had any reaction when we crossed the bear trail. On the way back, Lilly and I were ahead, and when she got to the place where the bear trail crosses the road, she stopped and blocked me from going further. I told her that she was very good, and we proceeded with caution around the bend in the road. Well, I wasn't particularly surprised to smell bear as we rounded the bend, and to hear a large animal moving around in the brush just off the road.

Lilly has done this same behavior once or twice since then. In addition to their trail that crosses the road, the bears seem to be using the road as the quickest route to raid people's fruit orchards, judging by the dung they leave in the road (mosly plum pits.) Lilly likes to try to eat this.

I thought Lilly's behaviour towards bears was particularly interesting, as Bears must not have been part of daily kelpie experience for many generations.

Cheers
Deborah


---