NOONBARRA LIZZIE
Capree Cobb X Noonbarra Sarah
Black & tan Female Born: 20th April 2002
Owned by Daniel McMahon of Bathurst
---
Noonbarra Lizzie has now been sold to a young Kelpie Stud breeder in the Bathurst district.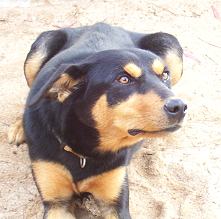 Lizzie was kept in our Stud and bred one litter to Noonbarra Max. She was sold soon after before we realised how good the puppies were. From this litter we have Noonbarra Jackaroo and Noonbarra Nicky. These are terrific dogs. Jackaroo may just be the best male we have ever bred!!
Liz is a very big, tall female and brings in quite a bit from her sire, Capree Cobb. She is heavy boned and usually has one ear up and one ear down. She is very friendly and likes a pat, she loves to be with people. The Cobb mating with Noonbarra Sarah was a very nice joining of excellent working genes. Our Noonbarra Kelpies often go well with these modern Capree bloodlines. They seem to compliment each other quite well.
Noonbarra Lizzie shows nice style on sheep with plenty of versatility which is very similar to her dam, Sarah. She is steady and calm with a good balance of eye and strength on the sheep. Can get them off fences and is comfortable in close when needed. She has some wonderful footwork which has been helped by her sire.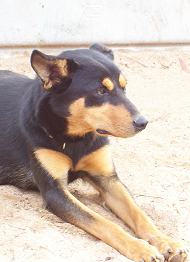 Her sire is an outstanding dog in the yards and Utility and Yard trial winner (including National Kelpie Trial in South Australia -novice and 2nd Open National Kelpie Trial 2004) and has been used twice in the Noonbarra Stud.
Her dam, Noonbarra Sarah is one of our best workers ever and is exceptional out in the paddocks with a very wide calm working style similar to the classic old Kelpies such as Chondo doll , who is in her pedigree. She has the ability to settle down even wild sheep.
Noonbarra Sarah is very versatile and can work all day backing and moving the sheep through the stockyards. Sarah is currently regarded as our best breeding bitch as well.
Noonbarra Liz has since been mated by her new owner to Noonbarra Flash.