NOONBARRA WORKING KELPIE STUD
WHAT OUR CUSTOMERS HAVE SAID ABOUT NOONBARRA STUD KELPIES
---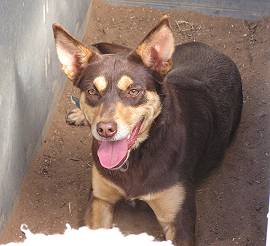 NOONBARRA MAGGIE II
Noonbarra Dusty III X Noonbarra Lucy II
Owned by Laurelle and Mike Kinsman - Merrynvale Stud Victoria
---
The Merrynvale Stud have been big supporters of Noonbarra Kelpies and have bought Noonbarra Blitz in the past and used her in their breeding program and recently bought a new sire in Noonbarra Jaffa. Noonbarra Maggie was bought from another Stud and not direct from us.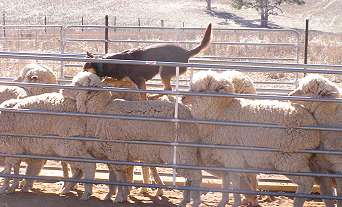 Noonbarra Maggie is very well bred and was originally sold to compete in yard dog trials. She is a full sister to Noonbarra Max but from a later mating. Max is of course one of our best sires and workers. Noonbarra Emma owned by stockman, Darren Lackersteen is a litter sister. Emma is such a good backing dog she can back cattle. See separate listing on this website on Emma and Max.
Maggie is a very friendly happy sort of dog that can be taken anywhere. When Laurelle visited the Stud in May 2004, we took Maggie and one of our Kelpies into the city of Orange and we all sat at an outdoor cafe with Maggie perfectly behaved at Laurelle's feet.
Maggie is a superb dog in the yards. She can fly through the air when backing along a race and nothing bothers her. She could run sheep into the yard and up the race very easily and quickly. We did quite a few working sessions with her in the yards and paddock and were very impressed with the training Laurelle has given this young Kelpie. She was a very nice dog to work with and easy to handle.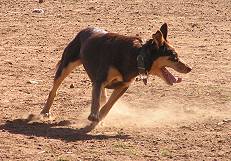 Noonbarra Maggie is a quick stylish, very keen Kelpie in open paddock work.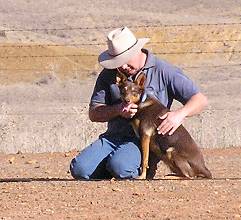 Stephen Bilson with Noonbarra Maggie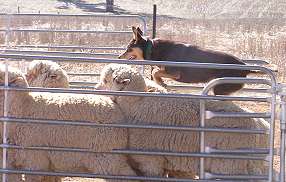 Maggie is a superb backing dog in the stockyards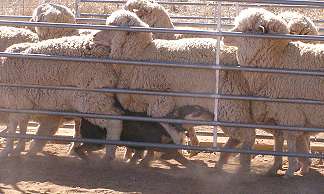 Perhaps even more important is that Maggie is very talented at coming through the sheep in a race and can withstand the knocks and move through effectively without needing to confront the sheep. This is a legacy that has come down from Noonbarra Gabe. You can see in this photo she is squeezing her way through the race.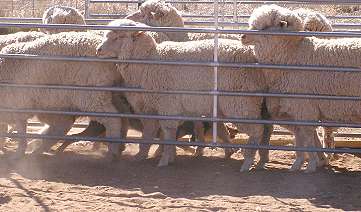 Here is another good photo of Maggie under the sheep n the yard race.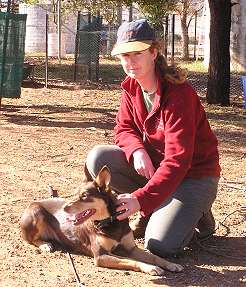 Laurelle Kinsman with Maggie.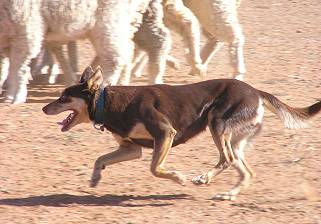 Maggie is a very keen worker and has plenty of energy to do a full days work.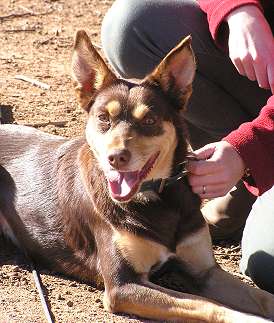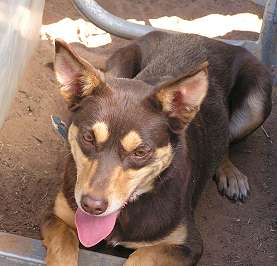 Maggie lying at the back of the yard race waiting to be called to work again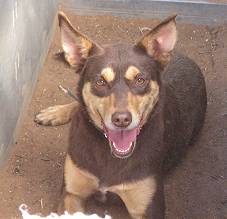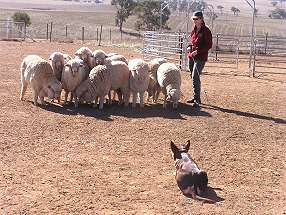 Laurelle working Maggie at the Noonbarra Stud.