NOONBARRA NICKEL
Sire: NOONBARRA MAX (NOONBARRA DUSTY III X NOONBARRA LUCY II)
Dam: NOONBARRA VALERIE (NOONBARRA BOSS II X NOONBARRA TINA)
Born - 4th June 2002 ... Female. Tattoo Number NO34F

Owned by Colin Stevenson of Cobar NSW.
---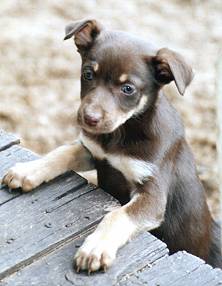 This was a very impressive young puppy. She was one of the friendliest, most outgoing puppies we have had in a long time. She had been very well socialised and nothing much worried her.
She was sold to Colin who lived in Cobar in outback NSW and worked for the mines there so he decided to call her 'Nickel'.
She was a pup that adapted very quickly to new situations and was quite bold for a little girl. As a pup she loved to play and have fun and always wants to be close to people too.
She was already showing ability on sheep even at this young age but that is not surprising when you consider the outstanding abilities of her parents. She shows some eye and style as well as the calm strength of her dam, Valerie. She is also going to be versatile in her work and already is happy to be up on the backs of the sheep. She shows very good agility and has a good turn of speed.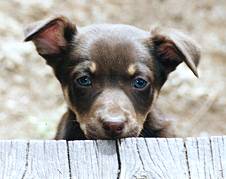 "Just thought Colin and myself would pop you a line to let you know how our little baby Nickel is going. We are very pleased with her and Nicky just grows so quick. Nickel learnt sit and down and stay all in two weeks which now comes in handy with our second puppy, Labrador. Nickel is very quick and so smart, sometimes to smart! Colin and her are in separable! She is just a lovely girl who loves to play and learn. She adores our new little puppy and looks up to our other dog who will be travelling with my mother soon so Nickel will be boss. She is just wonderful. "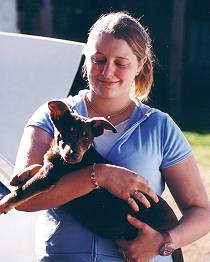 Noonbarra Nickel
"I'm just so surprised about how fast she can run and the energy she has which is just so much fun! But my favourite thing would be that Nicky loves hugs and she is so patient and tolerant. We are very happy with our baby girl. I have attached a photo of her we took only last week, her legs have gotten so tall and last week she got two ears up!"
---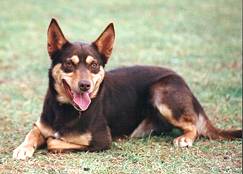 NOONBARRA MAX (The Sire)