NOONBARRA WORKING KELPIE STUD
WHAT OUR CUSTOMERS HAVE SAID ABOUT NOONBARRA STUD KELPIES
---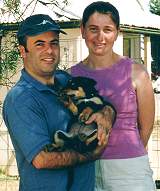 NOONBARRA OSCAR
NOONBARRA DAN IV X NOONBARRA ANGEL
Black & Tan Male Born: 16th Sept. 2002
Dear Mary & Stephen, Oscar is just over one year old and we thought we would drop you a line. Oscar settled in really well since we brought him home last November. He was a great pup and has grown into a fantastic part of our family. He has become my exercise partner over the last few months but he is just as happy to keep Linda company indoors (see photo 15).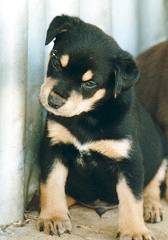 Oscar has quite a calm temperament for his age. He relatively quiet and will usually sit up and stare other dogs or people in a deliberate way until he decides whether they are worth barking at or paying attention to. He loves kids and his favourite trick is to give them a lick on the face before they know it's coming (he catches a lot of adults fair on the mouth with this trick as well!).
He is a natural in the car. He will sit up in the front sit and watch intently out the front window at the road ahead like a co-pilot. He actually leans into the corners and he remains planted to the seat no matter where or how I drive. When he gets tired he just curls up a goes to sleep.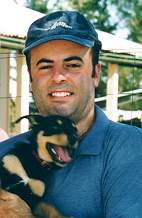 He was also a natural on the leash. When we first brought him home Linda proceeded to take him for a walk on a leash (he was about 9 or 10 weeks old). I said that he was too young and there was no way he would walk properly with the leash. He proceeded to walk nearly a kilometre to Linda's brother's place at heel. I could not believe what I saw. Shortly after this he took to holding the leash in his mouth and walking (more like prancing) proudly a couple of paces ahead with a slight amount of tension on the leash. He still does this to this day. I firmly believe that even when he was a pup, he believed that he was taking us for a walk. Now, I also go jogging with him. He will canter perfectly a couple of paces ahead or beside on the leash.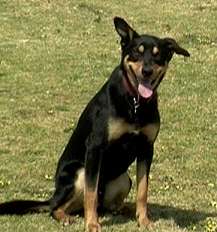 He is great indoors and will settle for hours watching television on his blanket. He is very good with the basic commands which he was taught quickly when he was younger. He is also quite settled in his enclosure by himself. I think it helps that he can see the street from where he is although he quite content to sleep during the day if he is by himself, especially when it gets warmer.
Regards, Linda and Peter Stellino, Kellyville.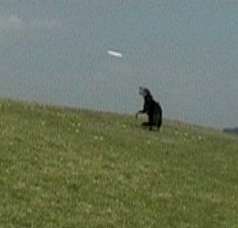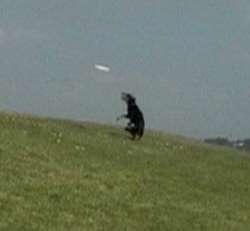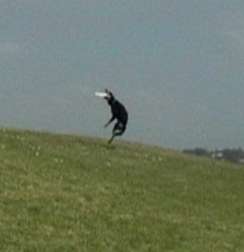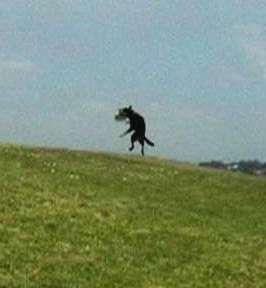 NOONBARRA OSCAR LOVES THE FRISBEE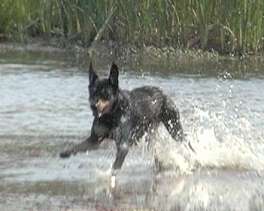 HE LOVES THE WATER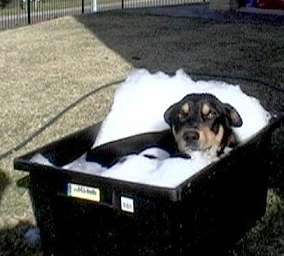 BUT... FROM THIS PHOTO DOESN'T QUITE SEEM AS KEEN ON A BATH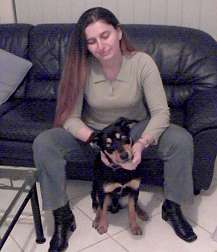 OSCAR IS A VERY MUCH LOVED FAMILY COMPANION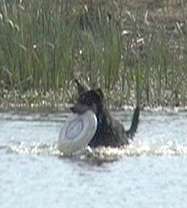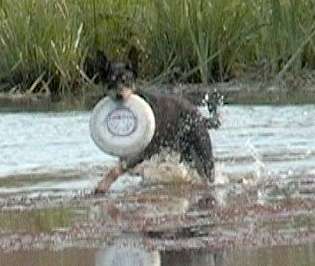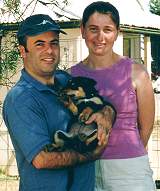 ---
RETURN TO CUSTOMER REPORTS