NOONBARRA PEDRO
Noonbarra Roy III X Noonbarra Megan
Owned by Donny Allen Texas U.S.A.
Red & Tan Male Born: 3rd April 2004
---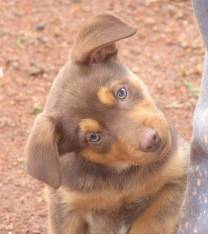 "I guarantee there are no dogs over here like yours"
Pedro was an outstanding working pup right from the start. He was bred strongly back to the good old dogs of the Kalari bloodlines of the 1950's and was very much the old style of Kelpie that our family had in the early days. We would have liked to keep him ourselves but we already had seven sires in the Stud, which is far too many.
He was sold to Texas in America to work in scrubby country. The customer wanted a dog who could work off the stock and have a lot of natural ability as well as being a family companion with his children.
We were very proud to send a dog of his quality over to America. So far he is settling in well.
"The letter you wrote with the tips will go on my wall so I can be reinforced from time to time. You drove home the part about being fair and consistent and I will try to always remind myself. My wife called and scheduled a trip to the vet this week for rabies shot, worms, etc.
The whole family is enjoying him. On Pedro's first day home, my brother surprised me when he showed up to help shear some lambs. The heat, stickers, and speargrass had really knocked our lambs back. Pedro showed he wanted to work. Of course we were busy and I let him stay in the house with my daughter a good bit of the time. One time I was pulling a lamb over toward my shearing floor and Pedro made a couple of circles under the lambs belly. My brother smiled and said "Well I guess going underneath the sheep is bred into him." Yeah, I'm confident that in the future Pedro will be gathering stock, strays, and remnants that others cannot.
A cowboy friend of mine came to see me and when he saw Pedro he said " Donny. Looks like you got a catch dog(cattle)." It was obvious that he didn't know that Pedro was a Kelpie. Kelpies are rare in my neck of the woods. Folks claim to know them, but I don't think they do. I am truly excited about Pedro.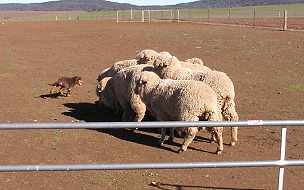 Noonbarra Pedro holding some sheep together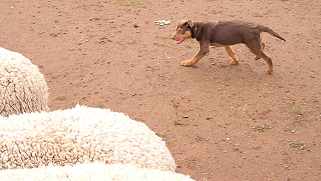 Noonbarra Pedro shows nice distance and steadiness
---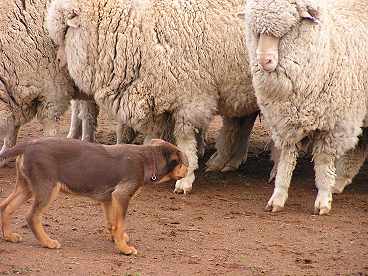 Noonbarra Pedro
Showing excellent strength for a 10 week old puppy
---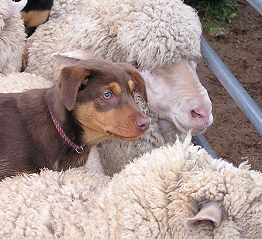 Noonbarra Pedro was very comfortable backing sheep in the stockyards from just 8 weeks old
---
July 2004
"Hello Bilsons, My oldest brother wanted to see Pedro and I let him in with 7 billy kids. Pedro did a wonderful job. His distance, cover, strength, and eye were all in place. My wife commented that he appears to be a problem solver. I better step on my brakes. You, as well as my Dad, have reminded me to let this pup mature. I bet he'll do things that folks over here have never seen before. I suppose herders from down under see good dogs all the time, but one doesn't see many over here, not doing real work out on the range anyway."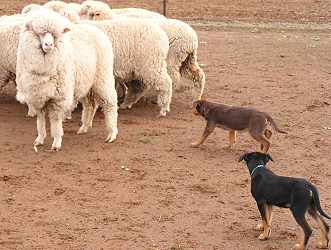 Noonbarra Pedro and his brother.
---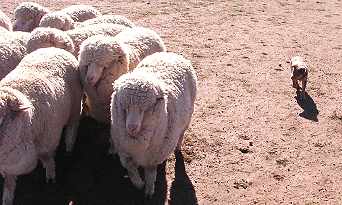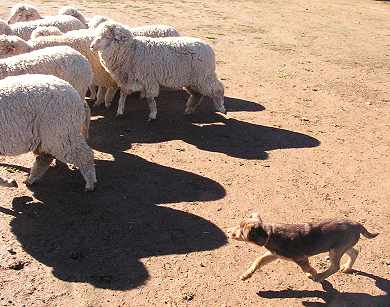 Sept 2004
"Hello Bilsons. I let Pedro work with me on small bunch 18 ewes and 14 half grown lambs. These fine wool sheep are not pets. The flock had some run in them and Pedro held them up. He made a wide swing around them to hold them and once the sheep stopped, he eyed them.
"The sheep then handled nicely on their way to the corral. I was horseback because I want Pedro to get used to me being fast along with him. The only time I put a leash on him was just as we were nearing the corral gate so I could keep him alongside of me and I made him lie down in the gate after the sheep went in. I let Pedro come in the drench pen with me and the lambs. He kept them crowded for me. For a time, Pedro stood on his hind feet with his front paws on the lambs' backs. He will down for me around the house, but on the sheep he didn't down, so I talked to him calmly "there" when he held a good position".
"Maybe a year from now, I may try to see if you can find a suitable female (for Pedro). Folks around here see Pedro and they tell about some good border collie bitch somewhere. People wanting to use him as a stud. Yeah, they sure would...
I will get some pictures for you sometime.
Donny Allen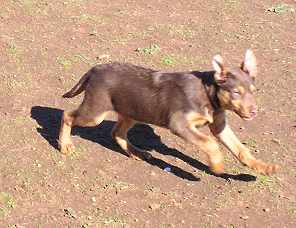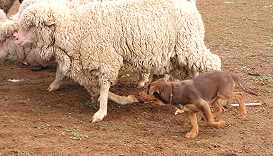 Letter from Donny Nov 2004
"About a month ago, Pedro learned on his own how to jump sheep panels. Yesterday, I packed a couple of ewes behind a portable panel and within a few minutes he learned to jump from the outside, up over the panel and light on the ewes backs. I don't know who was happier - Pedro or me. He went from their backs to the ground and he wanted to stay in there with them. Those ewes are stout and to avoid any potential wreck in that small area, I put him out and let him back them several more times. I was amused how he puts his clown face on while backing."
"I think Pedro is going to be a very strong dog. A mamma ewe went for him and her sharp hoof came down hard on Pedro's foreleg. Pedro yelped and then immediately went to her nose. Today, Pedro will still lay it on the line, but only if he has to. He did the same when a young nanny gave him a cheap shot from behind."
"I recently gathered sheep out in the paddock and he held them all rather well. There were babies in the herd and he kept his distance. Some dogs like nothing better than to chase a baby far away in the brush away from its mamma. Pedro will figure it all out in due time. We're having fun, too."
Donny Allen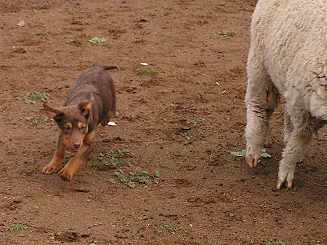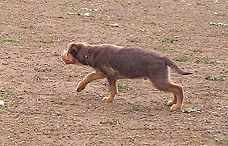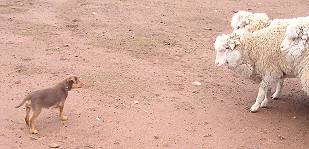 ---
These photos were sent from Pedro's owner in America.