NOONBARRA PENNY PUPPIES
NOONBARRA DAN X NOONBARRA PENNY
---
This is the first litter from Penny and she has been a fantastic mother and looking after them well. Penny is small , very people oriented female that just loves to around you. She is extremely well bred (Noonbarra Dusty x Noonbarra Gabby) and very similar in her breeding to Max and Emma in the stud.
Dan is a tall black and tan sire and a very calm Kelpie. He has a friendly, quiet personality and is one of our favourite young dogs. The puppies in this litter are still very young and are just getting their eyes open.
---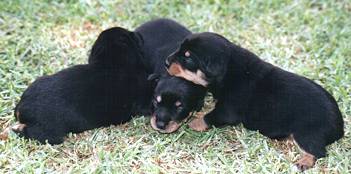 VERY YOUNG PUPPIES
---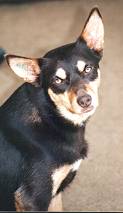 NOONBARRA PENNY (THE MOTHER)
Noonbarra Penny is a lovely small bitch and is very similar in breeding to Noonbarra Max and Emma in our Stud. She is sweet little dog that just wants to be with us and is easy to handle. She is extra keen to work stock and will stop well on command. She has mostly been worked in the open paddock but has shown some extra-good ability in the yards as well and hopefully in the future, get to do more work there. She is very much like her mother (now deceased) Noonbarra Gabby. Many people have told us that she is a very pretty little girl with nice markings.
---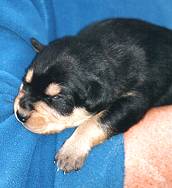 ---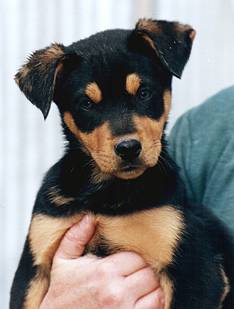 NOONBARRA CROM
One of Penny's pups off to Begium.
---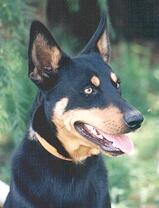 NOONBARRA DAN (THE SIRE)
Dan is a very tall black and tan male and a very handsome dog. He is still a very young dog and this is his first mating. He was kept as a sire for our Stud because of his wonderful temperament and very-laid back attitude. He is one of the calmest Kelpies we have owned. We have a lot of plans for him in the future. His work is very keen and he has plenty of strength on stock when needed. He is a full brother to Noonbarra Cassie and Noonbarra Mouse.
Dan has good distance on stock and has an imposing presence about him that also makes him very strong and stock quickly move off him. This trait comes from his dam, Noonbarra Wendy. He is very keen to work and likes to please. His breeding takes in some of the greatest Kelpies of the past 50 years including Barambogie Mack, Liscannor Marco, Capree Watch, Phils Creek Sam, Milburn Basil and of course the National & State Champion, Noonbarra Butch.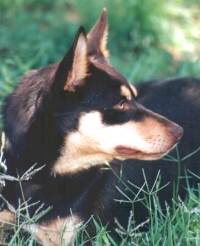 NOONBARRA PENNY