NOONBARRA RUBY I
(Noonbarra Dusty X Noonbarra Cassie)
Red & Tan Female Born:12th Nov 2002
Owned by Bev Bell.
---
Noonbarra Ruby was another terrific pup from Noonbarra Cassie. Her mannerisms were so much like Cassie that when she came back for a visit to the Noonbarra Stud as an adult we had difficulty telling them apart unless they were up close.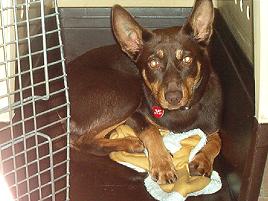 Mary, Thank you very much for the information you sent and the chat the other morning I have read it over a few times and think I know what I'm doing.
Here's hoping! my beautiful Ruby is doing really well I can't tell you enough how pleased I am with her. She is starting pre-school tomorrow night and I have also booked her into dog obedience in April.
I'm always ahead of myself. I found out that my old mate Bart was from Glenlogie Sadie and cobanco rockie and his name was bungaree Bart. I have done well if I got all that spelt right. Andrew is a wonderful man and I am
dying to see him and show off my baby. He said I will never be sorry for buying a dog off you as you breed lovely dogs and was very pleased I went to you. So there's a lovely compliment for you. Thank you again for all you have done for me I will keep you posted on little Ruby's progress.
Yours sincerely, Bev.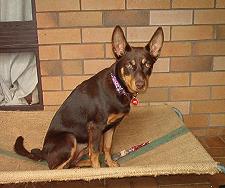 Well my little Ruby is wonderful as always keeping me very busy.
We do the down stay all the time and I watched it really pay off at puppy pre school the other night as she stayed down for most the time someone not a fan of the working dogs as I told you already said she's doing really well that's amazing.
I was only to happy to give my reply which was thank you very much but i cant take all the credit its because she's a working dog and they are very intellegent and keen to learn it was my proudest moment 8 dogs,10kids;9 adults all in a small room and my baby did everything I asked. So thank you for the information you sent on the down because its working and thank you for such a bright little pup.
---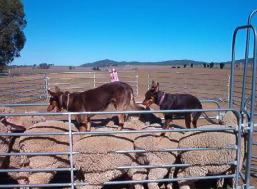 NOONBARRA RUBY AND HER DAD - NOONBARRA DUSTY
Photo by owner, Bev Bell.
---
In early May 2003, Bev brought Noonbarra Ruby up to the Noonbarra Stud for some general obedience training. we also let her work the sheep in the paddock and in the training sheep yards here. Ruby took to it very well. she is a lovely little pup and so much like her mum, Noonbarra Cassie that sometimes we called her Cassie by mistake.
Bev also came up with her own Mum and her two children Amy and Emily. The kids were great with the dogs and Amy helped us take various dogs to the exercise yards.
Noonbarra Ruby, Noonbarra Dusty, Emily and Amy Bell with Stephen in the training yards.
---
Hi Mary and Steven, Thank you both so much for having us yesterday the kids had a great time and I really got a lot out of the time spent with you. Ruby's been great.
I had to go to work today and when I got home we went for a walk and I just walked and every so often got her to sit and down and she did. I was so pleased you gave me confidence and also showed me that I can get what I want out of my dog. So thank you again I will keep you posted on Rubys progress.
bye for now, Bev and Ruby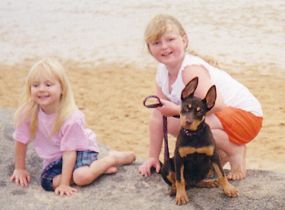 Noonbarra Ruby at the beach
---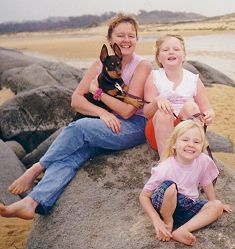 Bev holding Noonbarra Ruby with her daughters Amy and Emily

---
Noonbarra Ruby backing sheep with her sire, Noonbarra Dusty
"... She is a real honey loves the beach more than ever as she grows and loves her new bedroom it's so much bigger than her all crate which we just use in the wagon now. Thank you so much Mary for talking me into a crate which as you may remember I wasn't keen on in the beginning and now we have up graded to a bigger one."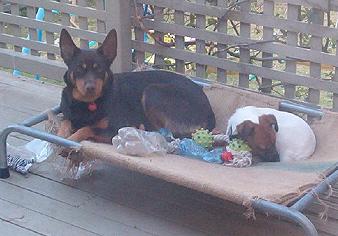 "Here's a photo of Ruby resting with her best friend Millie. As you see by the photo Ruby makes her own day bed."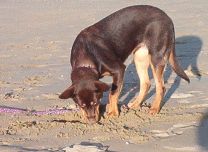 NOONBARRA RUBY AT THE BEACH
---
Hi there,
We just got back last night from a two week holiday and Ruby had a great time she really enjoyed having all those friends she had a little go with the sheep and really enjoyed herself she loved going on the back of the ute as you see in the photo. There was no worries of her jumping off as she waited for me to lift her down (or anyone that was free at the time) she really likes Neil a lot and was happy following him around as well. The girls loved all those dogs to take care of and play with as you can see Emily is under all those Kelpies. and once again Ruby travelled very well it was a big day in the car with no complaining from her.
---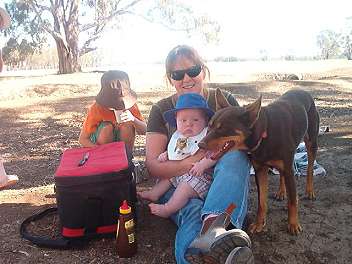 Noonbarra Ruby with her family.