NOONBARRA RUBY II
(Noonbarra Flash X Noonbarra Penny)
Red & Tan Female Born: 13th Jan. 2003
Owned by Pete and Emma Hartcliff
---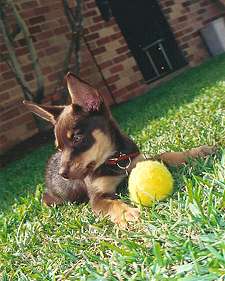 Yesterday afternoon at Tunks Park we met Rubys good friend Zaly who is a 14 month old red/tan kelpie female from Denniliquin. Then another 2 year old red/tan Kelpie called Billy joined in the fun of chasing the rugby ball with me and Em. It was quite a sight to see when at one stage we had all three dogs in a line but staggered at a distance of 10 metres apart lying down ready to take off once the ball was kicked. I think little Ruby enjoyed chasing her heros rather than the ball!
We were some of the proudest owners in the park with these 3 dogs looking as good as they did and behaving just as well.
Apparently Billy has been out to Noonbarra before working with your sheep which got Em and i thinking that we will give you guys a call soon and try and organise a sheep day for Ruby (and us!) as a bit of fun.
Em will email you some photos of her soon.
Hope all is well, Pete and Em.
We cannot tell you how absolutely wonderful Ruby has been - she is the most gorgeous dog and we love her to bits!
---
"Hey guys, Ruby enjoyed her first full summer very much. She spent alot of it down at
the beach and has finally shaken her fear of the water.
We had a booster shot the other day and the vet was stoked at how healthy
she was.
We are expecting a baby in July and are sure Rub's will make a great big
sister. Hope alls well and that Rubys mum (Penny) found a good home."

Pete, Em and Ruby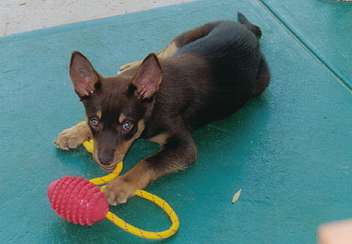 ---