NOONBARRA RUSTY V
Born 28th May 2003 Stud Tattoo: NO45G
Sire: Noonbarra Dan


Dam: Noonbarra Angel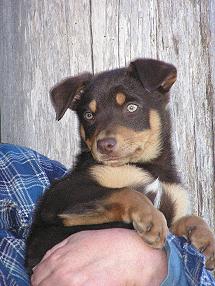 ---
This pup had it all. A really exceptional pup that we sold to Richard Mersdith of the famous Butterbone Merino Stud at Warren in western NSW. He had the looks, temperament, intelligence and ability to be really outstanding.
As a puppy he was already working well on sheep with a lot of calm strength and determination. He could come in direct and also go to the head or walk behind. He would be a good dog on cattle too as he is comfortable in close and even though he gets bowled over often by the sheep (which tend to be a bit aggressive) he comes up smiling and walks back in.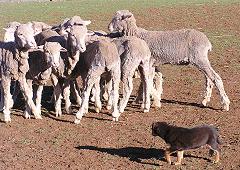 This is the 2nd time we have done this mating and Angel's last pups were some of our best. We were hoping for a breeding bitch from this litter but it wasn't to be as there were only males in the litter.
He is very friendly and confident and bold. Loves to play and be with you. Has lots of strength of character and a keen, determined working dog that will get the job done for you.
His background breeding is very versatile and goes back to top rate Cattle working dogs, State and National Yard Dog Champions, Big mustering dogs in timber and scrubby country and even Arena Champions. He has 6 National Australian Champions in his pedigree and goes back to the most famous Working Kelpies of the last 30 years and further back to the greats of 100 years and more.
He is of course like all our Noonbarra Kelpies vaccinated for all the serious dog diseases, Parvo Virus, Distemper, Hepatitis, Coronavirus, Leptospirosis. He has been regularly wormed from 2 weeks of age. He has full Stud registration in National Stud Book for Purebred Working Kelpies, Special stud tattoo, Dog folder with photos and information and after sales advice and tips.