NOONBARRA SOPHIE
Black & tan female. Born: 28th April 2002
NOONBARRA MAX X CAPREE DYNA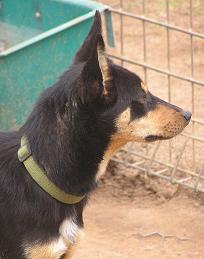 This young bitch was supposed to be kept in the Stud but we needed to reduce numbers and couldn't really keep all the dogs on that we would have liked. She was sold to Garry Odgers of South Australia.
She is a friendly, good natured black & tan bitch with some of our best breeding. Noonbarra Max is currently one of our top sires and definitely one of the best sires we have ever owned.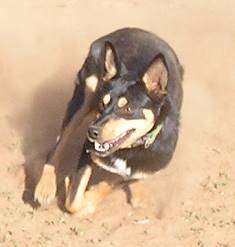 Sophie hadn't had a lot of training at the time she was sold but she was already a good all-rounder and had started doing excellent work in the stockyards. She had had a bit of mob work and has done very well there too. She loves to back the sheep in the yards and is a natural at it and feels very much at home there.
She has a quiet type of dog and not too excitable and likes to be with a person. She has huge potential and like all Noonbarra Max progeny, she is easy to train and handle. She travels well and gets on with people. She is a full sister to Noonbarra Betje who went to Belgium.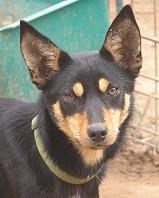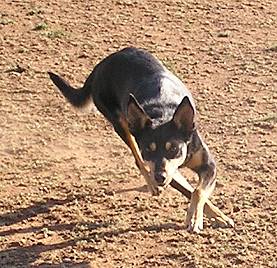 Sophie shows some nice style on moving stock.
---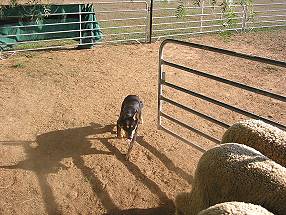 Sophie moving sheep into the forcing yard.
Sophie has really settled in well to our family life. Very sensible inside the house apart from the odd
game. She knows the routine and doesn't miss a chance for a walk, run or drive in the car. Sophie is a great dog, calm most of the time but has a good sense of fun and enjoys a good run. She has loads of pace and can run all day. She listens and really pays attention when I talk to her.

She is also good friends now with our other dog and they enjoy a daily wrestle or two and some high speed games in the backyard.

All the Best, Garry Odgers.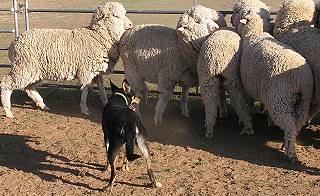 Sophie working sheep in the stockyard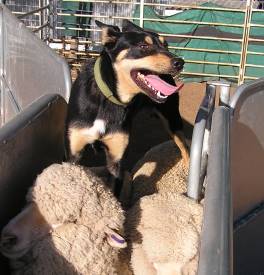 Sophie loves to back the sheep.
Sophie continues to be great dog, great personality, great friends with our other kelpie, extremely fast when she wants to be and knows how to relax too. It was a pleasure to talk to you both and buy our dog from Noonbarra.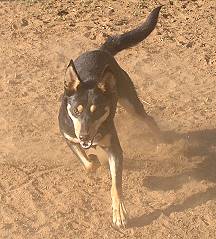 Sophie is quick to block sheep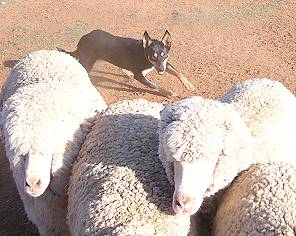 Sophie has a natural point of balance on stock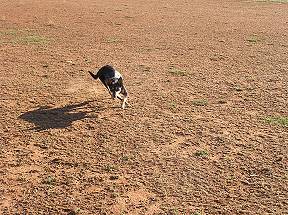 This photo shows Sophie working off the sheep. Closeup above.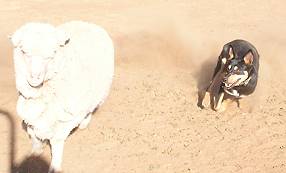 Closeup of this photo above.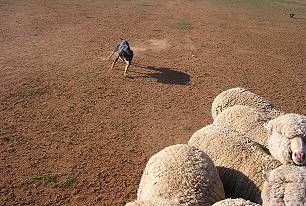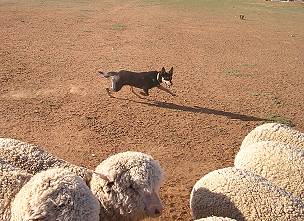 Sophie has a good natural break out on stock