NOONBARRA KELPIE STUD
NOONBARRA TOBY III
NOONBARRA MAX X NOONBARRA LIZZIE
Black & Tan Male Born: 20th May 2003
---
Noonbarra Toby III is a full brother to Noonbarra Jackaroo and Noonbarra Nicky. He was the first pup in the litter to start working on stock and was a wonderful dog. We thought a great deal of him. We had him at the National field Days and he was able to work difficult sheep right around the yard course without help from another dog.
In 2003 we sold Toby to Warwick Morrison who was living in Bondi but also had a large wool and meat property up north, which is managed, running mobs of Merino sheep and Hereford cattle. Warwick is a friend of Jill and Geoff Steward who own Noonbarra Lucy III and Noonbarra Ding.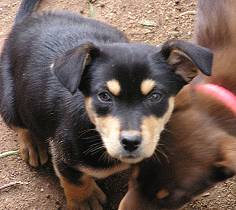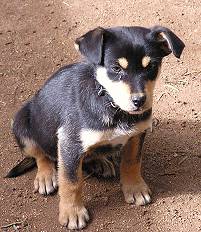 "Dear Mary & Stephen, Sorry for not contacting you sooner regarding the dog that we bought from you (Toby ). Last time we messaged you we told how he had was adjusting to the city particularly Bondi & that he was in a constant state of amazement."
"Well now we are up here at Bundarra, arriving December 03. He's had to learn shed, yard & paddock work. And, he's done it ! He's such a clever dog, he's gentle (he seems to be a friend of all animals or he thinks he is) he climbs up a ladder to look after the roosted chickens : he loves to play with our solitary horse, trying to lick his neck & our only adult chook lies with him in the sun ."
"We have mustered 300 acre paddocks & Toby never rests. Yesterday we scanned 2000 ewes in the yards ,Toby pushed them up, jumping up on their backs and all."
"So there you go. He's working like a trouper and always cleaver enough to learn new ways . Thanks ,now for the cattle! " - From Warwick & Sally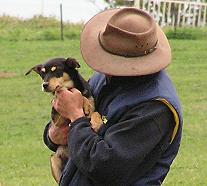 Noonbarra Toby III as a very tiny puppy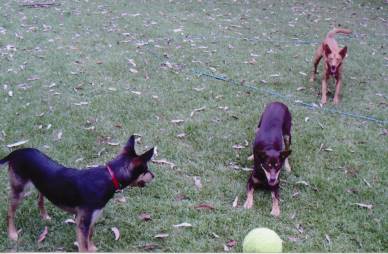 Noonbarra Toby III, Noonbarra Lucy III and Noonbarra Ding all playing a game of Soccer.
---
Noonbarra Stud Video
This video shows the Noonbarra Kelpies working at all aspects of sheepwork including Droving, Mustering, Sheepdog Trials and Yard work. There are also special sections on Kelpies as companion dogs and pets and a section on Kelpie puppies. It shows our dogs interacting with children and strangers and being indoor dogs. Professionally finished with Titles, commentary and music.
Includes cover case and colour insert. For more detailed info see our video page. Click here.
AUD $20.00 plus $5.00 postage (Australia).
---
Noonbarra Working Kelpie Stud
Mary and Stephen Bilson.
P.O. Box 1374, Orange NSW 2800, Australia
Ph. (02) 6366 1641

Email us
www.noonbarra.com