NOONBARRA TUI
(Noonbarra Prince X Noonbarra Valerie)
Born: 1st March 1999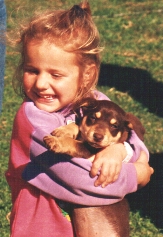 Bill Davis is a Vet in the USA and he bought Noonbarra Tui in a partnership with another Vet, Vicki Douglas of Missouri. Bill has imported more than six Kelpies from Australia in the past as well as bred his own in the USA. He has also lived in Australia and New Zealand and been to see many Studs, so he knows a bit about Kelpies.
From these comments you will see how quickly a dog can progress under the guidance of an experienced handler. Noonbarra Tui was only born in March 1999 so she was not even 12 months old when a lot of this was written!
At one stage little Tui wasn't getting much training and Vicki left her with Bill Davis in California for a while.
---
Jan 26th 2000
"Tui is very sweet ... She is a very gentle dog with a terribly attentive and warm nature. Not at all high strung, she is still very much a pup in the way she moves. She is not extreme in any way. I would not say she is big nor small, tall nor short, leggy not stumpy. She is very strong across the chest and across the loins, like I would have expected from her breeding. She resembles Gabe more than she resembles Tina. She is a very fast dog. Her coat is a nice warm red with hints of mahogany (can you tell I am from the wine country of California?) and her tan is a gorgeous dark brassy gold, also rather warm.
Her eyes are well spaced and her head appears relatively broad, especially for a bitch pup. She has good feet. She will look you right in the eye and sit is you ask it of her. I am going to try to steal this dog away from Vicki until she moves out here to California. She is the kind I would love to have in the house all the time."
"Will take her out to work sheep tomorrow and she how she does. I gave her a good run when we got back from the airport and she was brilliant-it was in an open air off-leash dog park and she had a terrific time with a number of dogs. She is very very sweet and very very calm. She has a tendency to be very sensitive, but is in no way timid. Stephen, she is everything I requested, and I am confident that she will be a terrific dog. Hopefully she will stay with me until Vicki moves out here. She will get plenty of work from now on." - Bill Davis USA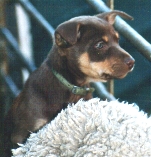 _______________________________
On the 3rd Feb 2000 we got this letter about Noonbarra Tui.
"In three days of training the response from Tui is remarkable and amazing. She is a natural, with lots of power ... She has learned that she MUST come when called (in only five days) and that she must lie down when told to do so. She has also gone from being a bit quick on her feet to being thoughtful in her approach to sheep. She is a very natural heading dog with a lovely was of moving OFF her stock as well as ONTO her stock. She has a natural sense of distance (these are very heavy sheep-quite dog-broke and not at all flighty) and she is very calm in her walk-up, which goes right to the sheep's nose."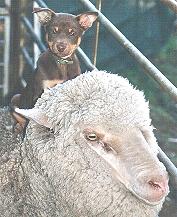 "Personally, I think she is the best pup I have had since Joes Tara (Older sister to Emma) who was a lovely sort of pup in nearly all the same ways. She reminds me of that bitch (who is a great worker; one of the best Kelpie bitches I have seen in the US) and she has the same relaxed manner."
Loren Holmes is pleased with her and I am ecstatic with her progress. I think she was "taken in hand" at just the right point in her life. She really wants to learn and to please and she is just a really natural worker. You will be very proud of her. And I promise to tell people where she came from! " - Dr. Bill Davis DVM
A little while later we got this nice email from Bill about Noonbarra Tui:
--------------
"Noonbarra Tui continues to progress well. She is definitely a dog with a bit of her own mind but also more talent than any of my dogs. You can just see it all in her: cover, break-out, walk up and a real sense of what she is supposed to be doing."
"Now if we can just get her to come a little more consistently at the end of her training session, we will have it all in one package."
"I think you will be really pleased with her in the finish: I know I will be!"
Bill Davis (USA)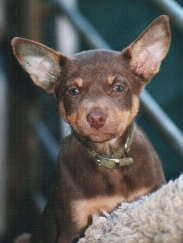 In February 2000 we received this email. It goes to show how quickly Noonbarra Tui progressed when handled by a man who has had experience with training and handling Working Kelpies. Note also in the previous correspondence that it wasn't all plain sailing.
"Stephen, If this pup is any indication of the consistent quality you are producing, your head should be swelling up fiercely! After two weeks, Tui is showing an incredible array of natural talents PLUS an unbelievable ability to take training."
"She is a very FAST dog, she has an amazing sense of balance (If she were long-bodied, I would be afraid that she would throw it out; she stops dead-center so fast she whips her rear end around); she has a very strong walk-up, she has break-out to boot and she has a very good sense of the mob."
"She is EVERYTHING I was hoping for, Steve, and I feel blessed and very fortunate that you have sent such a nice pup over here." - Bill Davis (USA) Feb 2000.
---
June 2000
We recieved an email from Mel Smith in the USA who owns a Kelpie called Meson Mudgee.
" I was there when Vicki's pup TUI saw her first USA sheep and what a smart little girl !! Yes, as you stated, we were all impressed !! I have since heard thru the channels that she attended a clinic of sorts and the people there were also quite impressed. That was about a year ago, so I am sure she is a star by now...well, I love reading your news on your web site...Keep up the good work...."
---
27th May 2000
Hi, I want to tell you that Tui is doing really well. She is a wonderful working dog with a lot of sense and talent. You would be really proud of her. Again, thanks for a great dog! Bill
---