NOONBARRA WORKING KELPIE STUD
WHAT OUR CUSTOMERS HAVE SAID ABOUT NOONBARRA STUD KELPIES
---
Noonbarra Max X Noonbarra Lizzie
Born 20th May 2003 Black & Tan Male.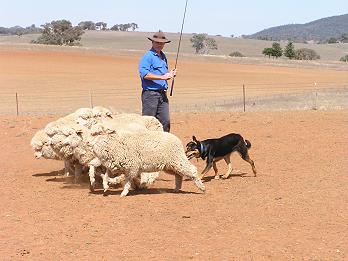 This was a terrific litter for us. It included Noonbarra Jackaroo, Noonbarra Toby III, Noonbarra Rose and many others. Tumba was sold to the Wallace-Smith family in Sydney. Tumba is such a nice dog that their neighbours later came and bought a Noonbarra Kelpie themselves.
What is even more interesting is that this family are descendants of Robert and Mark Tully who were instrumental in getting the Kelpie breed started in the 1800's. So it is very fitting that today this family owns a Kelpie.
Noonbarra Tumba has since been back to the Noonbarra Stud for a day and did some sheep work which he took to like a duck to water.
We received this very nice letter in Oct 2004;
"Hi Stephen and Mary, I thought it was high time I put "pen to paper" and told you about "Tumba".
Tumba is now almost 18 months old and continues to develop and become enmeshed with the everyday workings of our family. He really is a very smart dog, as you proudly boast all Noonbarras are! Only last night Tumba was growling at something in Lulu's bedroom. He ran up to Sarah (Mum), pushing her to get up with his snout, then running back to the bedroom; he repeated this several times until Sarah went to investigate. The source of Tumba's angst was Lulu sleeping in a sleeping bag. He had seen older sister Tully jumping in her's some hours before and found it hard to distinguish a human being. Unsure of what now confronted him he thought he better tell "Mum".......a smart dog indeed and one that has given us an increased sense of security. This growling is a rarity as he is a very calm dog with lovely social skills.
Now more than ever before he wants to be given commands in the park and is so compliant and biddable, I'm sure people are admiringly looking our way when I drop him from 100 meters away only to have him in an instant sitting beside me. maybe I'm just a proud Dad?!)
You both mentioned many times.."the dog you have at 6 months will be nothing like the dog you have at 1 yr, and he will be nothing like the dog you have at 2 yrs...."
This is so true and Sarah and our 2 girls are very excited to see what the next years bring with Tumba's continued development. Tumba in his "prime" will be something for us to see!
Hope all is well, Richard Wallace-Smith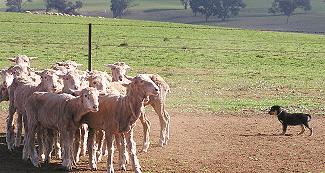 Noonbarra Tumba on sheep as a tiny pup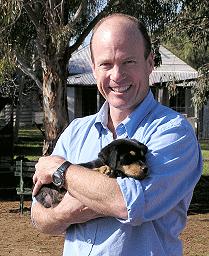 Richard Wallace-Smith and baby Tumba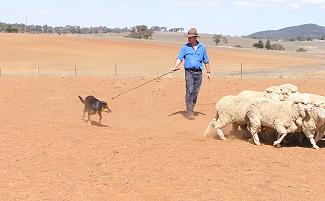 Richard training Tumba at Noonbarra Stud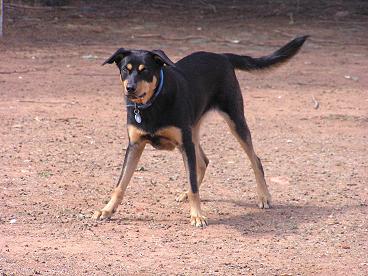 Noonbarra Tumba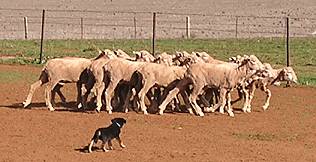 Noonbarra Tumba as a puppy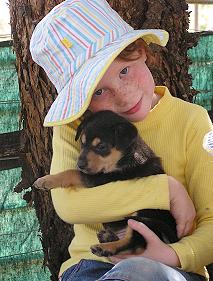 Tully Wallace-Smith with a puppy
___________________________
2005 [Tumba at just over 2 years]
"I thought I'd give you an update on Tumba as something wonderful has been occuring these past couple of months-he is maturing!
He is quieter, more attentive, more loving and funnier; and he had these characteristics in spades before!
"I continue to train him with sheep at Hawkesbury, it has been an education for us both and finally I'm improving as a handler. I don't know if you know Julie and Mark Keegan-they have been a great help-they regularly trial. Boy does he love it!
We are targeting Forbes next year as our debut Working Dog Trial, will be interesting as he is used to working "dogged" sheep, he may get a bit of a shock, being forceful as he is, may see sheep breaking every which way 'till he understands his new "powers"
_____________________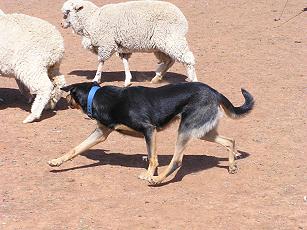 Tumba shows some beautiful style on sheep
2006
Hi again Stephen and Mary, Well here's the proof,3rd place Rydal Show 2006,"Encourage" Section.
After spending many Saturdays over the past 18 months at the Hawkesbury Sheepdog Club with Tumba learning his trade, it was high time i put us to the test. I must say I couldn't have done this without 2 yard dog trialers taking me under their wing. Julie and Mark Keegan were fantastic getting us up to speed.
Nervous? Yep, you bet. As you know it is a rule dogs are not to pee in the yards. I was so nervous i asked the judge if it was o.k if I had a "nervous pee" on one of the races...I don't think appreciated my predicament!!?
Tumba has just had a stroke of good fortune......someone my wife knows has a number of farms past Bathurst. He lives in Sydney, needs a dog but can't look after him in Sydney. Sarah suggested Tumba as an option. For one week a month he will travel with this sheep man from Sydney to his properties, work on his sheep and come home happy and exhausted. A great situation for all concerned!
Hope all is well, Richard Wallace-Smith
---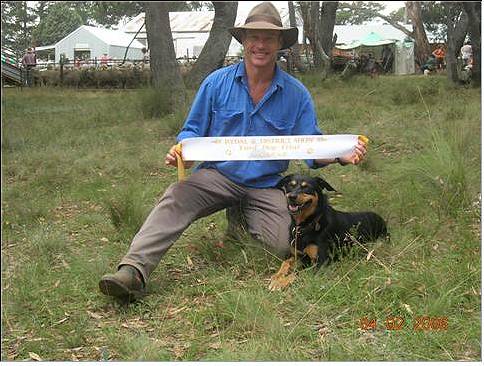 Richard & Noonbarra Tumba after their proud win!
Congratulations.