NOONBARRA WORKING KELPIE STUD
REFERENCE KELPIES OF THE PAST
THAT ARE IMPORTANT TO OUR STUD
KELPIES INCLUDED IN THIS LIST
This is a list of some of the past Kelpies we have used as sires or brood bitches in the Noonbarra Stud and a few others that haven't directly been used but made a major impact on our breeding program. There were many other very good Kelpies we owned or used in our past breeding program. This included Kelpies from well known Studs such as Rockybar, Scanlon, Phils Creek, Liscannor, Orvale and of course a number of other Noonbarra Kelpies.
We have always had our benchmark with the great Kalari Kelpies of the late 1950's. These were the old style of Kelpie. The type that worked naturally in the yards and the paddock with the ability to think on their own and work all day in hot conditions. We are proud to say that today our bloodlines go so strongly back to these famous dogs such as Kalari Basil that no other Kelpies in Australia (or the world) have as much of their bloodlines as Noonbarra does. Even very young Noonbarra Kelpies such as Noonbarra Jackaroo (born in 2003) has over 30% of Kalari Basil genes based on the Galston Law of genetic percentages.
Some reference Kelpies are not included here because they didn't make enough impact as breeders to greatly influence our present lines. This list is made up of the more important Kelpies that in our opinion had exceptional qualities in certain areas and passed these qualities on through their genes. We have attempted to retain multiple infusions of the genes of these Kelpies in our past, present and future breeding program.
---
OUR BLOODLINES
Our Noonbarra Stud Kelpies have been linebred by us and others for a number of generations now and the type and style of our Kelpies is quite consistent and is regarded as our own Noonbarra strain. However if you go back even further to the 1950's you will find most of the breeding goes back to the Kalari Kelpies, in particular, the great Kalari Basil and Kalari Joker. If you take the breeding back further you will find multiple infusions of the famous Red Hope, Don O'Currawang, Scanlon's Flash and one of the greatest kelpies of all time in the late 1800's, Quinns Coil.
We are proud to be able to trace our Noonbarra pedigrees in an direct line all the way back to the late 1860's and the original 'Gleeson's Kelpie'. This is well before other sheepdog breeds such as the Border Collie were even formed.
---
ROCKYBAR BUFF
Sire: ELGOVERS BOSS (Elgovers Casey X Kellets Flare)
Dam: CHONDO DOLL (Kalari Basil X Rockybar Joy)
Colour: Saddle marked Black & Tan male. - Born: 22nd April 1968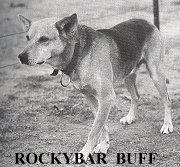 Rockybar Buff is a very important dog in our lines and also in many of Australia's outstanding dogs of today. Buff was the sire of the famous Liscannor Kay (Twice winner of National Kelpie Sheepdog Trial) and Liscannor Pace (One of the greatest Trial Kelpies of all time) and dozens of other great working Kelpies in the 1960's and 1970's. Kay in turn was the mother of one of the best all-round Kelpies in the 1980's, Barambogie Mack. Barambogie Mack was three times winner of the prestigious National Kelpie Utility Trial and breeder of a great many top all-round type dogs.
The influence on the Kelpie breed from this dog is huge and most top Kelpies today can be traced back to him. Well known and famous Kelpies such as Capree Watch, Glenlogie Lucky, Karrobar Moss, Milburn Basil, Noonbarra Butch, Puds Pace, Karana Seiko and many more.
His dam, Chondo Doll was another outstanding Kelpie and her sire (Buff's Grandsire) Kalari Basil, was considered by Les Tarrant by far the best Kelpie he ever owned in 50 years of breeding and training 1000's of Kelpies.
Noonbarra Gabe had 8 strong infusions of Rockybar Buff in his pedigree. Noonbarra Dusty III has 16 infusions of Buff genes. Buff was bought from Les Tarrant by Pat Mc Cormack for his Liscannor Stud in Victoria. Pat was quoted in the Victorian Weekly Times newspaper as saying "Buff first gained his reputation through his progeny, yet he was the brainiest dog I've ever known. He had more brains in his tail than most dogs have in their heads...under pressure with Buff, you just shut your mouth. He would sort things out!".
John Gedye of the Scoriochre Kelpie Stud once described him as the best Kelpie Sire in Australia! Buff mated very well with Liscannor Emma. This mating produced, Liscannor Kay, Flint, Pace, Fern and many other first rate dogs. Emma was also a full sister to Liscannor Marco and Liscannor Stamp (cattle trial winner).
This little Noonbarra Pup has 16 infusions of Rockybar Buff genes.
---
ROCKYBAR PETER II X WYREEMA GOLD
Born: 28th February 1978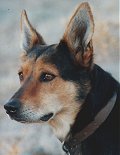 We purchased Rockybar Smart in the early 1980's, when he was already a well established sire in Queensland. We were very fortunate in being able to buy a dog of his calibre and many breeders in NSW offered to buy him from us. Smart took a long time to settle into the Noonbarra Stud and obviously missed his former home and owner. After three or four months he began to make himself at home and from that time on was one of our most faithful Kelpies.
Rockybar Smart was a full brother to Rockybar Spice, one of Rockybar's best breeding bitches and was the sire of Rockybar Cherry Cheer, valued at $4,000.00 (1980's) when only 20 months old. His full brother, Rockybar Gold Coin went to Jim Faught of the Faught Kelpie Stud in America (USA). (Now called Doss-Tex Stud)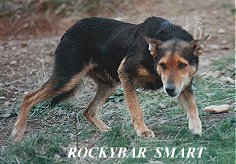 In Les Tarrant's (breeder) own words " Smart is a breeder of all round workers. Some great success with pups in the trial arena (sheepdog trials). All good paddock dogs and he has a lot of backing blood from the great backing dog, Kalari Basil. Basil threw a lot of great backers".
Smart was a good worker on both sheep and cattle and possessed an extremely strong walk up to stock. Stephen often just worked him when mustering from a horse when doing contract cattle work on the hilly neighbouring property of 'Lapstone'. Smart was a very masculine dog in both appearance and nature and was always boss while in our Stud. Even so he was never an aggressive dog and never started a fight with other dogs. If they were foolish enough to attack him, then he was very capable of finishing the fight.
Like all of our present Kelpies, Smart went back in breeding to the great old Kalari Basil. Smart was mated to a number of our bitches and produced some outstanding all-round type workers, among them, Noonbarra Tina. He also serviced bitches to other Studs while at Noonbarra, including the Meson and Waringa Studs.
---
LE CLIFF JOCK
Liscannor Pace (Rockybar Buff X Liscannor Emma) X Liscannor Trixie (Rockybar Buff X Wyvelloe Loo)
Born: 7th Dec 1975
One of the best dogs ever bred by Lance Clifford in Tasmania. He was sold to Des Vincent in Southern NSW. Jock had two close infusions of Rockybar Buff genes and went strongly back to the old Kalari Kelpies and further back to the old line of John Quinn Kelpies (Made famous by Quinns blue Kelpie, Coil).
Le Cliff Jock also bought in more Rockybar Buff blood through his Dam, Liscannor Trixie, who was also by Rockybar Buff. Le Cliff Jock was considered by many as one of the strongest and best workers in NSW in his time. He was highly sought after as a sire especially in the Border district. (NSW and Victoria). He sired around 180 pups. All of these pups were guaranteed to work and none were ever returned to the breeder.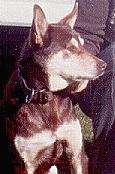 In an article in 'The North Eastern Farmer (1986), he was described as, "..a great casting dog and a good yard dog with bark and push. Angora goats, sheep and cattle have all been a part of the day's work. Jock has won many trials and been placed in others including fourth in the Australian Yard Dog Trial and sixth in the Victorian Championship 3 sheep trial out of 146 entries."
Jock also scored 82 points in the National Sheepdog Trial held in Canberra and was unlucky to miss the finals. Arthur Heckman of the Kintyre Kelpie Stud at Leeton recently told us that LeCliff Jock was the best Kelpie he ever saw work. Much of the breeding in his Stud also now features these bloodlines.
Le Cliff Jock was the Sire of old Avenpart Gayleen, one of our best breeding bitches that we used a lot in our Stud. One of Jock's best known sons was Liscannor Norm who twice won the big South Australian State Yard Dog Championships two years in a row.
SOME OF LE CLIFF JOCK'S TRIAL RESULTS - (Not Completed)
| | | | | | | |
| --- | --- | --- | --- | --- | --- | --- |
| 1978 | 2nd | Le Cliff Jock | M. Baldock | Novice | Bowood Tas. | 79 |
| 1978 | 3rd | Le Cliff Jock | M. Balcock | Novice | Ulverstone Tasmania | 66 |
| 1979 | 3rd | Le Cliff Jock | M. Baldock | Novice | Beaconsfild Tasmania | 77 |
| 1979 | 1st | Le Cliff Jock | M. Baldock | Novice | Moriarty | 89/93 |
| 1979 | 2nd | Le Cliff Jock | M. Baldock | Open | Winnamah - Tasmania | 95/64 |
| 1979 | 1st | Le Cliff Jock | M. Baldock | Open | Cambridge Utility - Tas. | 94/84 |
| 1979 | 2nd | Le Cliff Jock | M. Baldock | Open | Bishopsbourne Tasmania | 68/67 |
| 1980 | 6th | Le Cliff Jock | Des Vincent | Open | Victorian Championship | 82/31 |
| 1981 | 4th | Le Cliff Jock | Des Vincent | Open | National Aust. Yard Champion | |
| 1981 | 2nd | Le Cliff Jock | Des Vincent | Open | Riverina Utility Trial | |
| 1982 | 3rd | Le Cliff Jock | Des Vincent | Open | Holbrook Field Trial | 89/73 |
| 1982 | 5th | Le Cliff Jock | Des Vincent | Open | Riverina Utility Trial | |
| 1982 | 1st | Le Cliff Jock | Des Vincent | Open | Tumbarumba Trials | ? |
---
SPINIFEX STARLIGHT (TARA)
SPINIFEX LOCH X SPINIFEX LOUISE TOO
Born: 15th February 1984
Spinifex Starlight was bought by the Noonbarra Stud as a young puppy in 1984. She was a very good looking, lovely natured pup and we called her Tara. She was one of the nicest Kelpies we have ever owned.
Tara was a true one person dog, she was extremely faithful and lived just to be your friend. If we went away for a few days she would just sit and wait until you returned. She was friendly but had a reserved nature too. She did a lot of work for us and was one of the main Kelpies we used to handle mustering of big mobs in very difficult country in the hills around the Cargo area in central NSW.
We ran Tara in a few sheepdog trials but she was never really suited to that type of work. She was a much better dog doing all the day to day hard work on a property. Arena trials in Australia call for a dog that works well off the sheep and very slowly. Tara tended to push the sheep a bit too much on the trial ground. She also didn't have a lot of eye which most arena sheepdog trial dogs have.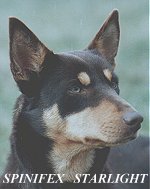 Tara was an very good dog at mustering and droving. She would check all the little creeks and thick bush for hiding sheep which saved a lot of time. We moved all kinds of stock, cattle, goats, Merinos, xbred lambs, even sheep dropping lambs as we mustered. She was a very intelligent dog and I often left her to continue moving the sheep to a shed or yards while I handled something else. On more than one occasion I worked her on her own mustering around 1500 sheep. Usually you would work more than one dog on this many sheep but it can be done with a very experiencd dog. Sometimes I was riding out with Tara before dawn and not getting back until after dark. She was a pretty Kelpie with excellent conformation with a lot of stamina. She was also always good around the horses and never spooked them.
Like so many good dogs on properties right across Australia, Tara never became a famous or well known Kelpie to the general public. She was however, a good hard working dog that could get you through most situations and would try to please you. She was a keen worker and always there at the end of a hard days work. We hate dogs that give up when the going gets tough. She often knew what to do by herself. Sometimes I would need her to block some sheep and be just going to call her when she would already be in place blocking the sheep. We worked well together.
Tara was very much a paddock working dog and was much better on large mobs of sheep than on a few or in the yards. She didn't like yard work at all. She wasn't a particually strong bitch but she made up for it by using her wonderful brain to think things out. She would run in with some bark if the stock didn't move. She used to work some pretty wild cattle for me in a team with Rockybar Smart and she also worked goats and British sheep breeds such as Dorsets and Border Leister Crosses. She bred some wonderful Kelpies for the Noonbarra Stud .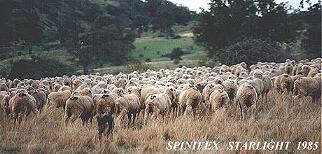 Although she died in the early 1990's we try to keep some of her bloodline in our dogs today. We really liked her faithful, quiet nature, her intelligence and of course her looks and conformation. We mated her to a number of sires but she seemed to produce her best pups when we mated her to Noonbarra Gabe. Their pups were usually good looking Kelpies that were keen workers with wide break-out on sheep with calm, faithful natures. We repeated the mating with Noonbarra Gabe a number of times. One of her best daughters was Noonbarra Judy who did a lot of exhibition work for us and died in 2002.
---
KALARI BASIL
STIERS SANDY (Inglewood Blue X Stiers Sandy) X MEADOW NELL (Woombi Lock X Meadow Mole)
Saddle marked Black & Tan male - Born: 19th April 1959
We never owned Kalari Basil. (We just wish we did!)
Basil was bred by Frank Harris from Junee and owned by Les Tarrant (Rockybar Stud) in Queensland. Many who saw him regarded him as the best dog in Queensland and Les Tarrant has always said he was the best dog he ever owned (and he has had sheepdogs since the early 1930's and bred over 1000 Stud Kelpies).
Because we strongly linebreed our dogs, we continually reinforce these great bloodlines. A number of other Kelpie Studs used these Kelpies in the 1960's but it is unfortunate that very few have made any real effort to reinforce these lines today. Many Studs and breeders keep breeding to outcrossed lines, and usually to whatever Kelpies are winning trials at the time. There is nothing wrong with that but we prefer to consolidate the bloodlines a little more and retain multiple infusions of these great dogs in our Noonbarra line of Working Kelpies.
Noonbarra Tim had 6 infusions of the famous Kalari Basil genes. Noonbarra Gabe strongly reinforced this line with 16 infusions of the old Kalari Basil genes. We now have Noonbarra Kelpies like Noonbarra Dusty and Noonbarra Flash with up to 33 infusions of Kalari Basil and 48 infusions of the famous Kalari Joker. Some of our more recent pups carry nearly 40 infusions of Basil and nearly 60 infusions of Joker.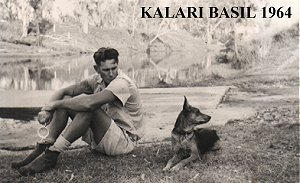 Basil was a full masked black and tan dog with a broad head, large ears, short tail and deep chest. He was easy to control and he passed this onto his offspring. Basil was a superb station worker and was the number one dog on the large Rockybar property near Goodiwindi, in far western NSW. He was a thinking dog with a wide cast and patience on sheep. He was also a good yard dog and backed the sheep well. (John White of Whites Kelpie Stud, Nyngan, once said that Kalari Basil put the best backing blood into his dogs). Basil's owner, Les Tarrant had worked as a drover and stockman on the hot, western stockroutes and sheep stations since he was barely in his teens.
In 1968 Les Tarrant wrote: "For thinking power Basil would leave her (Belle) and any other dog for dead. He often gave me the creeps, because he knew everything that had to be done and knew it on the spur of the moment, even if it was something he was not used to doing. He was as close to being human as any dog could be."
He never panicked and was always calm about everything. He could work longer hours than any dog I have ever seen in my life on sheep and cattle properties, droving or shed work. Never in my life have I seen a dog like him. For reasons I can't explain, he is different to any other sheepdog I have ever known.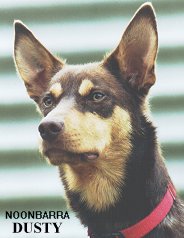 NOONBARRA DUSTY (As a young dog - 9 months)
He carries 33 infusions of Kalari Basil genes
"Basil was the best all round sheepdog I have ever owned or anyone else would have liked to own. I was offered £1500 (Fifteen hundred pounds) for Basil in 1964-1965. Of course, I didn't take it as he was worth a lot more than that! Two offers were made, one from Western Australia and the other from Lance Govers. Both were very serious offers nevertheless.
"Basil was a great backing dog and just as clever in the yards as outside the yard. If a sheep jumped over into another yard he could find it among the other sheep far quicker than any human would be able to find it. I could draft and do anything with him because he could feed the sheep up the drafting race and pull back a sheep if they jammed and come over the sheep himself and do it. He knew everything that was going on and his concentration all day was wonderful to see.
_________________
"Kalari Basil put into all my dogs that all round ability to handle nearly any situation where sheep work is concerned. He could handle any situation for sure himself. He was never a good three sheep trial dog but he could handle three sheep and would never lose them nomatter how wild they were.... I trialled him several times and never lost a sheep ever. He had a wonderful way of controlling sheep. He was an excellent cattle dog too. - Les Tarrant 1988
There are plenty of stories about Basil's work but they are too long to write about here. When we purchased Rockybar Smart in the early 1980's, we got a dog with more closeup Kalari Basil blood then any other dog in Australia at the time. Smart was even masked like Basil.
---
AVENPART GAYLEEN
LE CLIFF JOCK X AVENPART TARNA
Born: 8th April 1984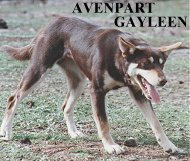 Gayleen was bought by us from Mary McCrabb's Avenpart Stud in 1984. She was one of the happiest and friendliest dogs we have ever owned. She also turned out to be a very special link in our whole breeding program. She was an extremely outgoing girl and absolutely loved everyone. By the time she was only a few months old we realised she had more raw natural ability than any of our other Kelpies. She basically taught herself and us a few things too.
Gayleen's bloodline carried two very close infusions of Rockybar Buff and her lines went back to the great Kalari Basil and Kalari Joker. In fact she had four infusions of Kalari Basil blood and six of Kalari Joker. She was by the highly regarded, Le Cliff Jock, a grandson of Rockybar Buff. After seeing her grandsire at work we could see she already had many of his traits and we planned to mate her back to him in Tasmania. We didn't have much money in those days so it was a real strain to organise the mating. Now, in retrospect, it was the best thing we ever did!
As stated Gayleen had some fantastic working traits and was extremely easy to break in. Her best features were her personality and her incredible footwork. She could cover and balance a mob of sheep better than any other Kelpie I have seen. You don't often see Kelpies with good footwork. The closest to her footwork I have seen was a very nice Karrawarra Kelpie called Sybil III, owned by Tony Parsons in Queensland.
It was almost impossible for sheep to get away from Gayleen. I remember one time we had to clean up a mob of sheep for mild flystrike on a neighbouring property. We were helping out a friend. We only had Gayleen with us but she held about 250 sheep on top of a hill for about 40 minutes while we clipped and sprayed the effected sheep. The sheep continuously tried to run down the sides of the hill but Gayleen was always blocking their path.
She was also an incredible jumping dog. She could easily jump over a six foot fence. Gayleen would just fly through the air. She was so good we decided to take her to an Agricultural Show (Fair) where they had a dog jumping contest. We were so full of confidence and sure she would win the event. But she just walked around the obstacle and came back to us. How embarrassing! I guess she was at least smart enough to know that there was no need to jump over when you can just walk around it.
But not everything about Gayleen was good. She was actually not very smart, a bit silly really and she was quite excitable. Her excitability made her lose a lot of trials. She placed in ten Sheepdog trials but should have done better. She was also not very strong on a mob so we usually used her as a flanking dog with a harder dog pushing the mob from the back. She was not a weak dog - she would not back down, even with Rams or Cattle but she didn't push much either. She would nose bite cattle and got excited working them.
Stephen worked her in a sheepdog trial once and she had just bought the sheep down to the handler's square. The sheep were standing up to her at this point. Just testing her to see if she would back down. The judge gave Stephen the okay to move from the handlers peg but he waited a few extra seconds. He knew that once the sheep realised that Gayleen wasn't weak they would work much better. Within seconds one did a little rush at the dog, she came forward and the sheep knew that Gayleen was the boss. She placed 3rd in that trial.
She also worked with Noonbarra Gabe on the Australian movie, 'No Worries' and played his doggy girlfriend (still called Gayleen) in the film. The screenwriter, David Holman, said he'd never seen a dog that loved life more than Gayleen. She has been featured in some magazine and newspaper articles and also managed to get her photo into a Swedish book on working Kelpies. She won and placed in a number of sheepdog trials including Yard Trials, Utility Trials and Arena trials (3-sheep). She did well in the 1991 Australian National Kelpie Trial and would have easily made it into the finals of the Open except for a break with the sheep just as they were going into the pen. Even after spending some time getting them back into position she still won the fastest time trophy and highest scoring Novice dog award.
We once had her in a Utility Trial in Summer when she was heavy in pup. She loved to work so we watched her carefully so as not to stress her. Anyway she did very well and got into the finals but as the day got hotter we didn't want to push it and scratched her from the final. The stewards were surprised as it is not very often you scratch a dog that has made it into the finals. Even so, with just one score she still managed to take the official 6th place and a ribbon. We were quite proud of her.
Her last mating was to Noonbarra Boss II (Noonbarra Gabe X Rockybar Valerie) but she aborted the puppies before they were full term and was diagnosed with liver problems. She died within days. This was only 4 days after working in a trial at Molong where she was a picture of health and about as happy as a dog can be.
---
KALARI JOKER
(Rockybar Paddy X Roseneath Black Dot)
Blue & Tan Male. - Born: 1st June 1958
Les Tarrant of the Rockybar Kelpie Stud bought Kalari Joker and a half brother 'Kalari Dusty' from breeder, Frank Harris when they were about eight weeks of age. Kalari Joker made a good name for himself in sheepdog trials. Some of our Noonbarra Kelpies today carry as many as 82 infusions of the Kalari Joker genes. The legendary Frank Scanlon thought very highly of Kalari Joker and went out to Rockybar Station to see him. In his opinion Kalari Joker was a better dog than Kalari Basil but Les Tarrant disagreed and thought more of Basil.
Kalari Dusty (Rockybar Paddy X Meadow Nell), Joker's half brother, never made a big name for himself but was regarded as a very good dog and run in a few Sheepdog Trials with a high score of 96 points.
Kalari Joker was first entered into a sheepdog trial at just 6½ months of age. He went to Guyra in January 1959 and was entered in the Novice. He scored 78 up to the bridge.
Les refused two good offers for him. At just 10 months of age he was in the Novice of the South West Queensland Championships which were held at Cunnamulla. He scored 87 and ran 3rd place. At the same trial he was entered in the Improvers Trial and scored 88 with the sheep in the pen. The bell had just gone before the gate could be closed and he lost the 10 points for the pen. He had only lost two points until that!. He also ran in the Open trial and put up an unbeliable 93 points taking 4th place.
At 13 months of age in 1959, he went to the Goondawindi Queensland Championships. The Trial time was 12 minutes instead of the usual 15 minutes and in both the Novice and the Open the time beat him. However he put up two excellent runs and once again there were offers to buy him.
A week later, Kalari Joker won the Novice at Ashford in September. He also placed 4th in the Open against some very strong competition. Next he won the Open Trial at Inverell in 1960 at 18 months of age. 2nd place was H. Lawton with Flash and 3rd place was Jack Mills with Waringa Gypsy.
He next went to Guyra in the same year (1960) and scored 85 points. Then to the Brisbane exhibition trials. This is the big city show for Queensland each year. He had the sheep in the pen on 94 points when he got a big fright by two young boys hanging over the fence. He ran off and crossed between Les and the sheep meaning disqualification. After a long spell he scored 96 at the North West Slopes Championship, held at Ashford in 1963 and judged by Mr. W. Marshall. He had trouble in the final and finished 6th.
The late Mick Doughty of Chondo Kelpies then took him for a while and although he was able to get a few reasonable runs out of him his trial career seemed over. He had a problem with his bladder and was often taken to the Vets for treatment. He died at just 7 years of age on Rockybar Station. He sired 100% of workers. Some of the better known are Wallangra Pride, Wallangra Nap, Chondo Chance, Rockybar Sailor, Chondo Trick, Koran Bonny, Rockybar Sherrill etc.
Kalari Joker mated to Elgovers Cutey produced Chondo Trick. Don Williams (Wabba Kelpies) stated in 1968 that Trick was a very stylish paddock worker. Don used Chondo Trick at least three times in his breeding and said "I have not had a reported failure."
_______________
Some interesting comments from the owner & trainer of Kalari Joker, Les Tarrant
"I told Mick Doughty (Chondo Kelpie Stud) to mate (Elgovers) Cutey, a good kind, little bitch back to Kalari Joker. Sure enough up came a dog that was a Champion (But died of Leukemia at an early age), Chondo Chance. Mick Sandford also had a brother to him but he got killed young. He was another Chance". - Les Tarrant 1988
Whites Badge, the sire of Rockybar Ripper was by Chondo Chance, a big blue and tan Kelpie sired by my dog, Kalari Joker. Chance was out of the good all round bitch Elgovers Cutey. Elgovers Cutey was one of the best bitches I ever owned for any job. Work a trial with the best and a great yard dog, back and bark all day in yards and shed penning up.
Wallangra Pride was a litter sister to Wallangra Nap. She was a trial winner and ran to 93 in trials. Both were by Kalari Joker X Wyalong Jazz. A very good mating, the same as the good dogs Rockybar Sailor - Sherrill - Jess - Tess- Dulcie etc. The most sucessful was Sherrill who won several trials including the Queensland State Novice and ran 3rd the same year in the Queensland State Championship Open.
The great dog, Chondo Chance won 9 trials from 15 starts and died of Leukemia at about 4 years of age. He was one of the best Kelpies of my time. He would also back sheep in yards and work wonderful trials in the arena. Handle very wild Merinos with ease or fighting sheep just the same. A wonderful Kelpie. He is in only a few dog's pedigrees and Glenlogie Rex is one of them and of course a very good dog too. He was bred on the same lines as all my Kelpies at Stud before (Glendon) Claude was put into them. - Les Tarrant
---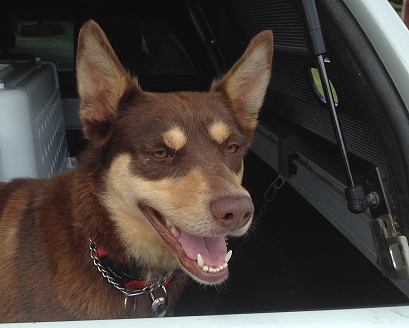 NOONBARRA ROSIE Ameroo Ned X Noonbarra Chloe
Red & tan Female Born: 13th December 2011
Noonbarra Rosie is a real sweetheart. Very calm and soft natured and is a very easy dog to work with. Sister to Roxie (different litter date). She is a wonderful Kelpie. Very gentle and quite easy going. She is very affectionate dog and loves to be held close and patted. Nice happy and contented personality. She makes a fantastic companion. She is not in any way an excitable dog.
R
osie is a fantastic
travelling dog and perfectly behaved in a car (front. back or in ute). No barking, jumping or excitability like so many dogs we see these days. Rosie is also an excellent house dog. She settles straight away and often just curls up at our feet while we watch TV or have dinner. Never begs for food either.
Rosie is a wonderful dog to walk on a lead. She heels very nicely. Smooth walking and you hardly notice she's there. Makes a walk with a dog so much more enjoyable. Rosie is one of our gentlest dogs and very kind hearted. Never gives us a moment's trouble.
Rosie is a very easy dog to work with. She's definitely one of our favourites and often a dog we like to take out as our main companion dog. Gentle, kind nature. Works well on sheep too. Sheep don't get nervous with her as she is steady and careful in her approach. Perfect point of balance, moves sheep off fencelines, break-out, walk-up, approach, ... everything needed for a first class sheepdog!
Rosie is a good dog in an outside kennel too. She has had one litter for us and produced lovely puppies. She is a very devoted mother.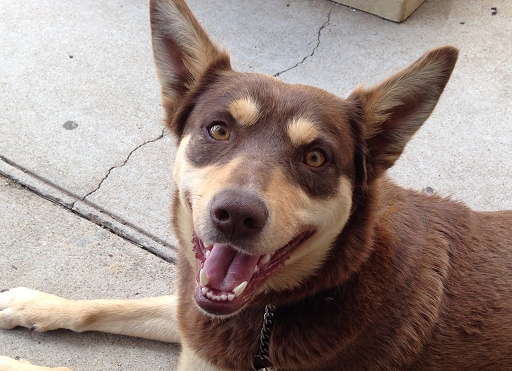 A gentle, calm personality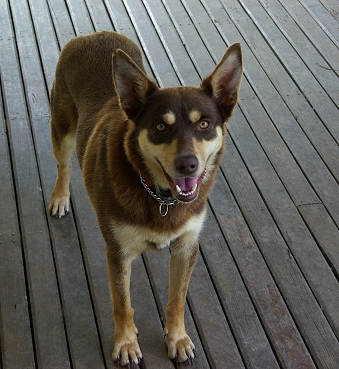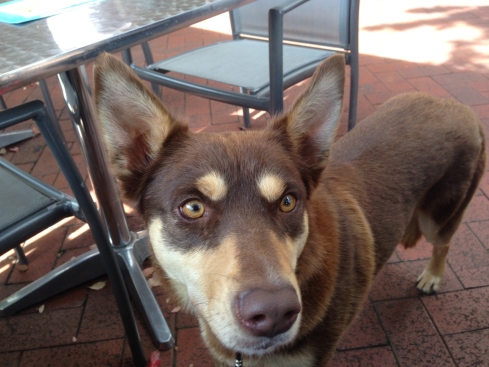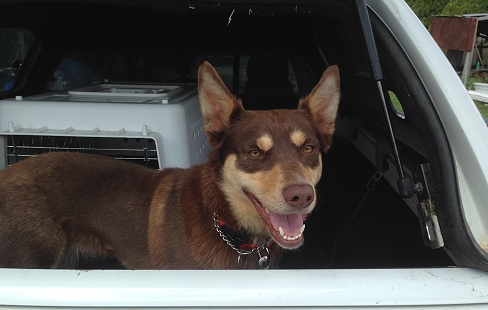 Rosie is great in a car or back of ute.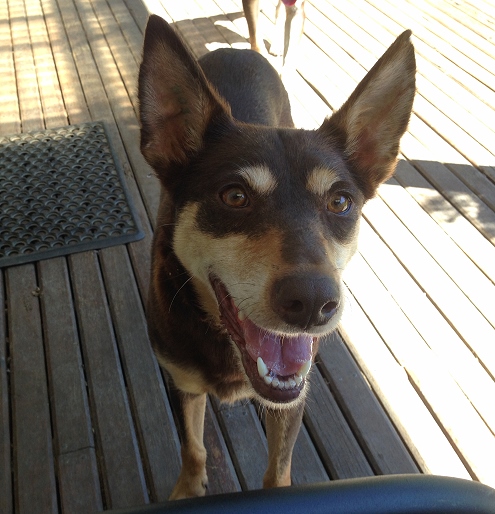 Rosie: Always happy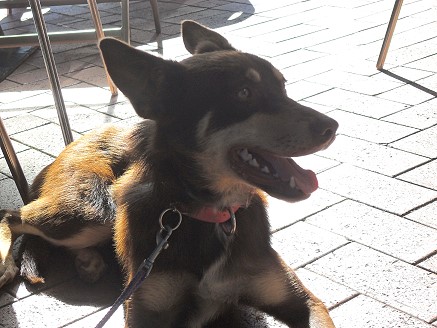 Rosie is nicely behaved at cafe in town.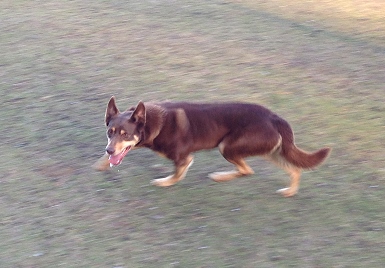 Fast and focussed when working on sheep
---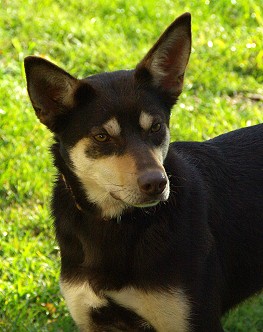 NOONBARRA TRIXIE II Noonbarra Max X Barclays Kate II
Red & tan Female Born: 6th October 2008
Noonbarra Trixie is a pretty little female and has a lovely, friendly, calm personality. She too has outstanding natural talent on sheep. She is easy to train and likes to please. She has a very high degree of inherited natural ability. Beautiful smooth work and a real joy to work. Keeps sheep calm and settled and moving along at a nice walk without stress.

Trixie

is well behaved as a companion dog and when travelling.

Good in the house and not excitable. She has a faithful nature and makes an ideal companion. S

he can be incredibly fast and agile

with excellent stamina. So this could be a good litter for someone wanting a first class Kelpie for dog sports too. This is Trixie's first litter. The combination of these two dogs should give us something quite special, both in terms of temperament and working ability.

She goes back to many of the great Kelpies, such as Glenlogie Lucky, Phils Creek Sam, Karrobar Gin, Capree Watch, Karrobar Moss, Rockybar Smart, Glendon Claude, Liscannor Pace and Avenpart Zondo (close up due to A.I.). Most of these are featured in the book: Kelpie Legends.
Tanners Boots X Capree Poppy)
Black & Tan.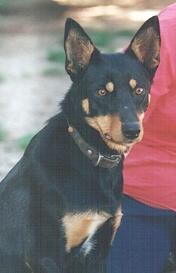 Dyna has now been sold to a Stud in Queensland.
Capree Dyna was bought by the Noonbarra Stud as an adult especially for breeding to our sires. She has been bred to Noonbarra Dusty, Noonbarra Max and Noonbarra Dan. She showed nice style and a calmness up close to sheep but with a firm strength. A lovely dog in every way.
She has a great temperament and this was one of the main reasons we liked her. She is good at backing in the yards and calm in close and can also show some nice eye in the paddock. Very strong but in control. Has had limited work on cattle but showing good ability there as well.
An extremely friendly dog, she loves people. Her last litter to Dusty produced some exceptionally good pups, including Noonbarra Mate in Germany. We were recently told her full brother was sold for $5,000. Some of her offspring in customer reviews include Peter, Mate, Kayla, Daisy, Jackson, Sophie and Carly.
Part of a letter from Patrick Stubbe in Belgium (Europe) who runs the Kessel Kelpie Stud. 
He owns Noonbarra Betje who is now just over a year old and is a daughter of Capree Dyna.
I felt astonished reading that Capree Dyna was brought in for sale!
I think I can imagine quite a bit of her capacities, by her daughter
Betje.  Although so very young, Betje is showing so much raw ability
when gathering sheep. Even now in full lambing time, I happen to bring
her in the paddock together with N.Keppe or Torka the BC.  She shows
eye+pace until stock has started flocking and then starts her real wide
outrun to cover all sheep and lambs. Although the lambs bring her a bit
out of  concentration she is not that difficult to return to work the
flock as a whole. And if ever a very reluctant ewe tends to defend her
lamb, Betje only gives the necessary seconds and acts that fraction
before the ewe comes up. And if a ewe just slowly gives her (f.ex by
going backwards slowly), she stays calm and solves the problem in a full
controlled way.
Betje is an absolutely no fear dog that behaves in full self controll.
Her keenness to work makes her a bit difficult to come off stock, but
that's rather a good sign to me than it is a problem.
Beside that, Betje is an adorable dog around people and other dogs. She
is great in obedience training.

So I can make me a very concrete picture of how her mother must be.
That's why I am interested to get her in Europe.
Is there a chance?
I am not thinking about purchasing her myself. I am rather thinking of
finding someone who is able to give her the job and necessary training
to make her the superb dog she has in her genes. If so, I would
participate in the expences to get her over her and hire her for a
litter with Crom, every second year....
If I would not find a valuable partner and you allow me to have her, I
would even search for the money to purchase her.
---
LE CLIFF GABEE
(Le Cliff Deano X Le Cliff Loo)
Red & Tan Female. - Born: 13th May 1985
Le Cliff Gabee was a Kelpie we much admired. She was owned by Kerry & Shirley Drew in Sydney and wasn't in a position to get much in the way of sheepwork. She came up to our property at Cargo when she was a young dog and within minutes was working like a seasoned dog.
As far as raw natural ability goes she was one of the very best and after a few days training was extremely capable of handling most sheep situations. She was seen by many sheepdog handlers and much admired. I remember Les Tarrant of the famous Rockybar Stud being very impressed and every time we saw him for years after he enquired how she was progressing.
We leased her for a mating to Noonbarra Tim because both Kelpies carried multiple infusions of the same dogs in their pedigree. She only managed to have two pups and these were born nearly 24 hours apart. These two pups were Noonbarra Prince and Noonbarra Gabe. Both went on to become top sires for the Noonbarra Stud.
Lance Clifford of the well known Le Cliff Stud in Tasmania told us in 1999 that the line of Le Cliff Gabee (1980's) was one of the best he ever had and that he used her sister very successfully in his own breeding program for a number of years.
---
Red & Tan Male.
Sire: Clovaville Prince (Clovaville Quartz x Clovaville Solo)
Dam: Clovaville Quad ( Clovaville Laird X Clovaville Nimble)
We recently purchased all the frozen semen from the great old dog, Clovaville Banjo. This breeding should go very well over our line because both go back through the old Liscannor lines. There are a number of close up genes of Liscannor Stamp here and Stamp was a superb dog and especially well known as a first rate Cattle worker. We also liked Clovaville Nimble and Clovaville quad a lot and many of the old Clovaville Kelpies. We thought they were some of the best Kelpies in Australia in the 1980's and early 1990's.
This dog has no Capree, Karana or Phils Creek blood in him which makes him a bit different from the popular lines being used in Australia today. Nearly all the dogs in sheepdog trials in the eastern states of Australia carry the same lines so it is good to be able to get onto some old classic Kelpie lines of the past that are different.
---
These dogs are still in the process of being added to this web site. Check back later!
LISCANNOR PACE
ROCKYBAR VALERIE
ORVALE ROSE
CAPREE COBB
FUTURA NED
BONORONG REX
KARROBAR MOSS
---
Noonbarra Stud DVD
This DVD video shows our Kelpies working at all aspects of sheepwork including Droving, Mustering, Sheepdog Trials and Yard work. There are also special sections on Kelpies as companion dogs and pets and a section on Kelpie puppies. It shows our dogs interacting with children and strangers and being indoor dogs. Professionally finished with Titles, commentary and music.
Includes cover case and colour insert. For more detailed info see our video page. Click here.
AUD $20.00 plus $5.00 postage (Australia). Available in international formats too!
---
Noonbarra Working Kelpie Stud
Mary and Stephen Bilson.
P.O. Box 1374, Orange NSW 2800, Australia
Ph. (02) 6366 1641

---
RETURN TO OUR NOONBARRA BLOODLINES PAGE
---