BACK
NOONBARRA KELPIES
GETTING ON WITH
CATS, HORSES, GOATS, GUINEA PIGS, BIRDS ETC.
---
We get lots of customer enquiries about how our Noonbarra Kelpies get along with other animals. As a rule, our Noonbarra line is great with other animals but they have to be introduced with proper supervision and training. We thought it might be a good idea to list some snippets of letters and photos we have received back from our customers on the subject. This is an ongoing page and if you have a Noonbarra Kelpie and would like to contribute to this page with photos or comments, we'd be very pleased to hear from you.
CATS

HORSES

OTHER DOGS
---
CATS (and small animals)
---
NOONBARRA LILLYPILLY
"I will just tell you that we are enjoying Lilly very much. She is a good mental match for the much larger "Daisy," knowing when to be submissive as a practical matter, but not letting herself be pushed around. She is being introduced to "sit", "off", "leave It," "come," "no bite," and other basic obedience commands. Our concerns about Lilly and cats ere immediately laid to rest, as she is very circumspect around them"
---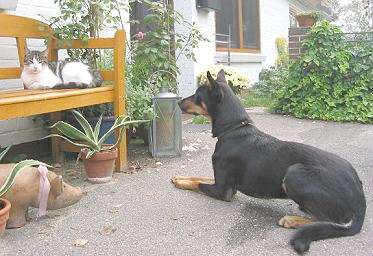 NOONBARRA SCOTT AT HOME IN GERMANY
---
NOONBARRA INDY II
"Hi Mary and Stephen, I just wanted to drop you a line and let you know we arrived and with an absolute (I was amazed) minimum of fuss. Indy was fantastic. He slept at Megan's feet for most of the journey and promptly reassured us that his pulse is set at "puppy" as soon as we got home. We had a great romp with his new brothers (cat and whippet) who both accepted him graciously. He is more than Megan and I could have ever wished for."
---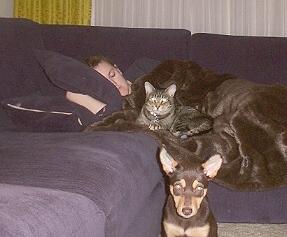 NOONBARRA TALLY WHEN SHE WAS STILL A PUPPY
OWNED BY SAM AND ANTHEA IN MELBOURNE WITH ONE OF THEIR TWO CATS.
---
NOONBARRA BALTO
"Balto is already quite a star. He is, as you said, so smart - he's walking very well on the leash (took to it quite naturally) - despite all that training stuff which says 8 weeks is too young - & that means that we can take him pretty well anywhere. He responds to the "come", and has very quickly learned that he can safely go within half a metre of the cats, and then stops. That's without ever having had a fight with them - they've just warned him off with a snarl and a hiss once or twice.
---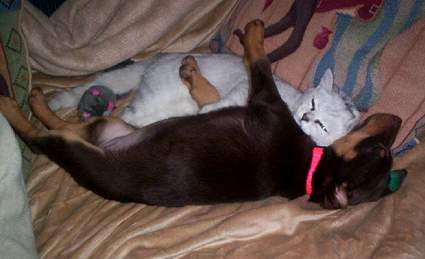 Noonbarra Jessie III with her special friend
---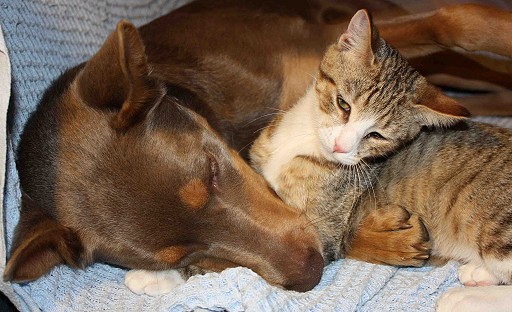 Noonbarra Denny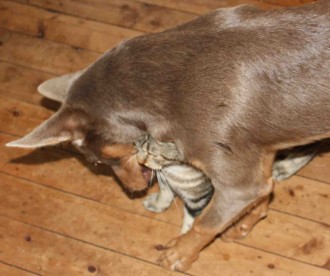 Noonbarra Denny
---
Noonbarra Sprocket with Diesel the kitten
http://www.youtube.com/watch?v=bxSLMnHJeVE
---
NOONBARRA CHANCE

"The other night I was eating fast food in the den, had Chance at his station, well the cat kept teasing Chance by popping his head around the door. Chance jumped up after the cat a couple of times and I put him back down, then he tried rising slowly, (like maybe I would not notice) and I just said his name and he went back down, finally he decided to just take a nap."
---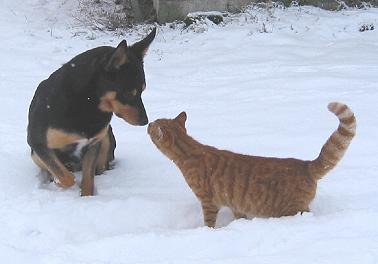 NOONBARRA MATE AND CAT IN SNOW IN GERMAN WINTER
---
NOONBARRA CLANCY

"Where he stood in the pecking-order, was explained to him, by the resident cat, with a not-too-serious belt on the head - lessen learnt, he still navigates around the cat with adequate clearance. Alpha dog came home from his weekend away - to find the new boarder. Other than when Clancy became a little too familiar, the Maltese chose to ignore him ( & with his nose out of joint, ignored us too)!

Yesterday, day two, the two dogs decided it was time to play, & now they are good mates. We were doing some work in the crush & Clancy was tethered. in the shade, at a safe distance. He watched everything that was going on & was far enough away, not to be scared. When he had seen enough, he went to sleep until we finished. We had to move a small herd so he helped, mounted on my lap on the quad bike. He wasn't concerned by the noise of the bike & again watched intently as the cattle passed by."
---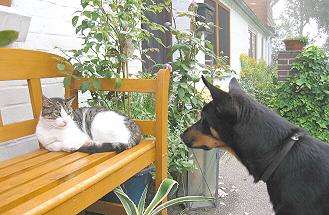 NOONBARRA SCOTT AT HOME IN GERMANY WITH CAT
---
NOONBARRA MATE
"Started training with the boys in the cow barn. Mate thinks it is quite funny, all these smells, calves and cats... Scott is still a bit sceptical about the big heads and keeps in contact with me."
---
NOONBARRA RUMOUR
"Just thought I'd drop you a quick line to thank you both for all your advice on the weekend, and the time that you gave to Laurelle and I. We both really appreciated it. (not to mention the good time we had!!!) Rumour is settling in well, she came home a little worried about the whole thing but has since taken to playing with the cats. I'm sure that being white & fluffy she thinks they are small sheep."
---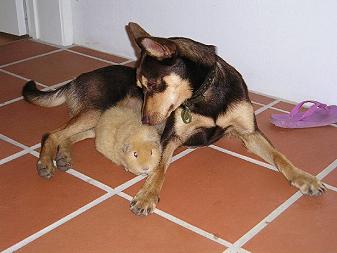 Noonbarra Rose and pet Guinea Pig
---
BIRDS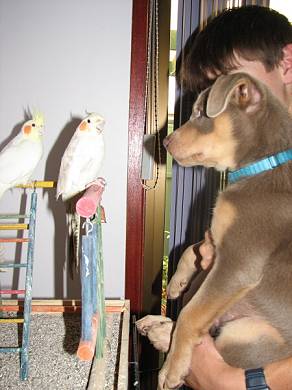 Noonbarra Bronco being introduced to other pets
---
Noonbarra Ruby V
Remember I told you about our pet pigeon, the funniest thing happened the other day - I was taking my Niece and Ruby for a drive and we reversed out of our driveway and headed off down the road only to have Homer the Pigeon to be flying hard and fast along side the passenger door checking out Ruby, in the back seat. I had to stop the car and let the pigeon land on the bonnet only to stare at Ruby through the glass. I had to turn around and take the bird home and put it in its coup.
This bird is obsessed with Ruby, even a walk down the beach cant be done without a fly over from the bird! He is just checking Ruby is coming back!!!
---
HORSES
NOONBARRA DUSTY V
We have started taking him out with the horses for short rides. He has a natural affinity with them, very quiet when around them and standing up on his hind quarters wanting to lick their faces. I am sure he thinks he is a horse himself sometimes….. One of the horses was sick recently and was lying in the paddock, Dusty just went out and lay with him, he seemed to know he was hurting and stayed with him. He is a very sensitive dog.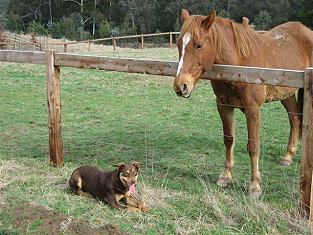 Noonbarra Dusty V and one of 'his' horses!
Dusty is well, he has matured into a lovely, gentle, loyal dog. He loves to come out riding with us and will go for hours, no problem keeping up with the horses even at full gallop.
---
NOONBARRA CHANCE
"I can't express how thrilled we are with Chance. I have been smitten with him since I brought him home from the airport and still can't believe how lucky we are to have been sent a wonderful dog like Chance .....
"He is calming down around the horses. He still wants to bark at them at inappropriate times but we are working on it. Yesterday while we were at the barn sitting in the aisle, Chance was watching several of the horses when our yearling popped his head up startling him. Chance jumped backward about two feet, I called softly to him, reassuring that it was okay, Chance was great, he looked straight at me walked up to me then turned to look at what scared him. Not long ago he would have barked wildly at a horse that scared him."
---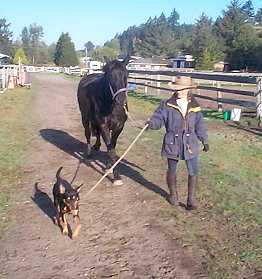 NOONBARRA JEZEBEL IN CANADA
HELPING TO LEAD FAUVE, THE HORSE BY HOLDING LEAD ROPE IN HER MOUTH
"One of her favourite games is to "help" lead horses and this particular horse is one of our Canadian mares"
______________________________________________________
NOONBARRA NED VI
"I have started taking him out with my horse. We have a large vineyard up the road so we are safe from traffic and I just walk so as not to over do it .Interestingly he just settled into drovers dog position , trailing the horse .My horses are all very unconcerned by dogs so he is not at risk. Life does not get much better than a beautiful day, wandering along with my horse, and Ned."
---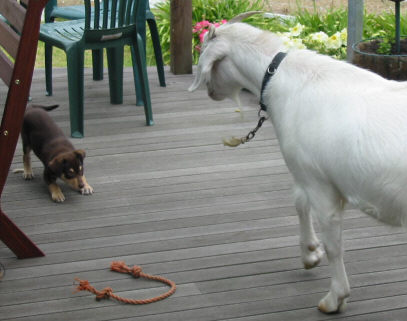 NOONBARRA ROY (4th) PLAYING WITH FRIDA THE GOAT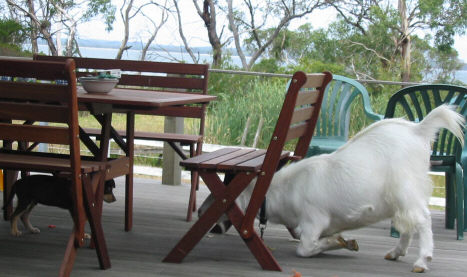 NOONBARRA ROY (4th) PLAYING WITH FRIDA THE GOAT
---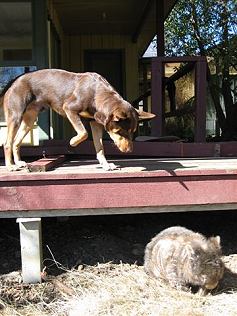 Noonbarra Dusty V with a Wombat !!!
"Another passion is swimming, he loves to go to the dam and swim, especially when the ducks are swimming and then it is a game of chasy, he loves to chase but doesn't want to catch. He chases birds in the garden all the time, there was one in the house recently and Dusty got it a corner but then just watched it, he never touched it, he couldn't understand why it had stopped playing with him."
---
CLICK HERE FOR PAGE ON NOONBARRA KELPIES AND OTHER DOGS
---
We hope to expand this page so any customers that would like to contribute their comments or photos would be very welcome.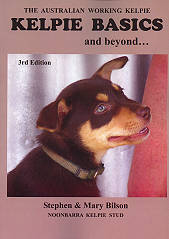 New 3rd edition of this very popular manual designed for all Kelpie owners of every level from raw beginners through to experienced trainers. This practical manual deals with everything involved in owning and training a Kelpie to ensure he grows up to be a well mannered, obedient dog.
The book is not about training on livestock! It deals with general obedience training, socialising your Kelpie, feeding, crating, toilet training, preventing problem behaviour, dominance issues, car travel, bathing, digging holes, stealing food, walking on a lead, coming when called... and much more.
Over 100 pages.
---