NOONBARRA WORKING KELPIE STUD
NOONBARRA ANISE
Noonbarra Max X Noonbarra Valerie
---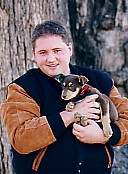 Anise was a very pretty little red and tan puppy who was sold to Brad in Sydney who is a builder. She is mostly a companion dog for him. She has a terrific personality and is a very friendly, outgoing dog. We met up with Brad in Orange, which is the biggest rural city near to us and we sat down at an outside cafe with Anise. Even at this young age she was well behaved and just laid down and watched the people which allowed us to have a long talk about training and care of Anise without having to be continually trying to control her.
In late November Brad brought Noonbarra Anise up to the Stud to start her on sheep. She was wonderful. Brad has certainly done a good job with her and she was well behaved and did some excellent work on the sheep both in the yards and out in the paddock. We later brought her inside the house and we were very impressed with her.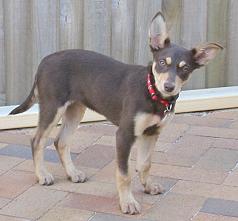 In the house yard she had lots of fun playing with one of our young pups. Anise has the very best nature and is a sweet and gentle dog. Brad has her in good condition and her coat was very shiny and soft. Brad has also done a good job in doing basic training with her.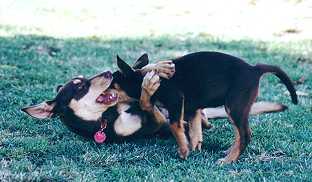 NOONBARRA ANISE PLAYING WITH A PUPPY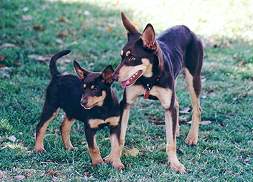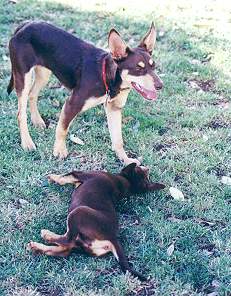 Anise has had a sheep training sessions here at Noonbarra and has shown some very impressive ability. Some of the work was almost perfect. I think her next exposure to sheep will be even better. She was very tired by the end of the day.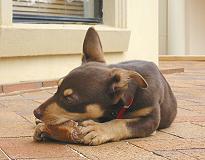 Hi Mary & Stephen, It has been a while, I hope you are both well and that the dogs are doing fine (especially Max and Valerie). I am home looking after Anise for a while so I thought what better time to give you an update.
The latest is on the weekend we managed to cut Aniseís front right leg (she ran into a bit of metal or timber not sure), she has 8 stitches and is not very happy at all, if you have any suggestions on how to keep her from licking or trying to rip of the bandages please let me know. I have tried a plastic bucket like cone on her head from a vet shop however she does not go to well with this and seems to just freeze. So I have made up a shin guard of sorts out of some plastic that will be hard for her to bite through. Photos are attached. This is our first emergency trip to the vet, all others have been our yearly checkups of which she passes with flying colours.
The last few years have been great & I could not have hoped for a nicer dog.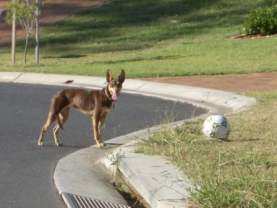 She is very well behaved 90% of the time, the other 10% is when she is testing to see what she can get away with. She is very wise and can think things through as to what she should do, very timid and careful with strangers, full on with people she knows, crawls near babies. Quick to alert us if another animal or person is near by however has not quite mastered the TV many things still need to get barked at and rounded up, however once she goes around the TV they disappear which is hilarious to see as she comes back and gets stuck into the picture again.
Her most favorite activity is to come to tennis with me, she does laps of the court chasing balls and jumping in time with the service ball toss. Soccer is her next favorite (this is what we were doing when she cut herself). Golf balls arenít safe either. Other than this a good rumple and just hanging out is fine too.
She is always involved with what we do but will take herself of to bed or grab some alone time when it suits her.
Thanks again for Anise, take care and hope to hear from you soon, Brad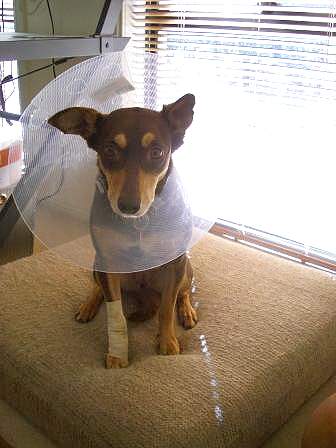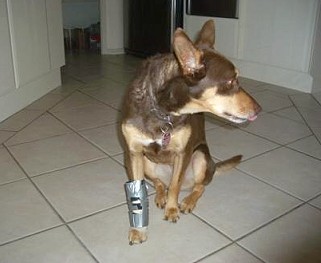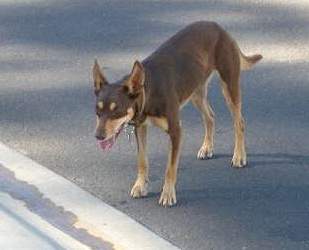 ---