BACK TO PAGE ONE
NOONBARRA KELPIE STUD
PAGE TWO ON OUR CUSTOMERS REPORTS
---
We think these are our most important pages on the whole web site.
We are very proud to have supplied so many customers with the Kelpies that they needed. We feel it is important because instead of us just promoting our dogs, it is the actual customers giving their independent comments. Every breeder can say they have great dogs - but ask to see if their customers agree. We are very lucky to have so many customers that care about their dogs and stay in touch to let us know how their dogs are progressing. We always get a thrill out of hearing the positive feedback on Kelpies we have sold.
---
PLEASE CLICK ON A NAME TO READ ABOUT THEM OR JUST SCROLL DOWN PAGE
---
---
NOONBARRA LOKI (Noonbarra Flash X Noonbarra Wendy)
Noonbarra Loki was bought by Katie Rollo of Melbourne Victoria as a companion. She drove up and stayed overnight in Parkes. I guess it would be a 1600-1700 km round trip from Melbourne.
"I can't tell you how wonderful he has been! He slept almost the entire way home - he seemed to be happiest in the back seat, so I put his pillow back there and that was the last we heard from him!"
"He has settled in here without so much as a whimper. He sleeps beside our bed and lets us know when he needs to go outside. He is sleeping pretty solidly through the night, which is a good thing because I'm exhausted! We got home after midnight on Saturday; Loki decided that it was time to play, so we didn't get to bed until after two. "
"Loki is a very self-contained pup. He seems to adapt to new environments with ease. When he's awake, he is just so happy and bouncy. He leaps around the house with toys hanging out of his mouth, sticking his nose into absolutely everything!"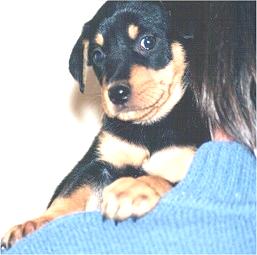 NOONBARRA LOKI
"Tom and I had such a great time with you both on Saturday. I wish we could have stayed longer! Noonbarra was all that I'd hoped it would be. I talk about "Auntie Mary and Uncle Stephen" with Loki just so he doesn't forget the two wonderful people who took such good care of him early on. I've taken lots of photos already and will send you some when I get them developed."
"Sometimes I look at him and he takes my breath away. He is simply so, so beautiful. Everyone comments on what a perfect puppy he is. He really is too good to be true. I will keep you updated with Loki's amazing progress as it happens. Gee, he is a clever little thing. He is beginning to watch our faces for changes in expression and mood. It won't be long before he is reading our minds...." Katie
"Loki is doing marvelously. We've now had three weeks of puppy school, and I'm afraid to say that he is by far the cleverest. But you knew that already, didn't you! He can sit very well now, and he's pretty much got the hang of "drop." He is great on his lead and loves going for walks which we take him on at least twice a day. He is so much more advanced than the other puppies in his group in terms of 'worldly experiences' and getting along with other dogs. We began taking him out with us the day after we brought him home, and it has certainly paid off."
"EVERYONE loves him, all dogs included. I've never owned a dog or even seen a dog who attracts so much positive attention. Everywhere we go people stop us to comment on just how beautiful he is. "Ohhh, look at his coat! What do you feed him?" "Isn't he just the most gorgeous thing? Can I take him home?" etc etc. I may be his mother, but I think I speak for all when I say that Loki is simply stunning."
It is letters like these from our customers that makes breeding dogs such a satisfying endeavor for us.
---
NOONBARRA CHANCE (Noonbarra Dusty X Noonbarra Valerie)
"Just wanted to say hello. Chance has settled in, settled down all without slowing down (hope that makes sense). He is wonderful!!! I can't believe he has only been here three weeks, seems like much longer. Chance is a delight. He is happy hanging around the house, helping to run errands, going to the barn, playing with our other dog or laying at my feet as I am working on the computer. It really doesn't matter to him. He has yet to meet a stranger, two or four legged. He is growing so fast. We had our veterinarian visit this week the Vet was impressed with how calm Chance is." - Crystal Ledbetter
Dec 2000
..." He learns so quickly and thinks so fast, you can practically see the wheels turning in his head. I am staying just one step ahead. The reserve he had when he first arrived has melted away and he is just one happy sometimes silly puppy. As I write this Chance and Dixie are in a long down stay right behind me. Chance is doing 20-25 minutes nicely as long as there are not too many distractions. You should see him when the word "treat" is said. It does not matter where in the house we are he runs to where the treat jar is kept, sits and waits.
..."I can see why Kelpies spoil you for other breeds. Chance's understanding and behavior at 5 months is more what I expect from a nine month to a year old dog. Chance is so willing to please! He tries his best to do whatever you're are asking.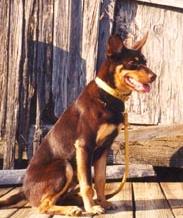 CLICK HERE FOR MORE ON NOONBARRA CHANCE
---
NOONBARRA JESSIE (Noonbarra Dusty X Noonbarra Valerie)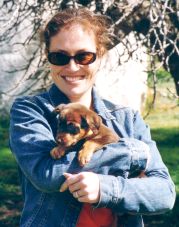 Jessie's really great. We are starting to train her now as she is becoming more receptive. We will take her to puppy school - more for our training than hers and she will love it. She loves other dogs so much - which is great - it means that she is already really well socialised. She is such a good natured dog - she loves people as well and seems to be able to entertain herself very well while we are at work. She's eating well and has grown so tall - she looks like she's all legs at the moment.
We take her everywhere we go (within reason of course) and she loves just being involved. We are going down the south coast this weekend and will introduce her to the beach. - Charlie & Sophie - Sydney Australia
---
NOONBARRA INDY I (Noonbarra Flash X Noonbarra Wendy)
Dec 2000: "He makes us smile everyday from when we wake up to when we go to bed." We saw the article in the SUN HERALD with Noonbarra Darcy. We cut the article out and sent to my brother and sister in London to read. Mum and dad are now listening out for any reference to Darcy on the ABC radio by Richard Glover.
I love my puppy and am so happy that he is in our lives. Mum is still keen for a puppy of her own so please let us know when you are intending on having another litter. She is very keen for a female, which would be good with Indy.
--------------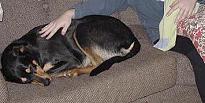 Feb 2003
Indy is wonderful & brilliant around our baby daughter Emma. Emma is at that age where she is exploring everything & Indy is so gentle & calm around her, even when he is getting his tail pulled/ear bitten/nose pushed!!...he's amazing & is a perfect fit for our family...you really chose well for us. Thank you. He is a very docile dog & loves his sleep!!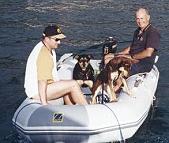 Noonbarra Indy with Noonbarra Kelly
---
NOONBARRA PEKOE (Noonbarra Marco X Noonbarra Judy)
Noonbarra Pekoe was picked up from our stud on Christmas Eve 2000.
"Dec 2000:" Thank God (or Mary and Stephen) for the crate training. The first night we had a total of about 15 seconds of whimpering and then Pekoe fell asleep until morning. When I woke he was awake but sitting quietly and didn't make any noise until I eventually opened the crate. I as dreading going to bed because I thought he might keep us up all night crying. Not a peep all night! Both Jeremy and I thanked you that morning. Being Christmas, Pekoe promptly plonked himself down among all the presents under the tree and had a snooze. Someone tied a Christmas ribbon around his neck and he looked just like all the other presents!"
" Pekoe's toilet training has been going well. There has been only one accident in the house when he was very excited to see other dogs. But apart from that, he has been taking himself out to go. His 'Sit' command is well on the way."
"I have put him on a 'down-stay' and we kept him there for a good 30 minutes. He would whine a bit and try to creep closer but we were very vigilant. He seemed much calmer after a while. Pekoe is getting very good at putting himself to bed now. We tell him it's bed-time and get into bed ourselves and he goes and lies down in his crate. He will also get in it during the day to have a nap if he needs to.."
"Thank you again for all the work you have put into with Pekoe. He really is a happy, calm, well adjusted puppy. "
CLICK HERE FOR MORE ON NOONBARRA PEKOE
---
NOONBARRA RUSTY (Noonbarra Dusty X Noonbarra Valerie)
Rusty and I are having the time of our life. He has calmed down soooo much that sometimes we think he's sick because he's that quiet, but he still loves a play and loves to be with us. As he gets older and older he gets smarter and smarter. He loves to fetch and when he gets the ball or stick he brings it back a couple of meters away from us and drops it. We're working on getting him to drop it closer. When he wants to play he gets his ball and carries it to me and drops it in front of me however I don't play with him because that's on his terms. Sometimes I get him to do something before I play with him.
Our friendship is growing as Rusty now has a good respect for me and the family. He understands what "no" means and when he's done something really bad. His behaviour has gotten so good.
We go to the beach about twice a week and he loves it. As soon as I say 'lets go to the beach" he gets so excited. When I first got Rusty he was terrified of the water but he has improved a lot. He often has a bit of a paddle when I go for a swim- he jumps in after me. Going for walks is really good especially at the beach. Sometimes when it's not busy we can let him of the lead and he walks next to us.
He just loves other dogs. I am trying to teach him that he can't play with every dog because when he sees another dog he tries to run and play with them...." - Gervais, Queensland
---
NOONBARRA DARCY (Noonbarra Flash X Noonbarra Wendy)
Noonbarra Darcy was sold to well known journalists, Richard Glover and Debra Oswald in Sydney. They met Noonbarra Milo who is owned by journalist Geraldine Brooks and now Darcy and Milo occasionally get the chance to play together.
"Darcy is an absolute champion... I don't know what puppies are usually like but his temperament seems great - he's reasonably calm most of the time but not at all timid. He marched around our house and yard and the neighbourhood very boldly. Thank you so much for the lovely Darcy and all your help and advice."
"Just a quick note to let you know that Darcy is already famous. In today's Sun-Herald 'Tempo section' there is an article about Richard and me which includes a colour photo of Darcy in my arms. He looks very handsome in his print debut."
Training is going well and he is generally very easy to handle. He climbs obediently into his crate at night if Richard says "bedtime" and opens the door. Everywhere we go, people comment on what a terrific puppy he is. People who have dogs are especially impressed with him - how sensible and clever he is, not to mention devilishly handsome. We are ridiculously proud of him when people praise him.
CLICK HERE FOR MORE INFORMATION AND COMMENTS ON DARCY
---
NOONBARRA DAWSON (Noonbarra Marco X Noonbarra Judy)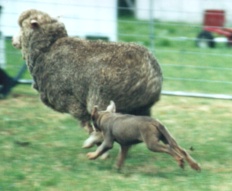 "I took Dawson home for Christmas with my family. Dawson was excellent. It was nice to sit in a room full of people with my puppy laying peacefully at my feet. Everyone he meets loves him...and he loves everyone. I love him! I will tell you one thing and this is the truth. I normally don't feel a bond or a strong love for a dog until he is closer to a year old. I have NEVER been so attached to a puppy so young as I am to Dawson.
"I love him so much and I am so thankful that I found the Canaan Dogs before Dawson. If the opposite had happened I probably wouldn't have gotten Canaan Dogs. This kelpie is the dog I have been looking for since I started in dogs. He is everything I want in the "perfect" dog for me. Thank you so much for him!"
We started a Puppy Agility class that is running for 4 weeks and he is so great! We have had one class so far and I only need to show him the obstacle once and he masters it. He did the tunnel, the A-frame, and jumped through the tire all on the first time in the first class. While at the training center last night all I have to do is walk by the obstacle and he does it! He is really amazing. He also is the only puppy in his class that can work off-leash the whole time.
Sept 2003 - "Dawson is great! I can't believe he is turning 3 next week. He is still my best buddy. I love snuggling with him.."
CLICK HERE FOR MORE INFORMATION AND COMMENTS ON NOONBARRA DAWSON
---
NOONBARRA TALLY (Noonbarra Dusty III X Noonbarra Gabby III)
"Well it is official I am now the 2nd most important thing is Sam's life, Tally is stunning and I see what Mary means when she says Tally has a look that melts your heart. she is everything we expected and much more thanks again." - Anthea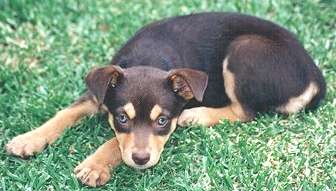 NOONBARRA TALLY
I am quite surprised at how quickly she can pick things up. I can see that she will turn out to be a beautiful dog when mature, she has a lovely nature and everyday she is learning more that I am the Alpha dog and her guiding light.
Every morning when I wake up she is in there waiting for me, yawning and stretching as she gets up. We have had no accidents in the house Her learning ability even surprises me and now that she has started obedience I can see further improvement in her every day."
If someone offered me a million dollars for her she wouldn't be for sale, I love her very much and I'm pretty sure the way she looks at me that the feeling is mutual. - Sam, Victoria Australia.
CLICK HERE FOR MORE INFORMATION AND COMMENTS ON NOONBARRA TALLY
---
NOONBARRA SCAMPER (Noonbarra Dusty III X Noonbarra Gabby III)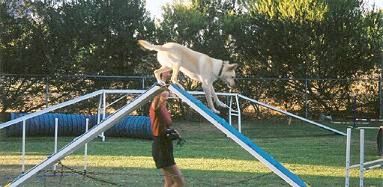 "Scamper has turned out to be a wonderful dog. She is super friendly, and pretty much loves all people and other dogs."
"Well, Scamper arrived safe and sound. She is really cute and very alert. Thanks again for everything! .." She is so beautiful and we get comments everywhere we go--especially about her eyes."
"We wanted to comment on how impressed we are with the way you do business. Dealing over the internet with people we haven't met is always uncomfortable at first--dealing across the world is even more so! You made the process feel very safe and comfortable. You were always honest about what you said and had good communication. It actually turned out to be easier to buy a Kelpie from Noonbarra than it would have been to deal within our country--plus we feel we got a higher quality animal. We also appreciate your follow-up after the sale. We would definitely recommend your Stud to our friends and family."
June 2001 - We recently finished our 8 week beginner obedience class with Scamper. This was not a puppy class, but rather a level one obedience class. We started Scamper the week after she arrived at just 11 weeks old. The next youngest was a 6 month old pup, with the rest being more mature dogs--many problem dogs and rescue cases. We are proud to say that Scamper was one of only 6 that "graduated" the class--we were thrilled when we got the certificate and announcement.
__________________
"Yes, Cruiser and I met Scamper. She is a wonderful puppy, nice temperament and great spirit." - Helen with Noonbarra Cruiser USA.
CLICK HERE TO SEE MORE PUPPY PHOTOS AND INFO ABOUT NOONBARRA SCAMPER
NOONBARRA SCAMPER AS ADULT & DOING AGILITY. (Page Two)
---
NOONBARRA DAVE (Noonbarra Prince X Noonbarra Judy)
Dave was sold at 2.5 years old and we worried about how he would settle in.
Dave and I had a big excursion Friday night Saturday because I had to go to Melbourne to play golf due to an earlier commitment. Dave was great and did everything expected of him. We stayed in a motel on the Friday night and as you predicted he was quite happy to sleep in the car. He was fine on the Saturday while I played golf bit I was worried that it was a long time for him. However he was glad to see me and just sat up and looked out the window all the way home.
He if fine off the lead while we are at the farm but I am not yet ready to take any risks away from the farm. He comes to me without hesitation wherever we are on the farm and does everything that I ask him to do. He lets me pat him while he eats and he sleeps at the foot of my bed in his own bed every night and doesn't make a sound.
So I couldn't be happier with him. He is already a great mate and little things are building up between us that are special to just us. He loves running beside me when I ride the bike and as soon as I sit on it he barks just enough to be saying " Come on, let's go " and as soon as I start to move he is off.
All in all it is going better than expected and it gets better every day. - Bob Bailee Yarrawonga Victoria.
---
NOONBARRA NED (Noonbarra Dusty X Noonbarra Lucy)
"Ned is going really well. As you suggested I have been introducing him to lots of new people and some other dogs. I have taken him out to our farm which is 1000 acres. In September we will be shearing out there I'm sure Ned will enjoy that! So far I have taught him to sit, stay, down and he waits till I tell him to eat his food. He still has a little trouble coming when there are distractions such as chooks but I am very pleased with him! My dad has a male kelpie called Ike who plays with Ned but doesn't let him forget who's the boss! Our family dog Tina and Ned are great friends already.
We have built Ned a cage which the other dogs are jealous of and he stays inside sometimes." - Annika Bathurst NSW
---
NOONBARRA DAISY (Noonbarra Dusty X Capree Dyna)
Daisy was sold to Anthea & Sam who live in Melbourne. They already own Noonbarra Tally and this is their second Noonbarra Kelpie.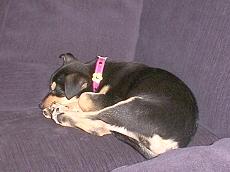 ---
NOONBARRA JACK IV [4th] (Noonbarra Dusty X Noonbarra Valerie)
"Thanks for the info on Jack. He is having a ball. The 'grumpy old' dog has taken to him nicely and is not so grumpy any more, the two are good play mates. The kids are also wrapped with Jack and play and wrestle with him. He's a beautiful dog and a bit of a ratbag at times."
''He knows when he wants to ignore you and when he wants to listen. (Usually when there's some chicken necks involved). He's great with Ned (our other dog) and follows his lead. which is good if you want him to listen, you just call Ned or give him a cuddle and Jack comes running)."
"I get worried that I feed him to much but the vet reassures me he's looking good. He has a very varied diet and his coat is looking sensational. He's beautiful. He's made friends with the dogs next door and with my brother in laws dogs and is a very confident friendly dog. He's really become part of the family." - Sonia Mt. Isa Queensland
---
NOONBARRA LAENIE (The Mallee Princess) (Bonorong Rex X Noonbarra Wendy)
Laenie went to a large citrus growing property near Mildura in the Mallee area of the far west of NSW. She has a wonderful life there and is sure to be very spoilt.
-------------------
"A little letter from your "daughter" Laenie. I have settled in well and am enjoying my new life in the Mallee. My siblings have accepted me well.
They are big dogs and they allow me to play with them - sometimes they are a little boisterous, but I'm a tough little dog and I love the rough and tumble. They even allow me to chew on their bones. When the think I'm out of line, they growl and gently mouth me but they have not been in the slightest bit malicious. The cat on the other hand is a little different. She spits at me and even gave me a swipe on the nose. But I get even with her by stealing her food when she's not looking.
I have learnt a really good new trick. I can go out and come back in through the cat door. I am very good during the night. The crate is in my parents bedroom and I give a little whimper and they let me out for a wee. Then I have a little cuddle and it's back to sleep. I only have to get up once during the night. that's pretty good.
I go to work with my dad every day - I'm the mascot. They all love me and no wonder. I am pretty cute. The backpackers who are pruning the vines make a fuss of me."
Love from the Mallee Princess
---
NOONBARRA KAYLA (Noonbarra Dusty X Capree Dyna)
"We have started with another dog obedience school to keep Kayla up with her training and for socialising with other dogs. She loves it and is doing wonders. I must say I enjoy the time learning with her also...and its great to see her having fun as well. There is another Kelpie in the group that we found only lives 2 streets away from us. Bella - is only 3 days older than Kayla and the get on great guns. .... We went for a long walk on the weekend along the rail trails through melb. On the way home we stopped at a cafe and our friends were impressed at how behaved Kayla was " - Fiona, Melbourne Victoria.
---
NOONBARRA BALTO (Noonbarra Flash X Noonbarra Gabby III)
"I had to laugh. Balto is doing really well at puppy pre-school (of course) - he's even in front of the little border collie pup (not that I'm keeping tabs, mind you). We'd just like a little more work. On Saturday we were told that, as next Saturday is the last day, and "Graduation Day", we should teach our puppy a little trick for the ceremony - something like "shake hands" or "roll over", & we could practice that during the week.
Well, it's Monday morning, & I've already taught him both of those on command. What do we do for the next 5 days?!!!
I now have an understanding of what parents of gifted kids go through at school!!!!"
---
---

Noonbarra Kayla is owned by Fiona in Melbourne.
Things are going great here....Kayla turned one in September as you are probably well aware, and I have some photos of her around that time. She has grown up a lot in the last few months...but you can still see so much puppy-ness in her.
CLICK HERE FOR MORE PHOTOS AND INFORMATION ON KAYLA
---
---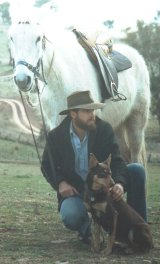 Stephen with Tara in 1985
---
NOONBARRA SCOTT (Karrobar Moss X Noonbarra Libby II)
AND
NOONBARRA MATE (Noonbarra Dusty X Capree Dyna)
Scott and Mate are at a new Kelpie Stud in Germany. The owner has had experience with Border Collies but these are the first Working Kelpies and the beginning of the new Stud.
"They travel very well and stay in the back of the car without trouble. .... Mate still loves everybody and shows he is a little pup. On the other side he wants to tell the big cows that he is boss when they are looking out of their stalls. .. People are impressed how good they behave and like the look of them."
"Just had a little lessons on sheep with a friend border collie trainer again. He was really impressed how keen they are and how well they are working and even 7 months now. They cover very well and spot every sheep wanting to escape. They are really keen and love to work! What I saw in their style of working should be exactly what we want for our cows. But will not start on cows until they are good trained on sheep."
CLICK HERE FOR MORE PHOTOS AND INFORMATION ON SCOTT & MATE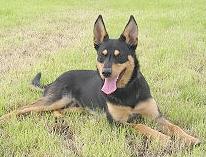 NOONBARRA MATE
---
---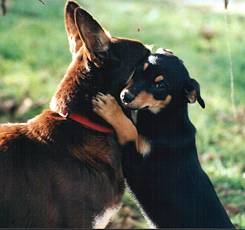 NOONBARRA SHEENA WITH HER GRANDMOTHER, NOONBARRA VALERIE
---
NOONBARRA SHEENA (Karrobar Moss X Noonbarra Abby)
Sheena was sold to Japan to compete in Frisbee competition at a National level. This sport has a high profile in Japan. Her owner Shinji Yasuda already has a champion Frisbee dog. We made sure he got a puppy that was compliant and outgoing and good with people.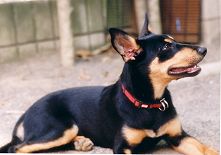 "Hi, Sheena is growing well . She is friendly pup...Now I just play with her using a ball and a mini frisbee. She is enjoying the play very much . After a few days I will start 'leader walk' . Yes she is perfect dog for me." Shinji Yasuda
Hi, Are you fine ? Yesterday I got a Stud Book Certificate from WKC . Thank you very much . Sheena became ten month old , beautiful black & tan female . Her speed , stamina and concentration are wonderful . And very cute ! Now I enjoy to do basic obedience training with her . She likes to chase a Frisbee . Her speed of retrieving is amazing . But it is not yet complete.
CLICK HERE FOR MORE ON NOONBARRA SHEENA IN JAPAN
---
NOONBARRA JEZEBEL (Capree Cobb X Noonbarra Sarah)
Jezebel recently went to Canada.
"I collected Jezebel from the airport today. The most striking thing about her right now is her seemingly unshakeable self-confidence. Nothing seemed to worry or frighten her and was very happy to greet anyone who wanted to meet her. She seemed to settle right in and tried to take charge of the situation. When our calf came up to investigate the new arrival, she walked right up to him, showed a little eye, and barked at him when he didn't move along (he is a very tame calf from our family cow, destined for the freezer). You weren't kidding when you said Kelpie puppies are masters of psychology. She started assessing her boundaries immediately. But sharp as a tack- she learns extremely quickly. She's a real charmer- we love her already."
BTW- thanks for the folder- will come in very useful. - Sherry Rochon, B.Sc.Agr.
MORE INFO & PHOTOS ON NOONBARRA JEZEBEL (CANADA)
---
NOONBARRA KOBE (Noonbarra Dan IV X Noonbarra Penny III)
"Kobe is doing great. The vet said he was 'perfect'. He was referring to his behavior as well as his health. Kobe's been meeting new people almost everyday and there hasn't been any problems. He loves people. Everyone comments on how calm and good looking he is. He's very good with my 4 and 8 year old cousins ...." - Rick. Rhode Island. USA.
------------------
I realized it's been awhile since my last email so I thought I'd drop you a line and let you know how Kobe is doing. He's doing great. He's growing to be a very strong and agile dog. He's also getting smarter by the day. He very quick and eager to learn. Right now I'm teaching him to bark on command. It's been a little slow since he doesn't bark very often but he's developed a very big and deep bark. He sounds much bigger than he is. He loves the car. Loves going to the vet. Loves everything and everybody. Hopefully I'll be able to get his pictures on line over the holiday. -Rick Long Island U.S.A.
---
NOONBARRA ANISE (Noonbarra Max X Noonbarra Valerie)
Anise was a very pretty little red and tan puppy that was sold to Brad in Sydney who is a builder. We met up with Brad in Orange, which is the biggest rural city near to us and we sat down at an outside cafe with Anise. Even at this young age she was well behaved and just laid down and watched the people which allowed us to have a long talk about training and care of Anise without having to be continually trying to control her.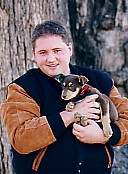 BRAD WITH NOONBARRA ANISE
In late November Brad brought Noonbarra Anise up to the Stud to start her on sheep. She was wonderful. Brad has certainly done a good job with her and she was well behaved and did some excellent work on the sheep both in the yards and out in the paddock. We later brought her inside the house and we were very impressed with her.
CLICK HERE TO SEE MORE PHOTOS OF NOONBARRA ANISE
---
NOONBARRA BINDI CD CDX (Noonbarra Dusty X Noonbarra Valerie)
Bindi is owned by Angela Kraght who lives in the Blue Mountains in NSW. Angela has done a tremendous amount of training with Bindi and has done extremely well in Dog Obedience Competition and now has her CDX title as well as a hurdle jumping title (JD) for agility.
Click here to see more about Noonbarra Bindi
---
NOONBARRA BOB (Capree Cobb X Noonbarra Sarah)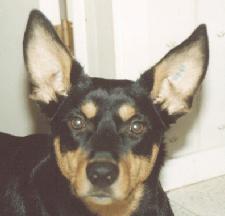 Noonbarra Bob went to Sweden in 2002.
"Just wanted to tell you that Bob does very well here in Sweden, he gets along very well with Cleo and they play a lot. I did not think to very much about the calm of your strain of Kelpies since Cleo always been calm, but Bob even calmer and really a very easy pup to raise, the other day he fell asleep in busy pet shop, so he is very good in new environments ,just as I had hoped . I think he will be very good for tracking ,search and rescue and obedience.
... I have been giving him regular baths as you suggested and it is as you said very good for bonding with him."
------------
Just wanted to tell you that Bob is doing very well , He has handled the cold winter very well (-20c) much better than Cleo and as you can see grown a bit, He is a very nice dog very much the way you described him as a puppy.
Bjarne - Sweden
---
NOONBARRA LILLYPILLY (Capree Cobb X Noonbarra Sarah)
Lilly is in Idaho USA and is being trained to work Alpacas. Her owner picked her name from an Australian flower. The family also have a rescue dog Called Daisy that has a number of problems and they were worried how Daisy would react to Lillypilly arrival.
"Well, we've had Lilly now for two and a half weeks and are really pleased with her. Of course, she is very cute, so it's hard not to like her, but she also has a really nice personality."
"As soon as we got her home from the airport, we introduced her to Daisy outside the house. Lilly did all the right things, and Daisy never even barked at her. Now they are very good friends, and one of the high points of their day is going out to the outside pen for their playtime."
"Daisy has mellowed a lot since we got Lilly. I think she derives a lot of security from her presence. Also, Lilly is socializing her. Lilly accomplished in a week what we hadn't succeeded in doing in the 5 months we have had Daisy. Daisy has always gone ballistic when she sees another dog. "
"I've been taking Lilly to interact with the Alpacas nearly every day. I started by introducing her to the male who considers himself the herd leader. He was attacked by a loose dog shortly after our old kelpie died last year, and ever since then he goes ballistic if he catches sight or sound of a dog anywhere around."
"We have been taking Lilly to the Saturday Farmer's Market, and she has gotten compliments on how well socialized she is, including from the veterinarian/animal behaviorist who has been helping us with Daisy."
CLICK HERE FOR MORE INFO AND PHOTOS ON LILLYPILLY
---
NOONBARRA DANNY I (Karrobar Moss X Noonbarra Abby)
Hi Mary,
I've been meaning to let you know how Danny has been going for quite awhile now but never seemed to be able to get to it until now. He is such a wonderful, lovely dog. We are having a terrific time with him. He is so quick to learn and we are sure he is going to make a great working dog. He has the most brilliant nature.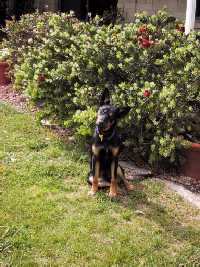 He obeys his "down, sit, come, stay "commands most of the time and is getting better every day. He brings a small mob of sheep up and can control them very well and it's only when he has got a bigger mob and is getting a little overawed that he forgets to listen. He will still come eventually though then gets a ride if we think things are too much for him or on the lead. He is very brave and bold when faced with stubborn sheep and does not give in.
Under the guidance of a more skilled trainer we think he would be amazing. We are doing our best however and are reaping the rewards with our fine dog. The kids love him and he has been great for our old dog who seems to have a new lease on life (and got much slimmer). He had a visit to our sons school and to our other sons kindy, where he got smothered by kids who thought he was gorgeous. He is bigger now and growing all the time.
Thanks for selling us such a lovely dog. Regards, Helen Proude
Photo from the Proude family.
---
NOONBARRA CROM (Noonbarra Dan IV X Noonbarra Penny III)

and

NOONBARRA BETJE (Noonbarra Max X Capree Dyna)

Both these Kelpies were sold to Patrick Stubbe in Belgium who bought Noonbarra Keppe some years ago. He is hoping to set up a little breeding stud over there and these two pups were selected for that reason.

"Thanks for all the time you have put into these two pups:

* advising me each time to wait and see what will come next litter
* choosing the right pups between so many good ones
* starting them up with all the work that takes
* giving them a great basic education.
* making the photographs and informing about their development

I am sure you have invested a lot more time and energy into these two pups than
mostly you do for other pups. I feel quite happy about that."

Crom and Betje are just great pups!
We are still in a process of adapting to each other.. This first week, I tried to spend as many hours as possible with them. Just observing and giving them a good feel when they come near to me.
Crom indeed is the biddable (BC like) pup as Stephen described. He
showed no fear to come close

CLICK HERE TO SEE MORE ABOUT BETJE AND CROM
---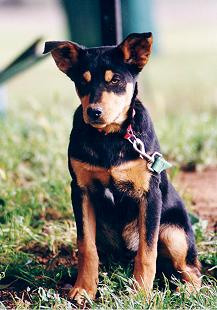 NOONBARRA CROM EXPORTED TO BELGIUM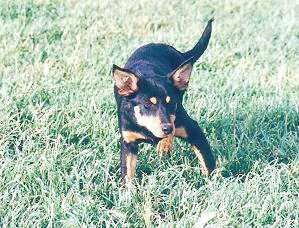 NOONBARRA BETJE EXPORTED TO BELGIUM
---
NOONBARRA DANNY II (Noonbarra Dan IV X Noonbarra Angel)
Noonbarra Danny went to Nikki and Peter in Melbourne as a companion dog.
Hi Mary, Just a little update on Danny's progress. I have never come across a pup that has settled in so
quickly. He is very confident, eager to please and very quick to learn. He is already doing the sit command and using the dog door to go in and out. Still working on the toilet training. Luckily we are able to spend most of the day with him at this stage so I can put a lot of time in to his training and playing with him.
-----------------------------------------------
To Mary, Hi Danny is 6 months old now and turning into a lovely dog. He is very laid back and easy going. After he has his long walk and run on the beach he is quite happy to come home and just sit around chewing on one of his chewies or sleep. I have him in the house 95% of the time and he is very well behaved.
I took him to Paul McPhails a few weeks ago and he was amazing at rounding up the sheep which is more than I can say for myself. Paul said he was a bloody champion. He is also by far the best at dog school with his sits and stays. Not a day goes past that someone doesn't comment on his beautiful colour. He is a very dark chocolate. Although he is still very young he is starting to respond much better to my commands but a bit naughty when he gets involved with another dog about coming back. I think your assessment of him was very accurate and he will make a fabulous companion.
---
NOONBARRA MOSS (Karrobar Moss X Noonbarra Abby)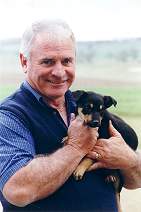 Noonbarra Moss was sold to a fine wool Merino farming property at Goulburn. The owner wanted a dog that was both an outstanding worker as well as a companion dog and work mate.
A GREAT DOG - Hi Mary & Stephen, sorry I've been so long in answering, it was good to hear from you. Thanks for the tips on training, they were very helpful.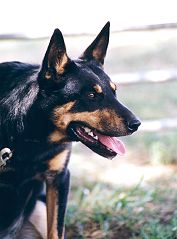 "Thank you for breeding such a wonderful dog. I start my holidays next week and I am looking forward to doing some regular sheep training during my month off work. MOSS is just over seven months now and the time seems right to do a bit more than we have been doing. He appears to have matured and steadied in the last few weeks. I must say he is a pleasure to work with. Keep in contact - Al & Diane Picker
Moss has since returned to Noonbarra for a training day and went very well. We took this photo of him while he was waiting to work.
Click here for more info and photos on Noonbarra Moss
---
---
NOONBARRA HUNTER (Noonbarra Flash X Noonbarra Gabby III)
Noonbarra Hunter went to a lady who is a qualified Veterinarian living in Sydney. Hunter is her first Noonbarra Kelpie. He is By Noonbarra Flash X Noonbarra Gabby III.
"He is just beautiful and I feel very lucky to have such a great dog. He is going very well at obedience and I have recently had a number of comments from other participants and a couple of trainers about how fixatedly he looks at me, ready for the next comment or praise!"
"He is by far the sweetest, gentlest and most affectionate dog I have ever seen and is winning the heart of even my least doggy friends and all the local children particularly our neighbours children who are very shy but love to take Hunter and our other dog out for extra walks in the park.
I have also started going running with him which he seems to enjoy and no doubt will keep his natural kelpie endurance up to scratch. Hope all is well with your dogs, particularly Flash who I owe a thank you to for fathering such lovely puppies."
CLICK HERE FOR MORE INFORMATION AND REPORTS ON NOONBARRA HUNTER
---
NOONBARRA OSCAR (Noonbarra Dan IV X Noonbarra Angel)
Noonbarra Oscar went to Peter and Linda near Sydney as a companion dog.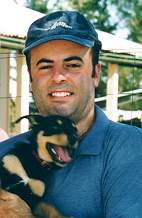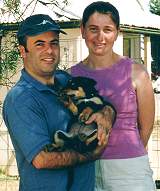 ---
NOONBARRA BEN (Noonbarra Tim X Spinifex Starlight)
I bought a kelpie from you back in 1988. It's a long time ago and you have many customers; but Ben, as we named him was the one that moved between our farm at Geurie and house in Castlecrag. Time has gone by, and we now (the last five years) live on a vineyard in Broke, Hunter Valley - no more travelling for Ben other than a few days in the kennels from time to time.
Ben will be 14 later this year, and while he still looks very good and seems reasonably fit, he is getting a bit deaf and doesn't seem to see longer distance that well, and not unreasonably balks at walking round the vineyard with me, particularly in summer - the vet says I'll be the same at the equivalent age of 92!!
I am wondering about getting another pup while Ben is still with us. Do you have any thoughts on this? I love him like a baby, and would not like to upset him at this stage;
---
---
NOONBARRA BELLE (Noonbarra Dan IV X Noonbarra Jillaroo)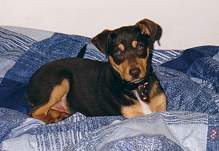 Belle was sold to a family in South Australia for working dairy cattle.
"Just writing to let you know that Belle is going very well. She is very alert and already showing how intelligent she is ... we are very glad that we decided to get her from you."
---
NOONBARRA CALIS (Karrobar Moss X Noonbarra Libby II)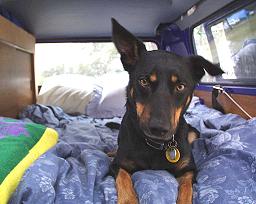 Hi Steve and Mary, Well Calis (from Karrobar Moss & Libby) is almost 15 months old now, and still continues to delight us daily with his 'smarts'. Dad, who has had many dogs throughout his lifetime, is particularly impressed and is thinking about getting a female. He claims it is as a playmate for Calis, but I am convinced that it is because he will miss Calis too much when I leave home - even if I am only ½ hour away!
As for Calis himself, he is quickly becoming a surf dog - it will only be a matter of time until he gets on the board with me! - and he particularly loves camping and long long walks. Soccer, tennis and chasing bubbles are also rating highly, and he is still the most sociable dog I have ever met. I have depleted his energy only a few times (that's when he hides his toys so we have to stop playing), and he is keeping my parents fit. I am looking forward to the possibility of getting him a friend, so fingers crossed!
Regards, Suzanne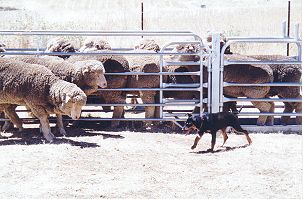 NOONBARRA CALIS AS A PUPPY ON SHEEP
Suzanne also came back in 2003 and bought another puppy with her father. This is Noonbarra Bindi II.
CLICK HERE FOR MORE ON NOONBARRA CALIS
---
NOONBARRA BASIL (Noonbarra Marco X Noonbarra Judy)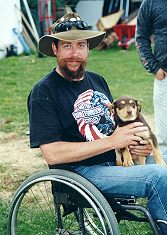 Noonbarra Bail went to Pete on the north coast of NSW where he has a few acres, as a companion Kelpie for him and his young son. Pete had a motorcycle accident some time ago and is dependant on a wheelchair.
---
THERE ARE MORE PHOTOS AND REPORTS ON NOONBARRA KELPIES IN OUR PET SECTION AND SUB-SECTIONS
Noonbarra Stud Video 2000/2001
This video shows our Noonbarra Kelpies working at all aspects of sheepwork including Droving, Mustering, Sheepdog Trials and Yard work. There are also special sections on Kelpies as companion dogs and pets and a section on Kelpie puppies. It shows our dogs interacting with children and strangers and being indoor dogs. Professionally finished with Titles, commentary and music.
Includes cover case and

colour

insert. For more detailed info see our video page. Click here.
AUD $15.00 plus $5.00 postage (Australia). Available in international formats too!
---
Noonbarra Working Kelpie Stud
Mary and Stephen Bilson.
P.O. Box 1374, Orange NSW 2800, Australia
Ph. (02) 6366 1641

Email:
kelpies@noonbarra.com
www.noonbarra.com
---

NOONBARRA INDEX
THERE ARE MORE PHOTOS AND REPORTS ON NOONBARRA KELPIES IN OUR PET SECTION AND SUB-SECTIONS