Noonbarra Casey (Norway) -Noonbarra Prince (Norway) - Noonbarra Keppe (Belgium)
---
FUTURA NED X NOONBARRA SARAH
These two young Kelpies were sent to the Norinvale Stud Norway, in 2001. This Stud had bought Noonbarra Jessica and Noonbarra Luke some years previously. A lot of people were very interested in Noonbarra Sarah as she is naturally a wide working dog with the classic style of the old time Kelpies but she has a lot of strength to come in close and push or work the Stockyards with backing etc. No sooner did we mate her then we were inundated with enquiries. Staale wrote to us within days of us doing the mating....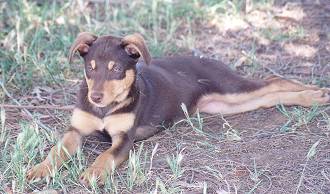 Noonbarra Casey In Australia
"Hallo: I recognised just now from internet that you have mated Noonbarra Sarah, from the video I liked very well how she worked...This is in a hurry, but this seems so interested that I want to book pups from this litter primary one female, but one female and one male can also bee possible. This due to the transport."
_______________________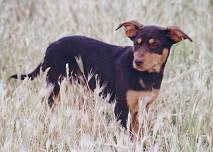 Noonbarra Prince II before going to Norway
Hello to You both, I should have sent You a mail many weeks ago (or months), but it is a rather busy time from early spring to late summer. It has been very much rain during the season and that gives complicated to the work situation. So now we are hoping for a long and dry period up to Christmas.
First we have a bad news. Jessica has passed away. She was hit by a car and died immediately. That was a big loss. I was just going to take her to her first trial. She worked very well, very stylish and confident and could cope with any kind of sheep. She was a bit more naturale than Luke so I had put more trial exercise into her than Luke.
Luke is also coming very well, but he is not so stylish and have more oscillated ? work behind the sheep. I intend to start in a trial with him next month. I have used a new training method on him. This is based on "backwards chaining" learning the last movement first and going backwards.
Example: first learning the dog to pass an obstacle with the sheep and give it a command, then goes a bit backward and gives the order. We have cross driving in our trials with much commanding. I am now trying a new method with seems to suit the kelpies much more. I give the directions and the command for the obstacles and let the dog do the most of the job. With dogs as Luke and Jessica that communicated so well with sheep and never stressed this seems to be a success. For myself I have to take small steps for to learn how to train this. But the dogs is learning very fast. They now know the aim and therefore I just need to give only a few corrections in the beginning. I just have to ensure that the dog is confident in every situation and can handle most situation by himself.
The dogs I liked most (for our conditions) was Tina, Judy and Sarah. Especially I liked the way Sarah worked and my first intention was to try to buy her. Now as I have learn that Your kelpies can handle our most stubborn and also shy sheep, I could not resist to booked two more kelpies from You when I saw that combination.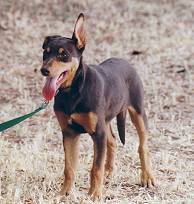 Noonbarra Casey
_____________________________
"Hi, It is a long time since I have been in contact with You so I should like to send a report from Norway. It is going very well with the dogs."
"Here it is not possible to train on sheep all year because of snow etc. Last summer Prince and Casey was a bit to young to be trained properly so I just introduced them to sheep etc."
"This summer the dogs have developed to bee very good in handling sheep. Casey is now just that dog I have been looking for in many years. She have it all naturally. She has style, she is calm, have distance when needed and power. She finds naturally the point of balance where she can control the sheep. Prince also works very well have full control over the sheeps but he uses a bit more energy and tends to go nearer the sheep. I am aware that this is just a training. Luke had just the same kind of working when he was younger."
They are all extreme easy to train. They are calm, never stressed and very faithful. I have mated Luke to 3 different females and he has produced some really good pups. Due to working situation I have not been able to take any of them to trial yet, but I am sure they will do a good figure.
We have a working kelpie club in Norway. I am in the board and just now also responsible for the clubs internet site.

________________________________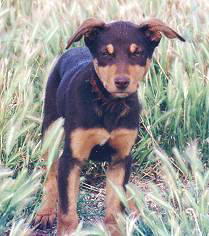 Noonbarra Casey as a puppy in Australia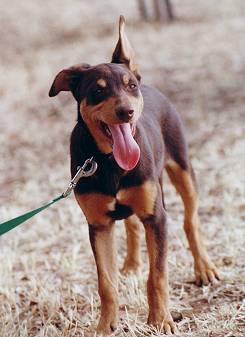 Noonbarra Casey just before she left Australia
Dec 2009: Hello, It is a long time since we was in contact. I hope You are all well. Yesterday we sadly lost Noonbarra Casey. That was a big lost.
So now I wonder if You have some dogs of interest. A female pup or a young female. It must be a dog with same working ability as Casey (dother of Sara.)
She was strong enough, and also very good calming down the sheep who had been 4 mount in the mountain.
---
Noonbarra Keppe is the first Working Kelpie exported to Belgium. Patrick Stubbe has owned a Border Collie called Torka for three and a half years but had not had much experience in training dogs and of course none at all in handling Kelpies. He had been trying for some years to purchase a Kelpie and had contacted a number of breeders including a well established USA breeder. He named his Kelpie 'Keppe' which means 'Darling' in Flemish.