NOONBARRA WORKING KELPIE STUD
WHAT OUR CUSTOMERS HAVE SAID ABOUT NOONBARRA STUD KELPIES
---
MORE FAMILY COMPANIONS
---
Noonbarra Max X Noonbarra Megan
Born 12th August 2006
Owned by Karen Longmuir. A.C.T.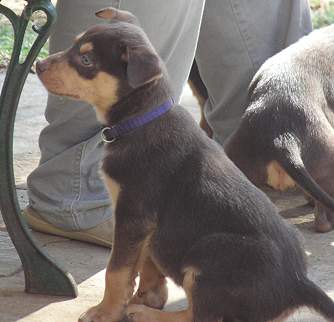 We get some wonderful letters from customers and it is always nice to hear how the dogs are progressing.
"Thanks so much for spending time with us yesterday. It helped us understand Milo a lot better and how to care for him. It was also lovely being able to see all the other dogs in the stud, particularly Megan and Max. Of course, it was lovely to finally meet you both after all the emails and phone calls we've exchanged over recent months.
Milo travelled well yesterday. As you predicted, he spent most of the time asleep. We stopped at Cowra for lunch. It was pleasing to see how playful Milo was and how he just wanted to follow each of us every where. We started some basic obedience training then too - the lesson about not chewing on a lead. Once home Milo was happy to explore his new backyard. He showed a nice balance between being brave enough to explore, and loyal enough to want to follow us anywhere.
In the house we are trying to insist on the 'calm puppy' rule but we have to teach this to both the kids and Milo. Milo is proving a bit easier to train in this regard. The trick Stephen showed us - of holding the over-excited puppy at arms length until calm and then bringing him in to our face - worked really, really well.
Thanks again for your help and hospitality yesterday. We all love Milo and we promise to look after him.
_______________________________________
"I thought you'd like to know how Milo is settling in to life with our family. As you can imagine, Milo is much loved by everyone and has settled in really well. He's growing quickly and is gaining around half a kilo in weight every week."
"We've been training him and have found that he is a really fast learner. He knows sit, is learning stay, knows to sit outside an open door and not barge in (most of the time), and has recently learned 'up' and 'off'. We've got a large cardboard crate which has collapsed a bit. He loves to climb 'up' and then slide on his bottom 'off'.
"He'll start proper puppy school in February next year. In the meantime we'll keep working on him. He wants to learn and enjoys the 5 minute lessons he gets most days."
"Milo is a very affectionate puppy. He loves to climb into your lap for a cuddle. We just have to watch that he doesn't get too excited as his licking of our faces when on a lap can get too frenzied.
"We have managed to get quite a number of friends over to visit him, with young kids and the occasional dog as well. He's behaved really well and has not jumped on anyone unless they invite him to."
---------------------------------------------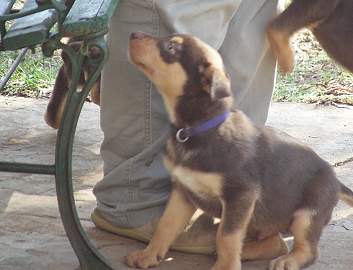 Noonbarra Milo II at the Noonbarra Stud
"Now that Milo has had his 12 week vacination he is allowed on to the grounds of our local dog obendience club. I took him there last night and he did you, the breeders, and us the owners very proud. He showed excellent dog manners to every dog he met. Someone commented that he must be very used to other dogs, but the only significant exposure stopped when we brought him home. Milo also loved the exercise. He is a great runner and there is no way I would be able to keep up with him if he was off leash, even though I'm quite fast. We also had a lot of comments about how beautiful looking he was and how well behaved. We'll take him out there as often as we can to let him run and socialise."
-------------------------------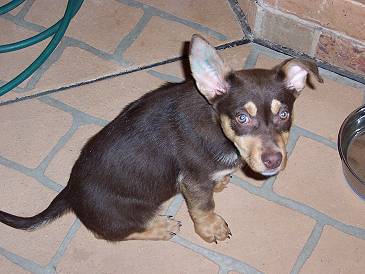 Noonbarra Milo II settling into his new home
Nov 2006
"Milo is very cheeky and very, very loved. He's just a delight to be with. We get lots of admiring comments from the people who meet him, especially about his beautiful looks. Milo loves a cuddle and can almost jump into our laps without help. He also loves our cat, although the cat is taking somewhat longer to get used to Milo. This will get better with time I'm sure.
"At Christmas we're taking him up to my parents' place. He'll get to swim in the lake everyday and will be meeting loads of dogs, as the nearby park lands are a mecca for local dogs and their owners."
"We love our dog. He is the most wonderful puppy. Thanks for letting us have him." - Karen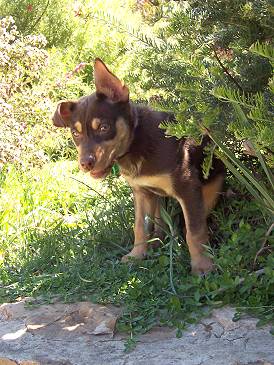 A very cheeky boy !!!
Feb 2007
Milo is continuing to be a beautiful family dog. We all love him heaps. He loves to be with people and he's really well behaved.
Over Christmas we took him on holiday to Lake Macquarie. He travelled well in his crate. A tip for future visits is to not feed wet food before a long drive - the wind coming from the crate was rather unpleasant. Milo had his first experience of water. He loved the water but didn't like going in over his head. One of the photos shows him 'surfing' on a boogy board.
Milo has become a great friend for both our kids. They play with him for ages. Milo is very tolerant and puts up with a lot. The photos show him having a cuddle with the kids in the hammock, and playing with Conor. His favourite toy is the soccer ball. He can play on his own or with people.
Our training is continuing. Milo is good at the 'down stay' command, doesn't come through an open door unless invited, and waits (drooling) for his dinner until given the release command. And he's getting better at not jumping on people. Next week he starts formal obedience training at our local dog club.
In other news, we've had a bad start to the year. I was diagnosed with breast cancer in early January. I've since had two major operations to find and remove the cancer. The last operation removed the whole left breast. I start chemotherapy some time soon. Despite the illness, we're all keeping in good spirits. Milo comes walking with me most mornings. This helps.
Karen Longmuir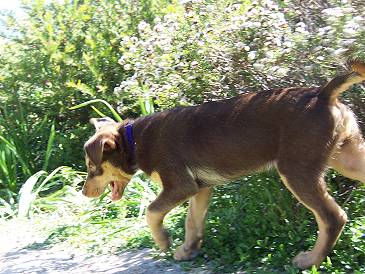 Having fun exploring.
March 2007
I thought you might like to know that Milo has just passed level 1 at the Belconnen Dog Obedience Club. Gav takes him to classes every Sunday and he's been doing really well. We don't know how far we're going to take Milo with obedience training - I guess we'll stick with it as long as Milo is learning and having fun.
Milo has been desexed. He had the operation last week. Other than the wobbles on the afternoon of the operation, he's been fine with it.
Milo continues to be a wonderful dog. The kids love him to bits. He's finally got over the jumping on people thing. He travels well in the car - he just curls up in the foot well and stays there the whole trip. He's a great dog.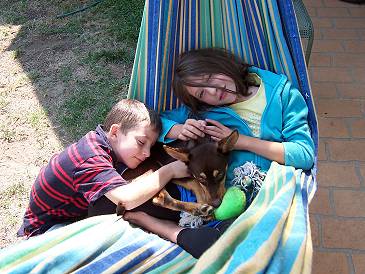 ____________________________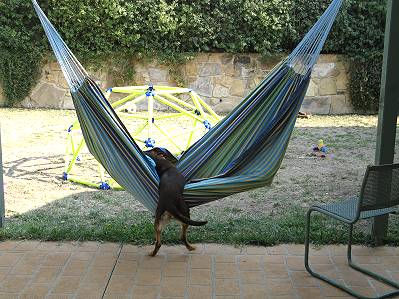 Milo seems to like this life and tries to get into the hammock himself
July 2007
I thought you'd be interested to know that the lovely Milo II is going well. He recently passed his level 2 dog obedience test. He's struggling a bit with level 3 but we're sure he'll come good in the end. The dog obedience club Milo and Gav attend are keen for both to move onto Agility training once Milo is ready. We think we'll do it because Milo is such a smart and active dog, and both he and Gav enjoy being with other dogs and their owners.
Very early on we took your advice (from your Kelpie book) about training Milo to behave well in the house. That is paying off. When Milo comes inside he goes straight to his inside bed, and doesn't even make for the cat's food dish on the way. He also recognises the command "onya bed". He'll stay there for hours unless given the command to get off. He's a beautiful, lovely boy and we love him to bits.
My best wishes to both of you and I'm glad you've decided to keep the stud going.
Karen Longmuir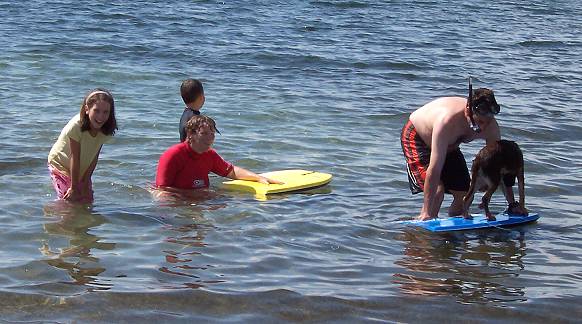 Milo learns to surf!
---
Noonbarra Max X Noonbarra Jessie II
Born 8th May 2006
Owned by the Kennedy family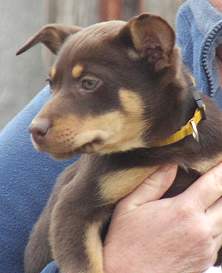 "Dear Mary and Stephen,
Just giving an update on Duke. He is definitely the dog we were looking for and thank you so much for selecting him for us."
"He is by far the most loving and caring dog I have ever seen, and definitely the smartest. He is really amazing us with his quick learning and his wonderful nature. Whenever we are around he will always come up and just be with us and really enjoys the company. He has settled in to his new home really well and is playful, loves going for walks, or doing any exercise for that matter! He will never stop if you don't! He is fantastic!
I have also included some pictures of him. Thank you once again,
Regards Rutherford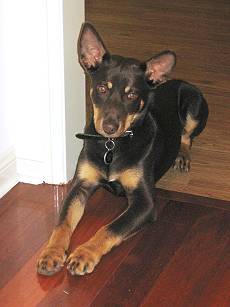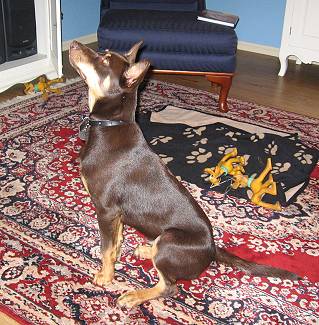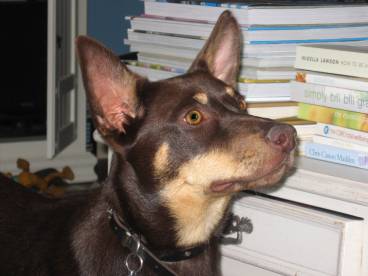 ---
Noonbarra Nick X Noonbarra Debbie
Born 19th August 2006
Owned by John & Hanne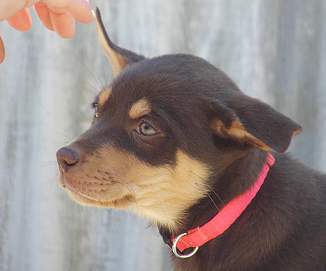 "Dear Mary and Stephen, my apologies for the delay in sending you a progress report on the little one. I am pleased to be able to confirm your excellent choice in selecting a dog for us. Femme is an absolute delight and very smart."
"She has had some difficulty in getting the hang of the house training bit but that is improving. I was heartened by your notes on the subject and am not concerned."
"Meanwhile, Femme has fallen in love with an older male, namely my son Andrew's Dalmatian Zel. After a shaky start they are now inseparable and it has been a boon to Femme to have an older well trained dog to learn the ropes from. Andrew is very good at training animals (he must be to get an obedient Dalmation) and he works from my home, so that has been a blessing."
As you can see from the photos Femme is into sitting and staying and comes to my whistle and call. She also seems to recognise her name some of the time. Femme's nature is charming and she is giving all of us a huge amount of pleasure."
So, a big "Thank you" from Hanne and myself.
Kindest regards and best wishes
john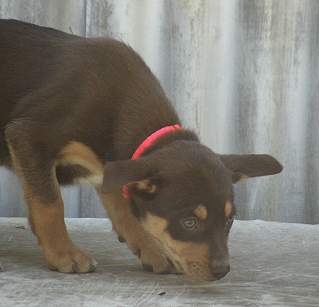 Noonbarra Femme at the Noonbarra Stud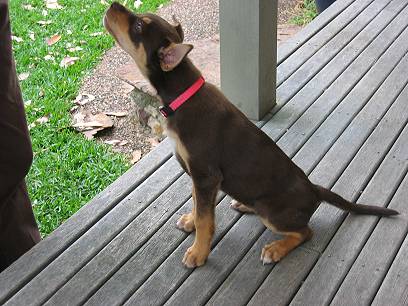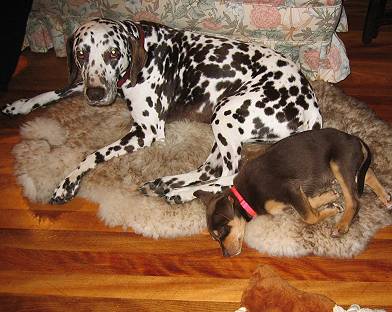 ---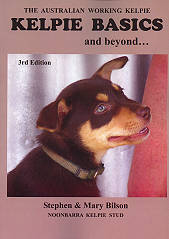 This new 3rd edition is a great book for beginners or experienced Kelpie owners. It is designed for good solid foundation training to ensure you get a well balanced, socialised and obedient Australian Working Kelpie.
Over 100 pages.
---
More information on Kelpie history can be found
in the new 2006 edition of our book