NOONBARRA WORKING KELPIE STUD
WHAT OUR CUSTOMERS HAVE SAID ABOUT NOONBARRA STUD KELPIES
---
MORE FAMILY COMPANIONS
---
Noonbarra Jackaroo X Noonbarra Cassie
Born 8th March 2009
Owned by Stacey Scrimshaw
May 2009
Tess has had a big week. She is doing really well and we are all very pleased with your choice for us. We have no issues with taking anything, including bones off her now. She is learning the house rules quickly and settles almost instantly when on my lap. She has been very respectful to our 2 ducks. All three are in the backyard through the day and Tess just eyes them then walks up so they move. There has been no chasing yet. She loves being on top of things. She climbed on top of her create and onto the bed yesterday.
Tess is a people dog. She has met a lot of people this week and just settles so quickly with them. We did some work on liking the vacuum cleaner. She will now approach it when it's on. She loves playing when I mop. I'm looking forward to puppy classes next week.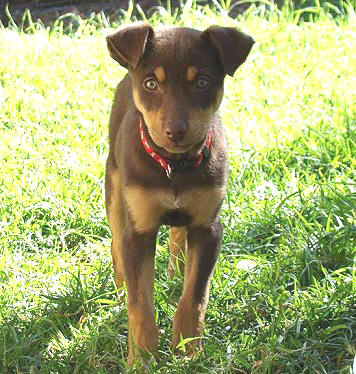 August 2009:
Tess and I had a great day yesterday. I took her to play with some sheep with Darcy, the sheep trail trainer at Erskine Park. He took us to a large enclosed ring. It used to be for breaking in horses. I watched while Darcy stood with the 4 sheep and Tess calmly circled them right out at the edge of the pen. Darcy asked her to change directions with whistles (I wish I could whistle) and pointing an old rack and Tess responded beautifully. Darcy said that he would give her 100/100 for her work yesterday. We had two sessions of about 5 mins and she was calm and watchful the whole time. Darcy is a short haired border collie breeder but he said that Tess has opened his eyes to kelpies. He also asked about Noonbarra in general. You have a new fan
Just a quick email to let you know that Tess is doing really well. She will happily say hello to anyone. We have been going to obedience and she works very nicely, even with very little practice at home. She's can be a bit of a rough nut with other dogs. She enjoys playing with the larger breeds like German Shepherds, Labs and Staffys, but she calms down beautifully for smaller quieter dogs.
I had her out with our 2 ducks last week. I was trying to catch her but she kept them between us. I would go one way and she would balance them, like she was rounding up sheep. I had a good laugh and was amazed at her natural instincts.
On a lighter note, Tess's ears finally became pricked 2 weeks ago. Now she looks like a smaller version of Cassie. She is so pretty.
---
Noonbarra Max X Barclays Kate II
Born 6th October 2008
Owned by Liz and Mark Sandercock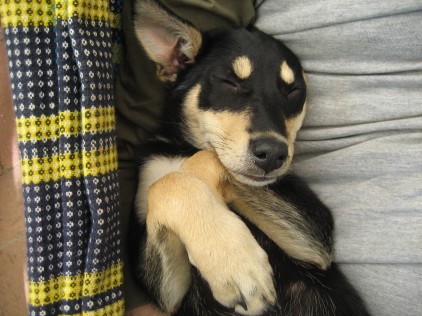 She's a beautiful little girl! She's doing very well at obedience school too, now up to level 3. We need to complete level 5 (and be over 12 months) to start agility classes which we hope will be lots of fun and tire her out as well!
We take her everywhere with us (where ever possible) and she enjoys waiting around for us to finish our coffee! It's amazing how many people have said how beautiful she is. There was even one man who wound down the front passenger side window of his car while he was turning a corner and yelled out to us..."you've got a beautiful dog there".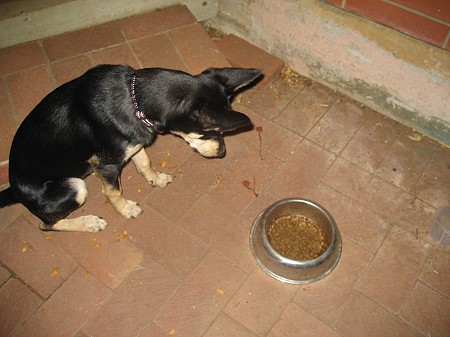 Noonbarra Missy waiting for command to have her dinner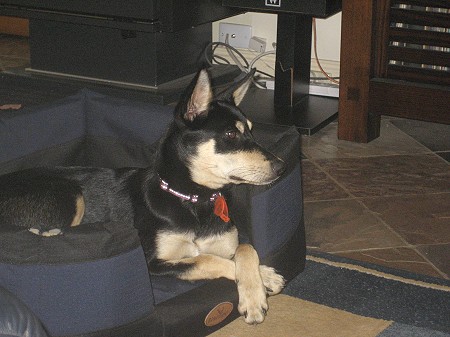 Inside, lying on her bed.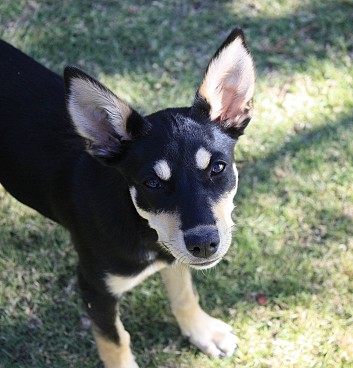 Noonbarra Missy as a puppy
---
Noonbarra Max X Noonbarra Jessie II
Born 12th Feb 2008
Owned by Adam Ward
Hi, my name is Jill Raymond, I am an artist who specializes in working and companion animals. Kelpies are a large component of my work, and I usually work at the Casterton Kelpie Festival each year, but did not attend this year. When I was there last year, I met a lovely young couple from Melbourne who had recently bought a puppy from you. They called him "Aussie". He was the most personable and self assured puppy I had seen, very calm and quiet, and gorgeous to look at. I was so impressed with him, I have done an artwork (pastel ) of him, which is part of an exhibition I am having soon.
The picture is titled "I will grow into my ears" . My phone no. is 02 60373232 Thank you so much, Jill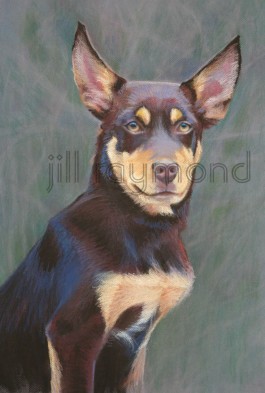 ---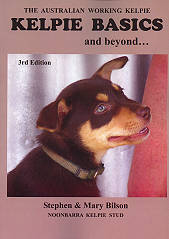 This new 3rd edition is a great book for beginners or experienced Kelpie owners. It is designed for good solid foundation training to ensure you get a well balanced, socialised and obedient Australian Working Kelpie.
Over 100 pages.
---
More information on Kelpie history can be found
in the latest edition of our popular book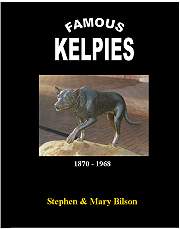 ---
THE ROCKYBAR KELPIES
A GUIDE TO ONE OF THE BEST KNOWN KELPIE STUDS OF THE 20TH CENTURY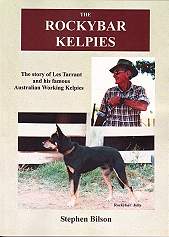 We think this book would be an enjoyable read for anyone with even a passing interest in the Kelpie. It would be a great guide for breeders and trainers with information that is impossible to get anywhere else!
The Rockybar Stud, owned by Les Tarrant, was one of the most famous in Australia for half a century and their influence can be seen in Kelpies all over the world today.
Les Tarrant started with Kelpies in the 1930's. He led a life of droving, mustering and working with horses and livestock. In 1950, he set up the Rockybar Kelpie Stud in the far north-western districts of NSW.
We look at some bush characters and old dog men such as the remarkable priest of Goondiwindi, Father McCormack, Stanley McMaster, Frank Scanlon, Stan Collins, and more. We look at the individual dogs in the old Rockybar lines and the more modern lines (after 1980). We have a huge section on Les Tarrant in his own words explaining how to breed Kelpies and the problems and pitfalls to avoid. There is a good chapter of the book dedicated to how to train Kelpies the Rockybar way. Another chapter is on yard work and yard trials.
There are plenty of photographs and some were very hard to obtain. Many (probably most) would never have been seen by the general public before.
Large A4 format. B/W photos throughout. 166 pages.
CLICK HERE FOR MORE DETAILS & PAYMENT ETC.