NOONBARRA WORKING KELPIE STUD
WHAT OUR CUSTOMERS HAVE SAID ABOUT NOONBARRA STUD KELPIES
---
Noonbarra Jackaroo X Noonbarra Kellie
Born 11th August 2007
Owned by Jon Hunt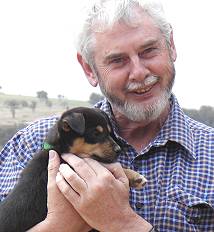 Noonbarra Roo will have his second birthday next month so we thought we'd better drop you line to let you know what a wonderful dog he is.
Roo is an absolute delight. He is very smart and so keen to learn. He has passed his Advanced Obedience training so has the letters CD after his name. He is now learning agility – he is very eager and seems to enjoy it immensely. Roo has a lovely temperament. At puppy school, his teacher called him the peacemaker and would pick Roo to play with lots of different puppies because he was so gentle and calm. He has retained those traits as he has grown up. He loves being with us, but is able to amuse himself as well. It's a delight to come home from work and to be met by Roo with his 'dolphin' smile and helicopter tail.
Roo enjoys all his toys, particularly tug toys and anything that squeaks and he will chase a ball all day if someone will throw it for him. His sense of smell is acute and we enjoy playing 'hide and find' with his toys inside the house – he usually finds whatever we have hidden very quickly.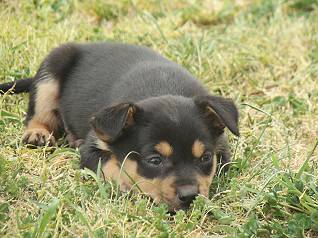 We have a great spot where Roo enjoys an off lead run and play. We walk about 5-6 kilometers whilst Roo ranges probably two or three times that distance. He loves the smells of the rabbits and kangaroos and loves chasing and retrieving sticks that we throw for him. He seems to be a very proud dog when he's walking with a stick in his mouth. He makes sure that he checks on us regularly, but doesn't seem to understand that we just can't walk/run as quickly as he can. We often stop for a coffee and treat after this walk and Roo is really well behaved.
Roo has a strong herding instinct, but only gets to practice on our two cats – he tries to herd the birds, but they only fly away. I think Roo respects our old cat (Jimmie is nearly 18) and doesn't chase him and defers to him when treats are being served. However, the same can't be said for Junior, our young cat (9 years old). He and Roo seem to have a teasing relationship, but it's very gentle and fun to watch.
Roo loves the car and knows that it takes him to fun places, but he is also happy to come with us even if we are just going to the shops. He is fascinated with everything that goes on outside. We hardly ever hear him bark and he is very comfortable with being tied up on his lead when we go into the shops.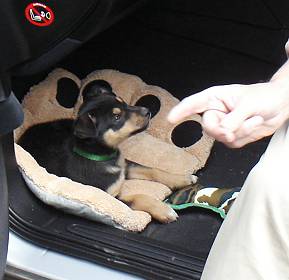 Roo has taught Jon and I a lot about training and we from what we have learnt, we would have done some things differently in hindsight. Where we have been consistent with something (even though we didn't really think about it as training) the behaviour is absolutely ingrained in Roo. Where we've lacked consistency, then Roo's response isn't always consistent. Makes absolute sense! You may recall that Roo developed a bit of a 'mouthing' habit when he was just under 6 months old and you gave him a week of training in late January 2008. He's been fine since then.
Physically, Roo is a tall dog (about 56cm to his shoulder) and looks terrific, but when he did his intake test for Agility his ribs weren't able to be felt as easily as they should be. We've been watching his diet since then.
Overall, we are absolutely delighted with your choice of Roo for us (but he is definitely Jon's dog). We'll definitely be looking for a sister for Roo, who can be Sheila's dog, in a year or two... Thanks again for a fantastic dog
---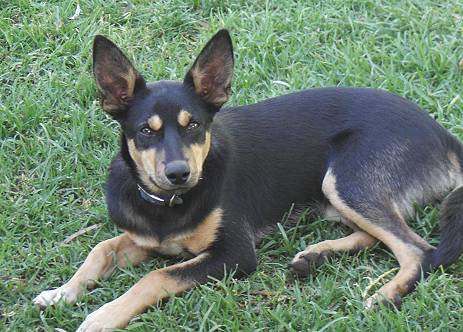 ---
Noonbarra Max X Noonbarra Jessie
Born 12th Feb 2008
Owned by Tony Wallaert in Victoria.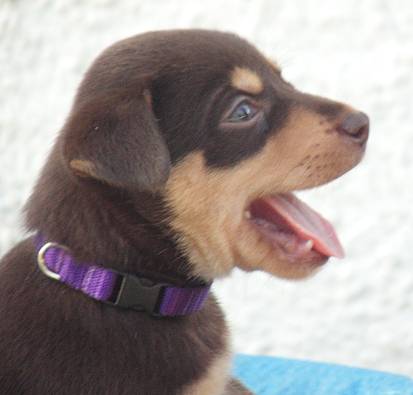 Just a quick note to let you know how Spur is going. He is doing really well... He has been to work with me almost every day and on those days where he can't come, he stays with my parents and has a ball. He loves them as much as he loves me (except when I have to discipline him).
He has been doing one on one training with an obedience instructor and is going really well.
So far I have taught him to shake hands with both paws, stay, sit, he won't eat his food unless I say 'ok' and only me saying it and down. He sits at every kerb when I take him for a walk and won't move until I say 'ok'.
He really is going well.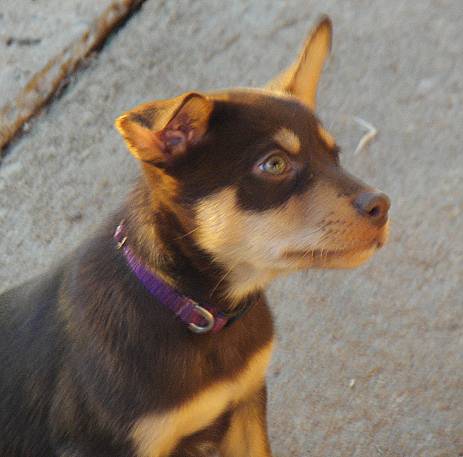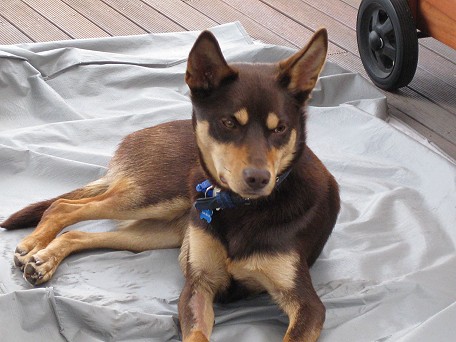 ---
Noonbarra Jackaroo X Noonbarra Kellie
Born 11th August 2007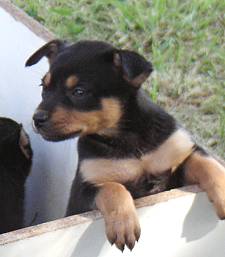 Owned by Renee Pratt & Gary Smith
Gary and i have had a baby girl we named her Mileeka. She was born on 15th December. Zarli loves her so much, Zarli is very very gentle with Mileeka. Zarli is now the best dog ever. She is very obedient and loves going to the beach.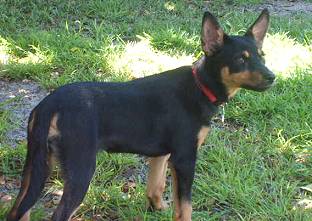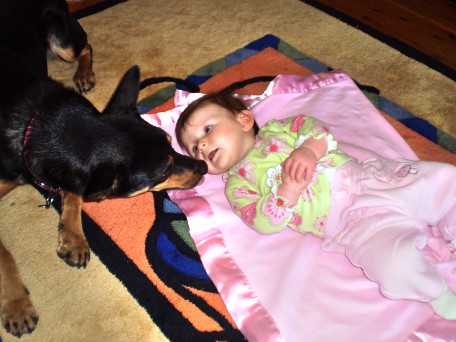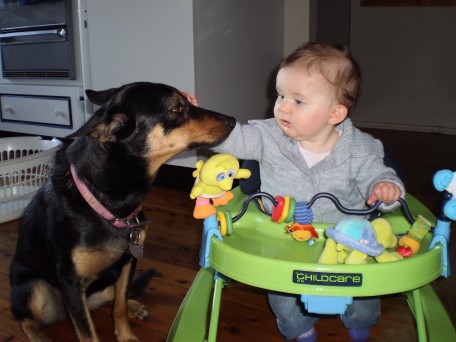 ---
Noonbarra Jackaroo X Noonbarra Cassie
Born 8th March 2009
Owned by Carole Duff in West Australia
Just a short note to let you know (although I'm sure this won't be a surprise to you!) that we are both absolutely delighted with our new little kelpie.
Lotte has settled in well, takes a great interest in everything that's going on, and is one very happy pup. She's a real charmer, is a very quick learner, and of course, full of the usual kelpie energy optimism and enthusiasm (a good example for Charlie and me!)