NOONBARRA WORKING KELPIE STUD
WHAT OUR CUSTOMERS HAVE SAID ABOUT NOONBARRA STUD KELPIES
---
MORE FAMILY COMPANIONS
---
Noonbarra Jackaroo X Barclays Queen
Born 11th July 2009
Owned by Cassandra Scaife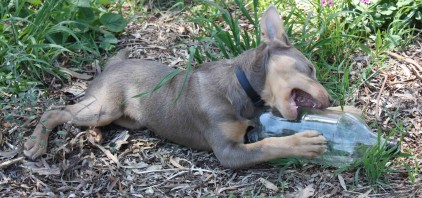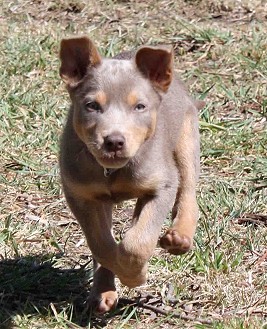 2009:
Thank you so much for such a wonderful puppy. Denny is going great. We had our second Puppy Preschool last night and despite being vaccinated and microchiped beforehand he handled the session like a pro. All the puppies were let off leash to wander around and play, our lesson for the night was asking the pups to sit. After just a few times Denny started moving to each person in turn and sitting in front of them - without being asked. He was then given a treat for being such a cute boy. I had to move on to the next stage - asking him to lie down. Of course he was already good with this as our 'Noonbarra Down/Stay' has been going very well of late.
We also had to pass our pups around to different people and have them cuddle, check their ears, feet and teeth and pat them. Denny behaved like a champion, lots of kisses and tail wagging.
----------------------------------------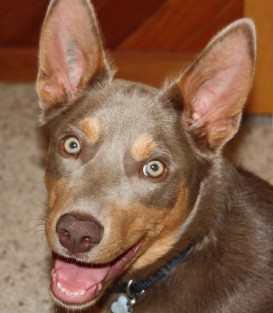 Just a quick note and photos to let you know how wonderfully Denny went in his Dog Obedience assessment on Sunday. In our beginners class we came second!!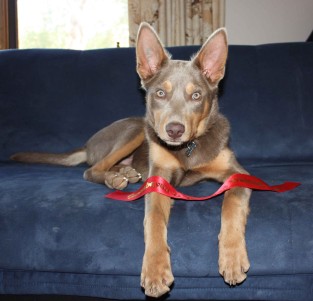 He did so well and did everything perfectly, only one small issue - we were in the 'sit - stay for 30secs' I was standing about 1 metre in front of him and he was watching me quietly (Most of the other dogs in the class had broken the stay by then) The lady next to us went to her dog who had just broken the stay, but she didn't walk quietly to her dog, she lunged at it... I suppose poor Denny thought she was coming for him (as the instructor had the week before) and he moved. All I had to do though was tell him that it's ok and to sit. He did this and we had no other troubles. (He even shook hands when we were presented with our ribbon!!)
I am having so much fun with him, he is so great... It's been a great learning curve for me, but he has been patient and willing to learn.
He's just so cute!! He doesn't like water very much... Took him to the Murrumbidgee River after Obedience Club on Sunday. He ran straight in - didn't know what it was!! He swam instinctively, but got to the bank and refused to go back in... Ran back to my car and sooked.
Training is going well - we just need to work on the recall when other dogs are around!
Feb 2010:
Denny turns the big 8 month old on Saturday 20th. He is going well, into adolescence now so we are testing the boundaries of our relationship. We are at intermediate level at Dog School and using the Check Chain very well. Apart from a near miss with a car a few days ago, he hasn't done anything too bad.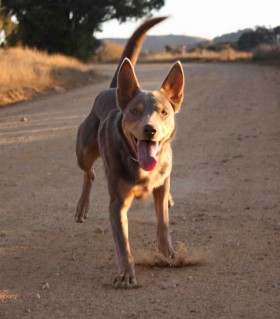 Taking the cat poo out of the litter tray was the climax - but he learnt very quickly what I thought about that.
He is also able to walk through water now! Still will not swim or go into anything above his ankles - but it's a start.
The other night he fell asleep on the couch beside me with his head in my lap - so sweet.
---------------------------------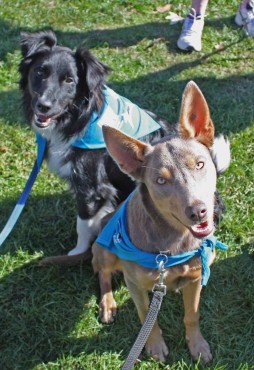 Well, Denny is almost at 1 year old and I just wanted to show you these latest photos so you can see what a handsome young man he is. Den is a joy to own, always happy and pleased to see me. I think I'm a rather harsh owner at times - but he'll always be there for a hug at the end of the day.
We walk everyday and he is heeling off lead very well - although seems to like being just in front but to the left of me... He is known all around Sutton (our small town) and everyone thinks he is a well trained and obedient pup. (Although they only see him when he is throwing on the charm.)
We participated in the RSPCA Million Paws Walk in Canberra last month and I took him up on stage to do some tricks... He spent most of the time admiring himself in the big TV screen. But he performed his little selection of tricks like a champ.
One day I hope to bring him back to you for some one on one training (for me) and to ensure I am doing the right thing by him.
Enjoy the photos and I hope all is going well for you all, hugs to Jack and Queen for Denny and me :)
Cheers, Cass and Den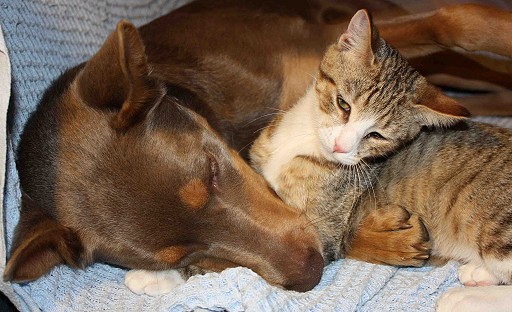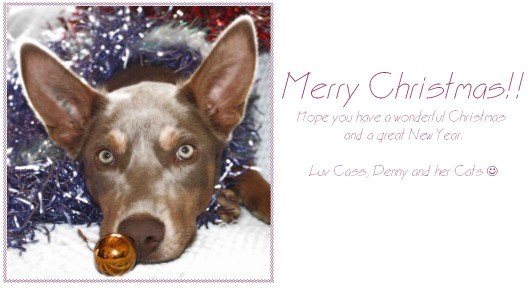 A lovely Christmas card to us from Cassandra and Denny December 2009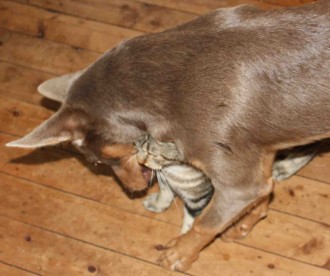 Noonbarra Denny at 7 months of age playing with Whiskey the cat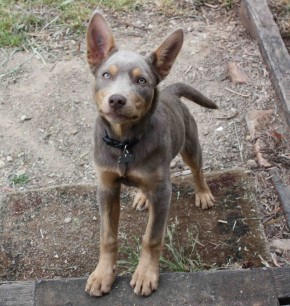 Noonbarra Denny at 16 weeks of age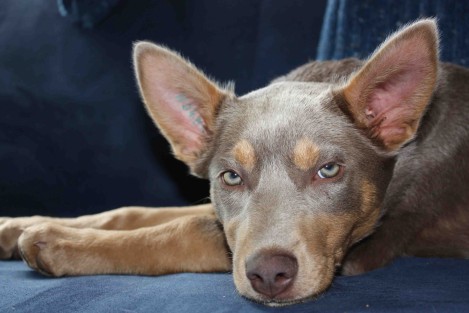 Noonbarra Denny at 16 weeks of age
---
Noonbarra Jackaroo X Noonbarra Cassie III
Born 23rd Oct 2009
Owned by Jane Brandenburg S.A.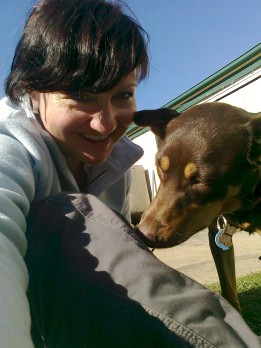 Hi Mary & Stephen, Finally, I have some photos to show you of little Miss Ruby.

I remember telling you about her child safety seat that she claimed form our 'Hard Rubbish", she drags this around the yard to a spot that she thinks will be ideal for an afternoon nap. She never forgets to collect 'Lamb Chop' on the way, so they both have a little nap together. She loves Lamb Chop, but she can sure give it hell when she wants too! Lamb Chop isn't adverse to a few quick stiches with a needle and thread!

We still go to Dog Obedience every Sunday morning rain, hail or shine! we are now up to Class three.
It's an hour class and Ruby loves the social aspect so much that she wiggles for 50 mins and then for the last 10 mins she shows off and does everything she has to perfectly and looks at me as if to say "well I did it - can we play now!" I am seriously considering taking her to an agility club when she is 12 months - she is an extremely intelligent dog!

We had a little trouble about a month ago with her trying to take over the reins! she was getting quite bossy and started to be quite stubborn when it came to coming immediately when she was called. We can still be quite stubborn especially when it comes to putting her lead on. I think it began with the kids chasing her to put the lead on and she thought this is fun! so now I have instructed everyone if they call her to put her lead on, not to chase her but to be mindful not to give the command if they think she is going to muck around and disobey it. We currently are working/training on a long rope and pulling her with a quick tug if she doesn't respond with lots of encouragement when she does it immediately. I have noticed that Ruby doesn't like the love and kisses so much! I have to be careful I don't overwhelm her as she can be a bit standoffish - I love to touch and pat her all the time! but I've been told to just let her come to me first and then give her a gentle pat. (which is hard as I want to squeeze her all the time!)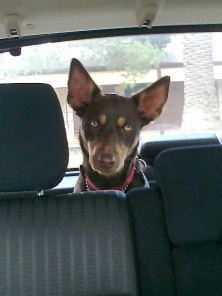 We also now bring the ball back (almost) to our feet?? - Kelpies are not known for their fetching skills - but with much persistence we improve every day - her ball is her currency! We could be outside at night for a 'pitstop' and she will sit and stare at the ball basket (hanging basket full of her balls) and she wants to play! at the end of everyday I collect all the balls and toys and load up the basket and tell her that it is "finished" and she realises that that means TV time!!! and that's when I get the affection! she sleeps in her basket at my feet.

Well I hope you enjoy the photos and trust that this email finds you both happy and well!

I will keep in touch, take care.