NOONBARRA WORKING KELPIE STUD
WHAT OUR CUSTOMERS HAVE SAID ABOUT NOONBARRA STUD KELPIES
---
MORE FAMILY COMPANIONS
---
Noonbarra Jackaroo X Noonbarra Misty
Born 9th August 2009
Owned by Dana and Mason Coonan
Mia was booked in to the kennels at Margaret River so we could take her out during the day and when we got to the caravan park I asked where the kennels were and the manager said that Mia was most welcome to stay as long as she behaves and does not disturb his old dog (this was a caravan park that did not allow dog's) she must have charmed him. The whole 8 days we were there she was perfect and learnt so much in that week her place in the car, being tied up or left alone in the car while we visited the caves (these were in national parks) she was even a good alarm clock for her morning bush walk (6am just about on the dot) for the toilet. What a trusting loyal new friend we have made for life…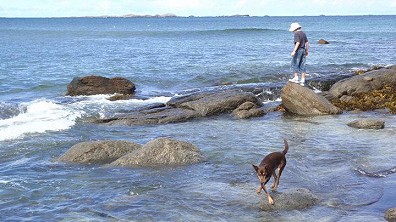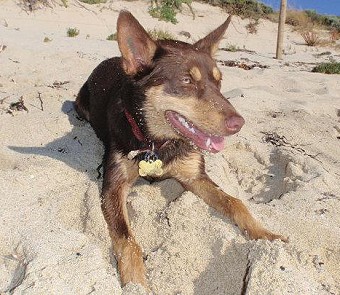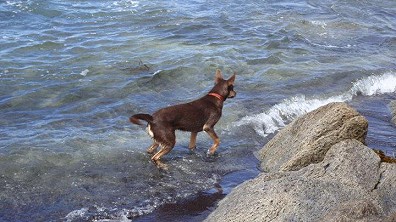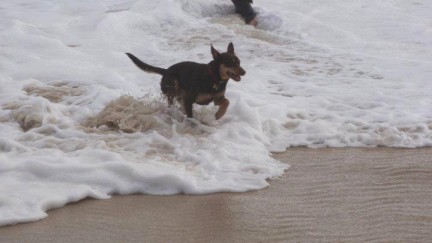 ---
Noonbarra Jackaroo X Barclays Queen
Born 13th February 2010
Owned by Margaret Wallace at Alice Springs (Central Australia)
Just letting you know that Miss Clancy is doing really well. I regularly take her into Town and have coffee in the Mall. Funny enough at the Red Dog Cafe. Last weekend I managed to sneak her into our annual camel races event and it was there that I realised just how well known she is becoming around town. So many people who I only know by face recognised her. She was of course popular with the children so she got much exposure to children and she was so very gentle with the young toddlers. She was an absolute champion amongst the children. I also rang into a friend who is an animal behaviourist that trains the birds of prey at the desert park and she took some photos of Miss Clancy that I will forward to you as soon as she sends them to me.
The Camel Cup brings into town many of the local cattleman and their families who were all full of admiration of her. I gave your stud name and email address out to quite a few of them and also to a lady that lives in town and wants a red and tan pet.
Miss Clancy is doing well in her training. At this stage it is still informal fun training however she has learnt a very reliable recall and to go and settle when she is told to. She also loves to shake hands.
By the way I have not received any papers from the Working Kelpie Association for her yet, are you able to bring me up to speed as to when I should get them. Dogs NT (northern territory branch of the ANKC) have just brought in the sporting register so she can go on that and does not have to compete as an associate dog which I am really happy about.
Margaret, Alice Springs
---
Ameroo Ned X Noonbarra Chloe II
Born 25th April 2010
Owned by Keith Marzak in California USA.
Just thought I would give a quick update since it's been two weeks since Max arrived, things are terrific here. He's settling nicely into his new home and routine, and his personality continues to develop everyday. He's picking up on the training exercises very well, Kelpie Basics has been amazing.
I can't tell you how many people have been impressed and commented on his calm demeanor since he's arrived, aside from the odd ball puppy spaz-out. He's been a charm, and is really everything I was hoping for in a pup, so thank you very much once again!