NOONBARRA WORKING KELPIE STUD
WHAT OUR CUSTOMERS HAVE SAID ABOUT NOONBARRA STUD KELPIES
---
MORE NOONBARRA KELPIES AS FAMILY COMPANIONS
---
Noonbarra Jackaroo X Noonbarra Karli
Born 21st Jan 2010
Owned by Jean Field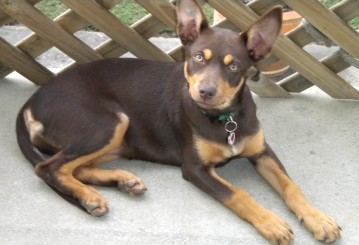 I hope you are both well. Heidi is now nearly 7 months old so I thought you would like to hear how she is going.
She is a lovely dog. She is the most affectionate dog that we have ever owned. She loves to get a pat and always likes to be with someone. She is a great companion for my Mum.
She was very easy to train when she was a young pup, but when she got a bit over 3 months she started to get a mind of her own and started to be more of a challenge. She was a bit difficult to handle from about 3 to 5 months but over the last month or so we have noticed her becoming calmer and more obedient. She has been at obedience classes for 3 months now. At first she only wanted to play with the other dogs and could not focus with so many people and other dogs around but she is getting much better now. She was tested yesterday to go into the fourth level of obedience classes. The next class works off the lead. The instructor said that she was working very well but needed another month before she would be ready to work off the lead.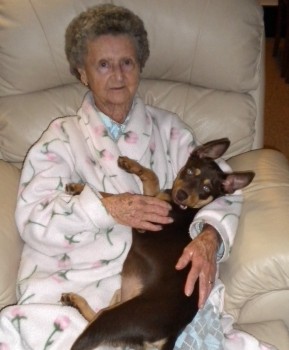 She loves going to our hobby farm and she is showing a lot of natural ability with our cattle. She is already helping me move the cattle around, but I have not given her much to do yet. I am mainly concentrating on getting her obedience a bit better before I do much training on the cattle. I still can't get her to stop properly when she is near cattle. I think she would make a really good working dog, but unfortunately I do not have much work for her here.
Heidi loves people. I read on your web site that your dog Gabe loved people and thought that everyone loved him. Heidi has the same personality. She greets new people as if she has known them for ever. When you take her for a walk she always wants to greet anyone we pass.
Heidi is the perfect dog for us and just what we wanted. Thanks for everything.- Greg.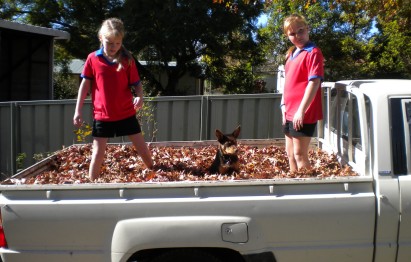 ---
Noonbarra Jackaroo X Noonbarra Meg
Born 2nd Jan 2009
Owned by Michael & Tracey O'Keefe in Victoria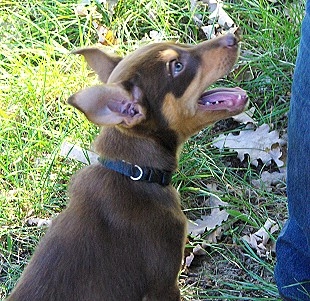 It's terrible when a customer contacts us to let us know one of our lovely Kelpies has passed away. It's bad enough when they are old dogs but it is more upsetting when it's a young dog in their prime like Noonbarra Kokoda. The family didn't even get to see him as a mature dog. We have put the information here as a little memorial to him so he's not forgotten.
We recently lost our beloved KoKoda and are completely devastated by his loss. He ran after a rabbit at our local park and onto a road straight in front of a car.
We were unable to call him back in time and he died in my husbands arms in a matter of minutes. He was just 18 months old.
KoKoda was the sweetest natured boy – he made us laugh when he 'talked' to us and did silly things like spinning in circles with his 'bed' on his head or doing his 'indian dance' (whenever he was given a particularly tasty treat he would dance in circles around it for up to 10 minutes before finally giving in and eating it !)
He was extremely affectionate – he would give me a thank-you lick on my hand as he waited for the command to 'eat' his dinner – and even at 18 months he would let my husband pick him up and cuddle him like a baby ! A day would not go by without receiving one of his spontaneous 'kisses'– he was delightful.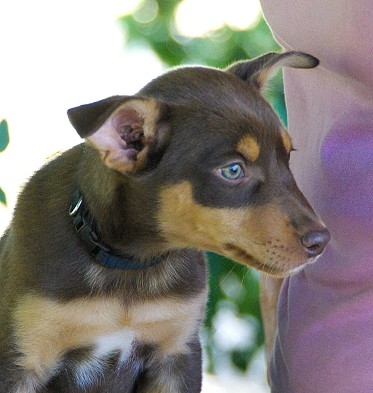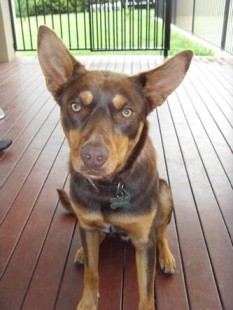 We would like to know if there is any possibility of buying another pup from you – and if you could help us to pick a pup that has similar traits – maybe we could wait until you have another litter from Jackaroo and Meg II – we are not too sure.
We know he can never be replaced and I know it sounds silly but I think we would like to pick another boy puppy that is red and tan to love – I would appreciate your advice – and if you are thinking of mating his parents again in future?
Maybe we are better off letting you choose for us based on your knowledge of the appropriate temperament for a city dog. We do know after having Kody in our lives that we will never own any other dog than a Kelpie.
Thank you for picking Kody for us – he made us very happy and we definitely loved him to bits.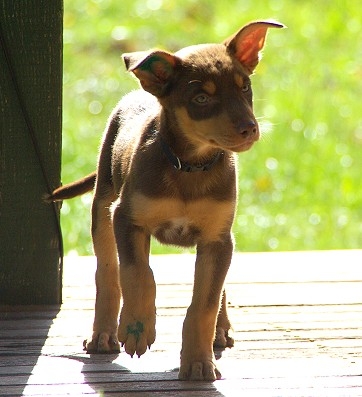 ---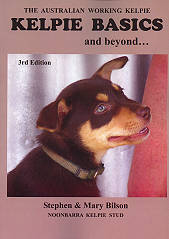 This latest edition is a great book for beginners or experienced Kelpie owners. It is designed for good solid foundation training to ensure you get a well balanced, socialised and obedient Australian Working Kelpie.
Over 100 pages.
---
More information on Kelpie history can be found
in the latest edition of our popular book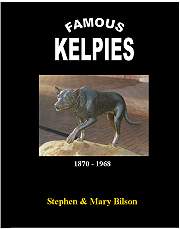 ---
THE ROCKYBAR KELPIES
A GUIDE TO ONE OF THE BEST KNOWN KELPIE STUDS OF THE 20TH CENTURY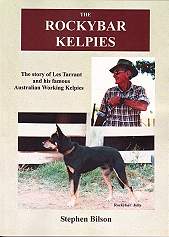 We think this book would be an enjoyable read for anyone with even a passing interest in the Kelpie. It would be a great guide for breeders and trainers with information that is impossible to get anywhere else!
The Rockybar Stud, owned by Les Tarrant, was one of the most famous in Australia for half a century and their influence can be seen in Kelpies all over the world today.
Les Tarrant started with Kelpies in the 1930's. He led a life of droving, mustering and working with horses and livestock. In 1950, he set up the Rockybar Kelpie Stud in the far north-western districts of NSW.
We look at some bush characters and old dog men such as the remarkable priest of Goondiwindi, Father McCormack, Stanley McMaster, Frank Scanlon, Stan Collins, and more. We look at the individual dogs in the old Rockybar lines and the more modern lines (after 1980). We have a huge section on Les Tarrant in his own words explaining how to breed Kelpies and the problems and pitfalls to avoid. There is a good chapter of the book dedicated to how to train Kelpies the Rockybar way. Another chapter is on yard work and yard trials.
There are plenty of photographs and some were very hard to obtain. Many (probably most) would never have been seen by the general public before.
Large A4 format. B/W photos throughout. 166 pages.
CLICK HERE FOR MORE DETAILS & PAYMENT ETC.