Owned by Jac Charlesworth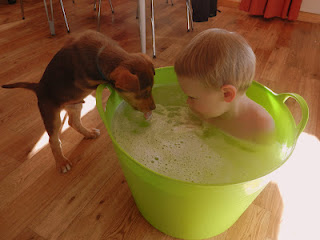 Some basic info from owner's blog....
We have a new puppy. He is an Australian Working Kelpie, nearly 9 weeks old, red and tan and FRACKING GORGEOUS! Not to mention intelligent. Don't even go there with the suburban kelpie, you don't know what you're getting yourselves into 'OMG are you NUTS!?' argument. Don't bother. Our choice, our pup and heck, we already have one (human) kelpie :)
He is now 3 months old which means we've had him for five weeks and we (probably) wouldn't give him up for anything! It has been a wonderful and tiring time integrating a new pup and watching Marty transition to a three year old at the same time. The first few weeks with Kenzie it felt like we were just sitting around watching his digestive system! But we are doing much better on that front now.He gets on well with Marty and in turn Marty is learning to be a good owner. Big learning curve all round but it has been great for Kenzie in terms of exposing him to all sorts of things like helium balloons, noisy toys, noisy children (by the bucketload - see previous post!), scooters... you get the picture!
When we first got him having Marty around definitely helped settle him and it has been great for other things like bathtime too. I just pop Marty in his bucket bath at one end of the tub and Kenzie will happily be bathed at the other end. Marty is also a good and adventurous walker which is handy when you have a pup that need serious hours of walking per day.Kenzie is incredibly smart and training him has already been a blast. We've just finished the third week of puppy kinder (highly recommended - ask your local vet) and he has mastered sit, drop, come (although only intermittently when he's distracted outside), wait (even out of line-of-sight), shake with both paws (depending which hand you offer him) and he's working pretty hard at roll over. I need to find some new tricks! He's walking really well although we are probably at the point where we should be starting some formal lead work now. He's also got the meaning of 'off' and 'leave it!' as well as the all important 'do your stuff'. Definitely more ups than downs at this point :)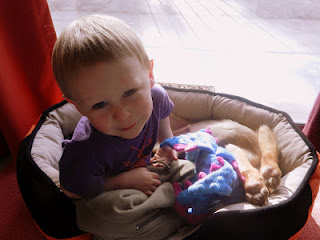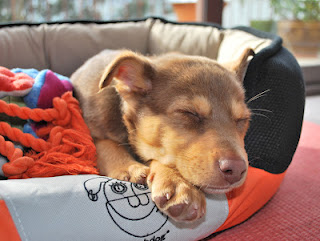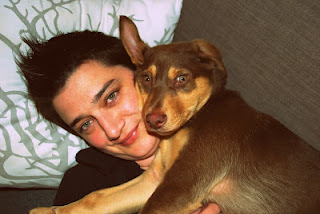 ---
Ameroo Ned X Noonbarra Chloe II
Born 25th April 2010
Owned by Sean & Cheryl Robinson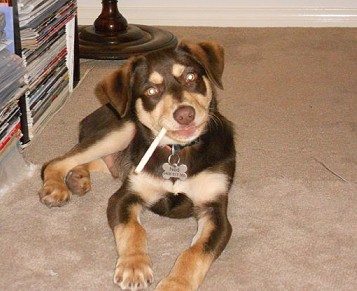 Hello Mary and Stephen. Firstly, apologies for taking so long. Ned is progressing very well. He is growing very quickly. He has his first 'puppy school' tonight and then goes to Cheryls' parents for the weekend as we are going to King Island for a 40th birthday. He had a trip to my Dads farm two weekends back and had a lovely time and made friends with his 'cousins' Benson Ruby and Ginger.
He met the cows and Alpacas, we kept him away from the sheep as one went into labour. He is walking very well on the lead now and the weather has been atrocious the last two weeks so we have got a coat/jacket for him to keep the rain off - he seems to know that it is better for him as he leaves it alone and has a little 'strut' when we first set off. Full of importance. He is getting better inside - especially for his age - although it is a test of our patience. But well worth it when he eventually settles down. He now knows his mat and toys area and enjoys his inside time.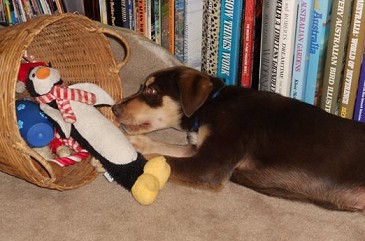 He also has never had any trouble and adjusted completely to his 'house', which is a bonus. He will even go into it when not on his run. When (if ) the weather improves we hope to see more of his lying in the sun. He really is a beautiful dog with a really strong personality and very determined. He can also occupy himself and doesn't need constant attention - although he certainly lets us know that he is ready for a play.
Hope all is going well up there and I will keep in touch.
Sean, Cheryl and Ned.
---
Noonbarra Max X Noonbarra Lizzie
Born 20th May 2003
Owned by Graham Patterson. NSW.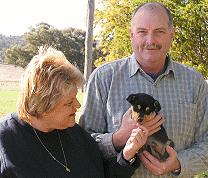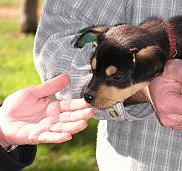 Neville is a full litter brother to our great sire, Noonbarra Jackaroo. The first photos are Noonbarra Neville as a little 8 week old pup being picked up. The last two photos were sent in by Graham in 2014 after Neville had a hot day playing in the swimming pool.
"I must first apologize for not sending some photos of Neville earlier. I was showing off your website to some other kelpie lovers recently and noticed Neville's name there, but his face that I enjoy daily was missing.
I took some photos of him playing around his pool today, he makes a good lifegaurd, still showing all the characteristics of my favourite breed, always an energetic pup still at his age, absolute loyalty, and so obedient when hes asked to be, he does have to be asked though, understandably when hes so consistently being spoilt."
Thanks once again for your professionalism in matching Neville with our family.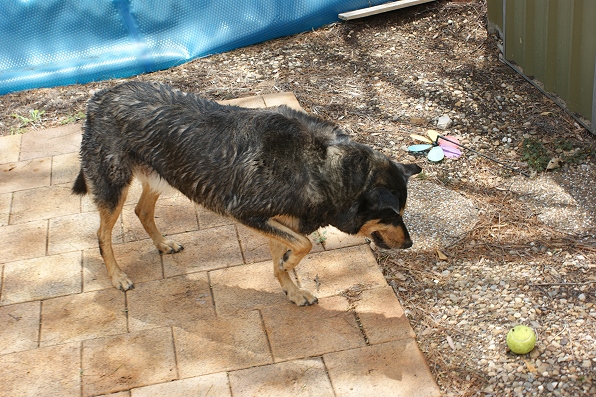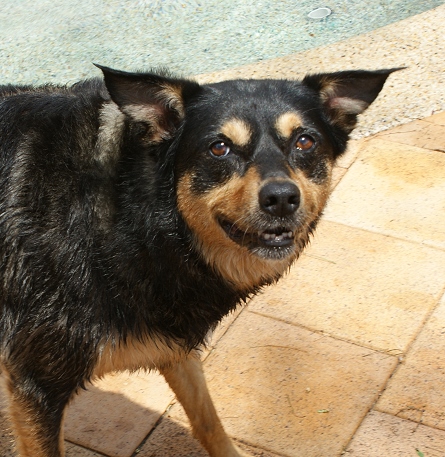 A happy Neville after a swim!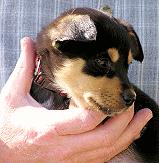 Noonbarra Neville as a puppy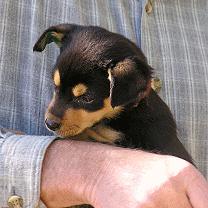 ---
Noonbarra Max X Noonbarra Jessie II
Born 5th Jan 2009
Owned by Joe Dimich. Revesby NSW.
Bindi turned 2 yo on Jan 5th. She's been to the beach a lot in the last week and no matter how many people, dogs and even horses there are, she never has her eye off her ball. She is incredibly focussed!

Here's a video I uploaded to YouTube ...

http://www.youtube.com/watch?v=xCTumxXGrTg

Bindi met "Bindi from Tamworth" at Sharkeys Beach yesterday. Her owner who runs a property there has a beach house at Otford. It goes without saying that Noonbarra Bindi was the better surfer!.
Bindi playing at beach ...
http://www.youtube.com/watch?v=xCTumxXGrTg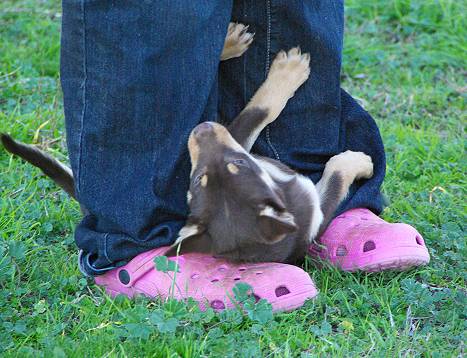 Mary Bilson with Bindi as a puppy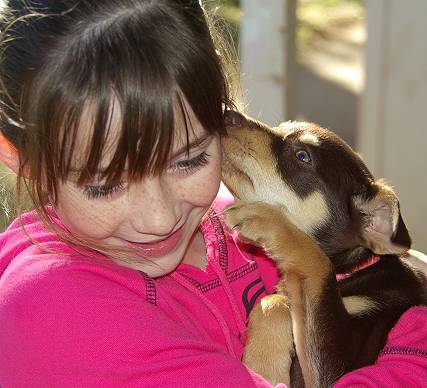 Olivia Ford with Bindi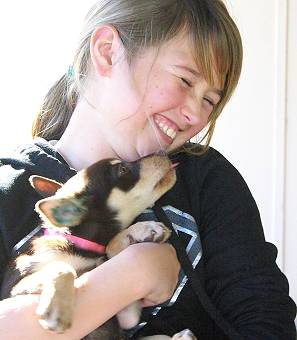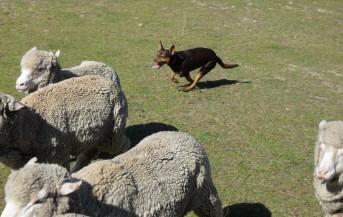 Bindi when she came up to Noonbarra for some training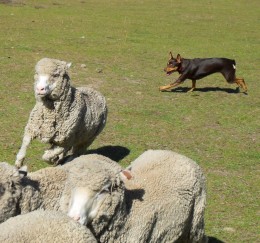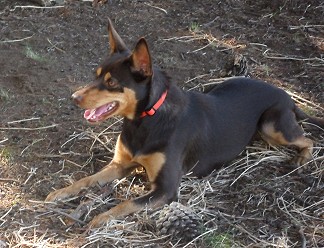 Noonbarra Bindi V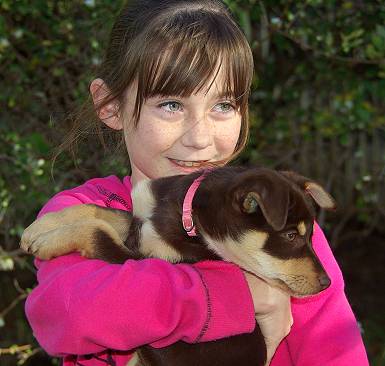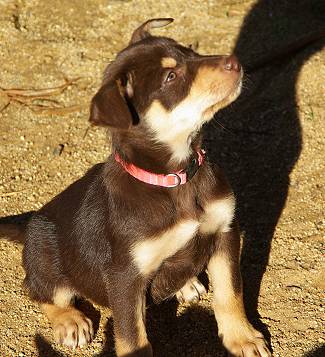 ---
Noonbarra Ben VIII X Noonbarra Trixie II
Black & Tan Male. Born 27th July 2010
Owned by Dr. Harry & Susan Knowles. NSW.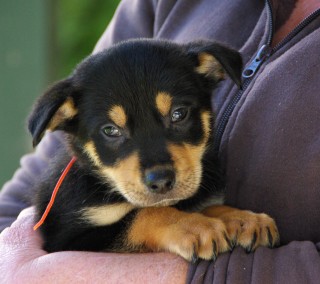 Sept. 2010: Thought you might like an update. I nursed him all the way home in the car - not a wriggle or whimper although he was awake for most of the drive. He took the welcoming committee in his stride, explored his new house and yard and ate enthusiastically. I put a basket in our back room where I often watch TV and sat with him for 15 minutes or so when he went to sleep. This was about 6.30 pm and he stayed there all night without a sound from him.

... He followed me around the yard this morning whilst I did a few chores. He is presently asleep on the BBQ table next to Susan who is outside reading. The cat has her nose out of joint big-time but Jaco is quite unperturbed. In a word, he's a bottler!

Thanks for the hospitality yesterday. Will stay in touch.

Jan 2011:Not quite an anniversary but thought you'd like a 6 months update. Here he is - a wonderful dog who has almost come to terms with the cat. At present he is tolerating a rather silly 6 year old Collie recently acquired by next door neighbours who barks for a living however Jaco is learning to ignore his incessant attempts to goad him. The grand-daughters all love him as does a good mate of mine who visits him (I take second spot) a least once a week.

His favourite game is tug-of-war with a grotty piece of old rope. We are taking a week shortly at Lake Macquarie and Jaco is coming as we have managed to find a pet-friendly letting on the water.

Here's Jaco at 12 months (27 July). He is a lovely dog - still a little

exhuberant but we wouldn't have him any other way. (See Photo). Jaco is doing fine - a lovely bright dog: see the attached photos, one with 2 of the grandchildren. He is coping well with a very offended cat.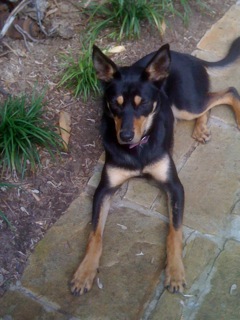 Not so keen on tennis balls but he will chase and retrieve sticks until he almost drops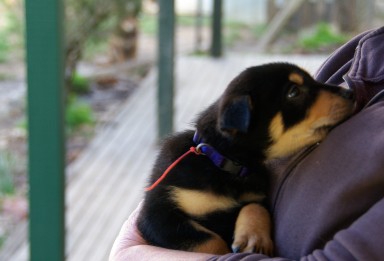 ---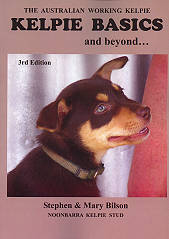 This is the latest edition. It is a great book for both, beginners or experienced Kelpie owners. It is designed for good solid foundation training to ensure you get a well balanced, socialised and obedient Australian Working Kelpie.
Over 100 pages and plenty of photos.
---
More information on Kelpie history can be found
in our book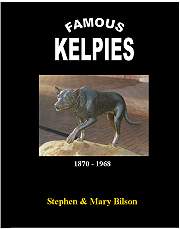 ---
THE ROCKYBAR KELPIES
A GUIDE TO ONE OF THE BEST KNOWN KELPIE STUDS OF THE 20TH CENTURY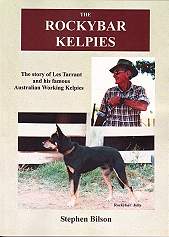 We think this book would be an enjoyable read for anyone with even a passing interest in the Kelpie. It would be a great guide for breeders and trainers with information that is impossible to get anywhere else!
The Rockybar Stud, owned by Les Tarrant, was one of the most famous in Australia for half a century and their influence can be seen in Kelpies all over the world today.
Les Tarrant started with Kelpies in the 1930's. He led a life of droving, mustering and working with horses and livestock. In 1950, he set up the Rockybar Kelpie Stud in the far north-western districts of NSW.
We look at some bush characters and old dog men such as the remarkable priest of Goondiwindi, Father McCormack, Stanley McMaster, Frank Scanlon, Stan Collins, and more. We look at the individual dogs in the old Rockybar lines and the more modern lines (after 1980). We have a huge section on Les Tarrant in his own words explaining how to breed Kelpies and the problems and pitfalls to avoid. There is a good chapter of the book dedicated to how to train Kelpies the Rockybar way. Another chapter is on yard work and yard trials.
There are plenty of photographs and some were very hard to obtain. Many (probably most) would never have been seen by the general public before.
Large A4 format. B/W photos throughout. 166 pages.
---