NOONBARRA WORKING KELPIE STUD
WHAT OUR CUSTOMERS HAVE SAID ABOUT NOONBARRA STUD KELPIES
---
KELPIES DOING STOCKWORK
Unfortunately many of our working customers on farms and stations, don't have the time to put pen to paper as much as our companion dog customers but while it may take a few years to hear back from them, we do get some fantastic endorsements. Many don't contact us until they need a second dog and some customers have bought four or five dogs from us over more than 20 years.
---
Noonbarra Jackaroo X Noonbarra Sue
Born 20th October 2004
Owned by Cheryl Griek. Victoria.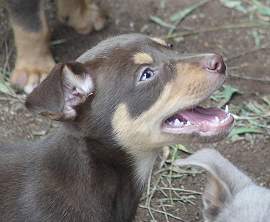 We get some wonderful letters from our customers and strongly encourage them to keep us up-to-date with their dog's progress.
"I purchased one of your Kelpies 17 months ago, Jarrah. He is a beautiful boy and has been doing very well. He loves to work our cattle and is obsessed with our newly acquired ducks and chickens. We are interested in doing some trialling with him thus the purchase of the ducks. He is instinctive when working."
"I did a two day clinic with him, which benefited me greatly to have a better understanding of how he works and what I need to do. A number of people, including Paul McPhail who ran the clinic, commented on what a good working Kelpie he is."
---
Noonbarra Max X Noonbarra Amy
Born 24th January 2006
Owned by David Wilkinson. Tenterfield.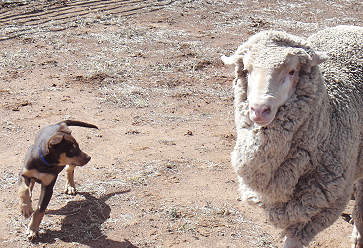 Hi Mary and Stephen,
Iím very sorry itís taken me this long to give you an update on little Rex. I have been meaning to write for quite a while now, but just havenít been able to find the time, and remember at the same time.
It is such a pleasure and honor to have Rex as part of my team of dogs. He is an absolute pleasure to work with. His ability to control sheep is really quite amazing. Not only does he have the Ďpresenceí to control, his foot and eye work are astounding. I thought I had a couple of good dogs prior to Rex, but, and I say very seriously, but he is outshining them in all respects.
Although I havenít been able to do much up a race with him (due to it being a Ďleg breakerí, and hence not wanting him up the race till they are replaced), he certainly wants to back, and know he will as soon as the yards are safe for him. In the paddock, he just knows where he needs to be in relation to the sheep and myself, in order to move them quietly where he is instructed to move them, whether bringing them to me, and now driving.
There isnít an aggressive bone in his body, which I appreciate when he really needs to move sheep quickly. He has the force to move them, seemingly by his presence as much as anything.
He will move as many sheep as needed, feeling as comfortable on a big mob as with 3 sheep. I wish, and will try to learn to be a better handler in order to try myself with trials work if time permits, as I know he would love it, and no doubt do very well, assuming as I can do as well as him.
He is one of the most stylish dogs I have ever seen work, although to him I think its play/sport. He is fast when he needs to be, although always in his steady manor.
He is as perfect a dog as I could have wished for, and thank you for your thought in choosing him for me. I would certainly love to have another Noonbarra dog in the future sometime, but perhaps a bitch one day.
Again, thank for Rex, he is an absolute delight to have around the place.
Kind regards
David Wilkinson
PS: Iíll try to send some photos as soon as Iím able to.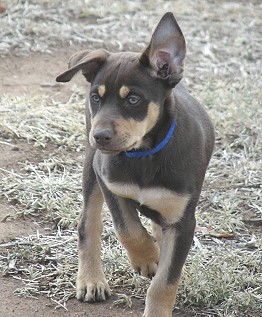 ---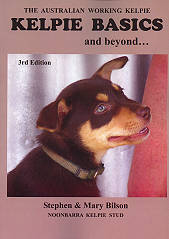 This new 3rd edition is a great book for beginners or experienced Kelpie owners. It is designed for good solid foundation training to ensure you get a well balanced, socialised and obedient Australian Working Kelpie.
Over 100 pages.
---
More information on Kelpie history can be found
in the new 2006 edition of our book