NOONBARRA KELPIE STUD
NOONBARRA DAISY
(Noonbarra Dusty X Capree Dyna)
Noonbarra Daisy was sold to Anthea and Sam who live in Melbourne in Victoria. They already own Noonbarra Tally and this is their second Noonbarra Kelpie. Daisy was a tall, pretty puppy that was quite calm. Sam and Anthea had already owned Noonbarra Tally for about a year.
---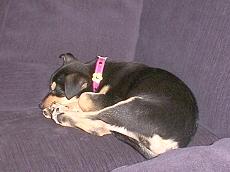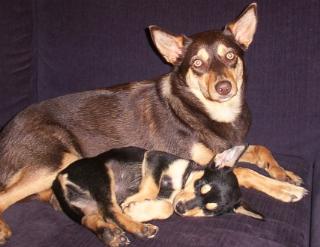 Noonbarra Tally with her little friend, Noonbarra Daisy
---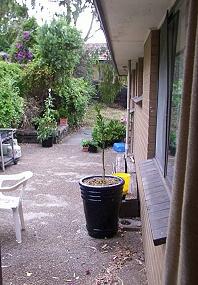 DAISY'S BACKYARD & GARDEN IN MELBOURNE
---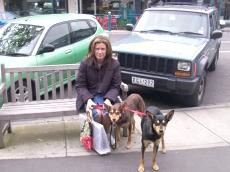 NOONBARRA DAISY AND NOONBARRA TALLY
As for Daisy, she walks with Morgan in the morning then plays frisbee with me at lunch then goes out with Sam and Tally for a run or to the beach in the afternoon, her capacity for sleep is amazing, all go or all stop.

I have included some pictures of our saturday morning walk down near the Westgate Bridge, Daisy likes to chase the water birds into the Yarra. I like to call the photos, The Urban Kelpie Collection!!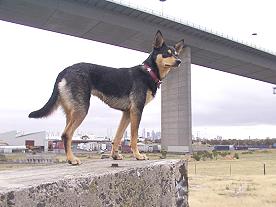 DAISY AT WESTGATE BRIDGE MELBOURNE.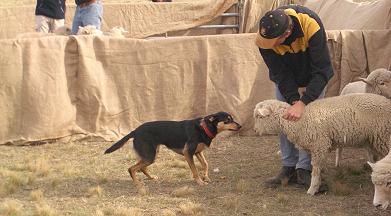 Noonbarra Daisy at herding clinic in Victoria 2004
NOV 2004
"Daisy has fallen so hard for Sam, she is his shadow. He tries to leave her a few days a week so its not a problem. "

"Daisy has also endeared herself to the people at the warehouse Sam picks his truck up from, she heads into the office as soon as they arrive for lots of playing, even the owner of the company has been seen throwing the stick for her, she can really work a room!!!!
---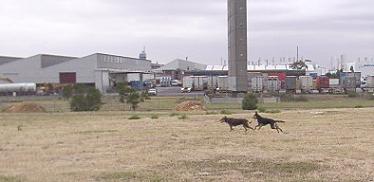 DAISY AND TALLY GETTING EXERCISE IN THE CITY
---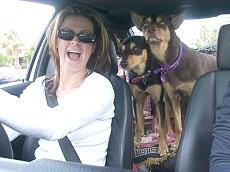 IN MELBOURNE WITH FRIEND MORGAN
---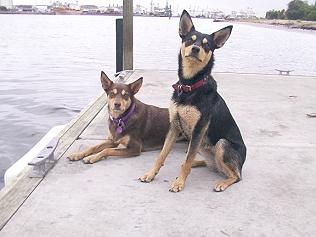 NOONBARRA DAISY AND TALLY ON WHARF
---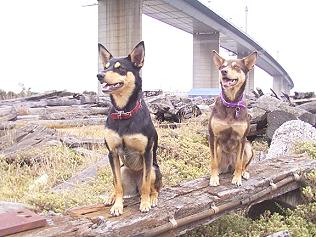 DAISY AND TALLY IN MELBOURNE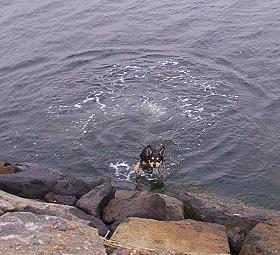 NOONBARRA DAISY SWIMMING IN MELBOURNE
---
RETURN TO CUSTOMER COMMENTS SECTION