NOONBARRA WORKING KELPIE STUD
NOONBARRA LIBBY III
NOONBARRA ROY III X NOONBARRA MEGAN
---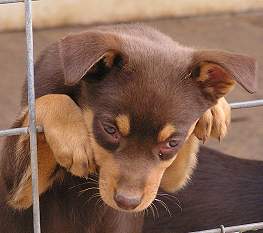 Noonbarra Libby III was purchased by the Roach family of Moss Vale, south of Sydney in NSW, as a companion dog for their young family. She is very loved and is having a great life with the children. Although she is purely a pet, she also has the great working ability that our Stud is renowned for and got a chance to prove it when she came up to the Noonbarra Stud in late 2004. There are some photos below.
The Roach family has kept in touch and sent us photos and updates. In 2004 they also purchased a second Noonbarra Kelpie. This time a cream male puppy, Noonbarra Ziggy.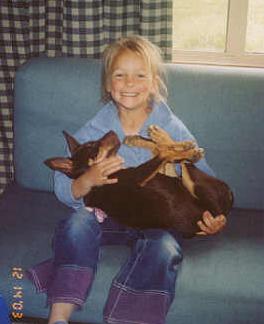 Some comments from the Roach family in 2003:
Dear Mary & Steve, Just a quick note to say Merry Christmas. As you can see by the attached photo's Libby has settled into the house quite nicely, not sure if she is getting enough love, what do you think?
We have seen your ad for Penny, have you sold her yet? What is the cost of her? Will you be having any more of your 2-3yr old females coming up for sale. We would love to get a female about that age but at the moment we still have he very slow and ancient Bluey to contend with. Libby goes quite well with him, every now and then she oversteps the mark and he has to show her who's boss.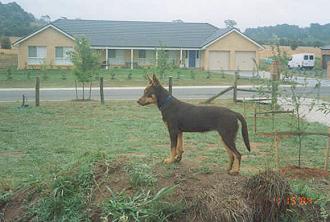 Libby is doing really well, will sit and wait for her dinner until she is told to eat, will sit and stay outside "most" of the time, we are working on the come Libby, our only problem is she enjoys pruning and sometimes digging out plants and idea's on how to stop this? Hope all is well with you both and your family of Kelpies. Take care. Linda, Paul, Calum, Joelle and Brenda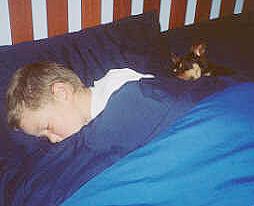 The Roach family came back to the Noonbarra Stud in September 2004 and purchased a lovely cream coloured male pup called Ziggy. They of course brought Libby with them and we got a chance to play with her and introduce her to the new pup and other Kelpies here. We also got the chance to give her a few runs on sheep and she did extremely well with very nice distance and quite a bit of style. We were very impressed.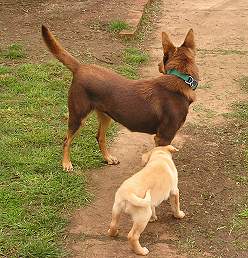 Noonbarra Libby III with her new friend Noonbarra Ziggy.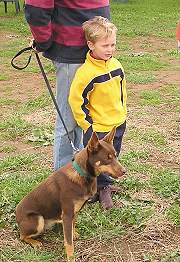 Noonbarra Libby III waiting her turn to work on the sheep.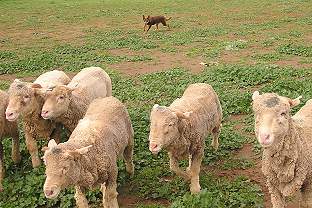 Libby showed wonderful distance and natural ability even though she has never been around stock.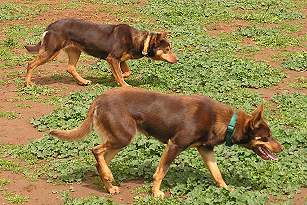 Noonbarra Libby III and her mum, Noonbarra Megan working sheep together.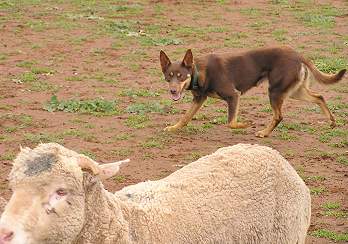 We were delighted at how quickly Libby started working.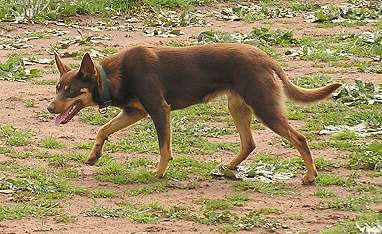 Libby has turned into a beautiful moving Kelpie with a lot of natural inherited working ability.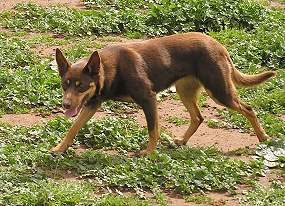 She also showed some nice style when working.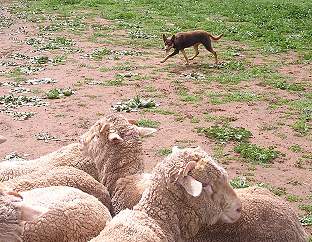 Libby had a great time working the sheep at Noonbarra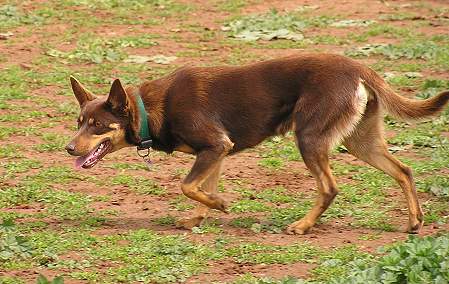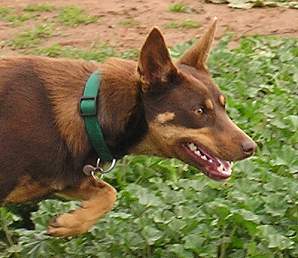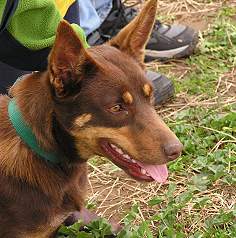 ---
NOONBARRA WORKING KELPIE STUD
NOONBARRA MAX X NOONBARRA TESSA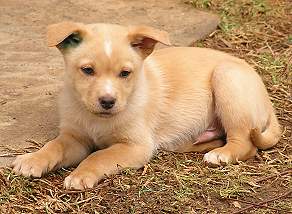 Dear Mary and Steve
Sorry it has taken us so long to let you see how well Ziggy has settled into his new environment. As you can see by the first photo Libby is happy with him (actually a picture can lie) this was the first and last time he was permitted on her bed. It was O.K for him to come into the family but once he thought he should be on her bed it was a totally different story. The only time we have ever seen her cranky, she soon let him know who was boss and he was a little more respectful from then on.
A few weeks later Ziggy decided to move up in the world, dog bedís became below him and he thought that the lounge was more in keeping with his position in life, once again he very quickly got the message that he is not permitted on this and ended up back in his bed. I suppose he thought it was worth a try.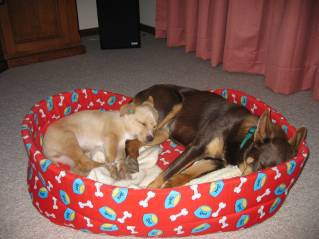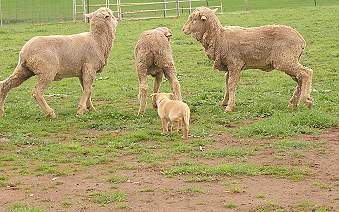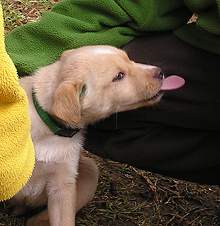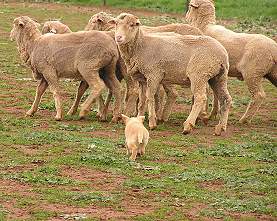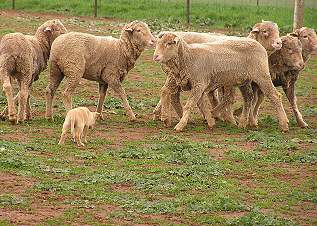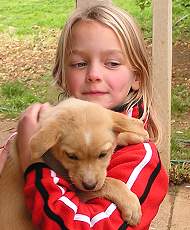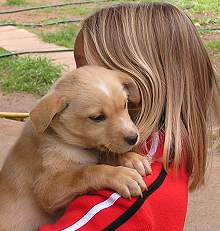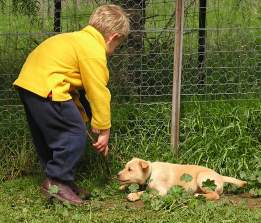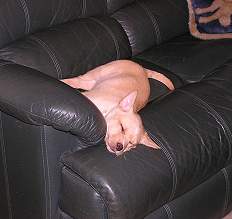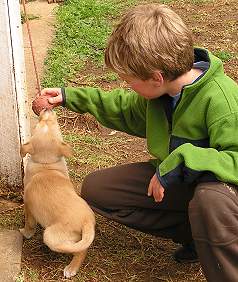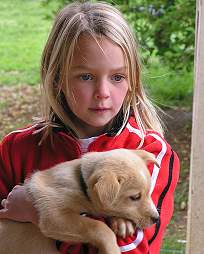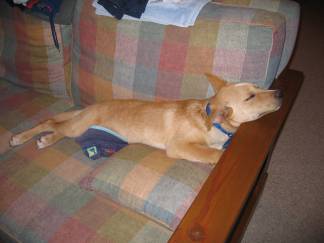 CLICK HERE FOR MORE INFORMATION ON CREAM KELPIES