NOONBARRA LOKI II
(Noonbarra Max X Noonbarra Molly)
Born: 13th March 2004
---
Noonbarra Loki is another lovely natured pup by Noonbarra Max. Loki went as a companion dog to Luke and Ruary in Melbourne.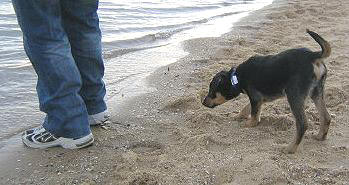 "Hi Mary, Just a quick note to tell you that everything is going well with Loki. We have had great fun playing and taking him to see our world. "
"This week we went for a trip down to our very large local park with my good friend and her dog Cleopatra where he played with all the other dogs and met lots of people (He tries to follow everyone home). Ruary and I also took him down for a walk at a popular shopping strip in Hawthorne where, between all the sniffing and the pats from strangers, we didn't get very far."
"We took him to the beach which was VERY exciting for him. He went up to his belly into the water without too much concern (after growling at it a little first and then having a nasty drink). He chased the big dogs along the beach, but became an observer on the edge when they went swimming. Looking forward to taking him camping."
"This week we taught him to SIT and DROP, but he gets a little too distracted when he has to STAY for anything greater then 20 seconds. I understand that he is an intelligent dog, but I swear it only took me about 1/2 an hour to teach him to sit. There are heaps of things I want to teach him which I am looking forward to. "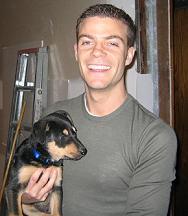 Luke and Loki
"We tried to get him to FETCH the ball in the park, but he has no interest in the ball (needless to say I had to retrieve the ball myself). We have had several toilet accidents inside, but he is getting better very fast and even goes to the toilet in the designated area of the yard. Ruary thinks I am a control freak but I think it keeps the yard free of surprises! Thank you so much for all the information you sent along with Loki, it has been invaluable."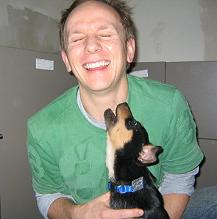 Ruary playing with Loki
"I have included some photos for you of his trips.... We have not heard him cry at all except for yesterday morning for the first time when he was at the back door ready to come in."
Thank you so much for your support, we greatly appreciate it.
Regards,
Luke Summers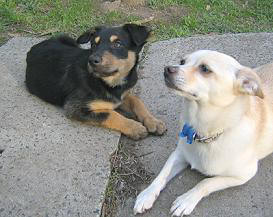 Noonbarra Loki II and his friend Cleopatra.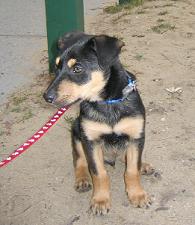 Loki at St. Kilda beach.