NOONBARRA SHEENA
(Karrobar Moss X Noonbarra Abby)
Black & Tan Female. Born: 3rd April 2002
---
Sheena was sold to Japan to compete in Frisbee competition at a National level. This sport has a high profile in Japan. Her owner Shinji Yasuda already has a champion Frisbee dog. We made sure that he got a lovely, friendly puppy who was compliant, outgoing and good with people.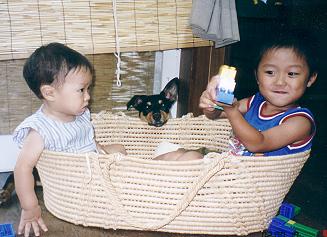 Photo by owner in Japan
---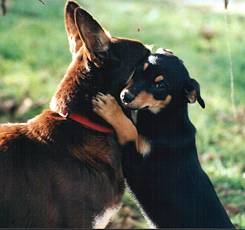 NOONBARRA SHEENA WITH HER GRANDMOTHER, NOONBARRA VALERIE
---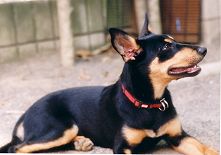 "Hi, Sheena is growing well . She is friendly pup...Now I just play with her using a ball and a mini frisbee. She is enjoying the play very much . After a few days I will start 'leader walk' . Yes she is perfect dog for me." Shinji Yasuda
Hi, Are you fine ? Yesterday I got a Stud Book Certificate from WKC . Thank you very much . Sheena became ten month old , beautiful black & tan female . Her speed , stamina and concentration are wonderful . And very cute ! Now I enjoy to do basic obedience training with her . She likes to chase a Frisbee . Her speed of retrieving is amazing . But it is not yet complete.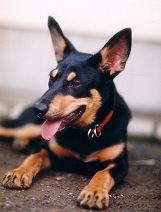 Photo by Owner in Japan
---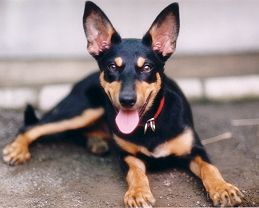 Photo of Noonbarra Sheena in Japan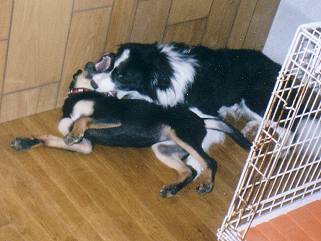 Noonbarra Sheena in Japan playing with her friend.
_________________________________________________________
OCT 2004
"Sheena is an attractive dog and happy . Yes I am competing with her . She shows wonderful run."
Shinji Yasuda Japan
ALSO SEE NOONBARRA LADY AND NOONBARRA SABER IN JAPAN
---