NOONBARRA TESSA
Capree Cobb X Noonbarra Sarah
Black & Tan female Born: 20th April 2002
Owned by Ken Woskitt
---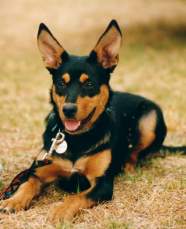 Noonbarra Tessa was sold to Ken Woskitt who is retired and travels quite a bit during the year with a caravan. Tessa gets to ride up front in a Mercedes Benz and then shares the caravan with Ken. They are the best of mates and Tessa has a great life.
We originally sold Tessa to compete in the sport of Arena Three Sheepdog Trials. Ken wanted to travel around and compete. He started training her in this field and she was highly regarded by other competitors but then Ken met some Yard Dog Trialists and he found this a bit more fun and decided to turn Tessa into a yard dog.
We were a bit surprised because Tessa when sold was a dog that worked wide with a lot of style and good calm approach, break out and steadiness and was selected especially for three sheep Trials but like most of our Kelpies she was fairly versatile and took to yard work just as easily.
Ken came back to Noonbarra a few months later for a training lesson and Tessa was superb. We were so impressed with her we were a bit disappointed that we hadn't kept her ourselves. Ken and her had a great rapport and Tessa was a affectionate happy dog that loved people.
Ken has been back to Noonbarra twice with Tessa and each time she worked extremely well. The last occasion was to breed her to Noonbarra Max. This is the same mating as the Noonbarra Max X Noonbarra Lizzie mating we did in 2003 and that was one of the best matings we have ever had. Noonbarra Jackaroo and Nicky have been kept in the Stud.
In July 2004, Tessa had 6 puppies. But what was very interesting was that she had five puppies within a few hours on the Wednesday afternoon and all was fine and then on the Saturday afternoon she had another one. A perfectly formed, healthy pup as big as the others. This was three days later! Unbelievable.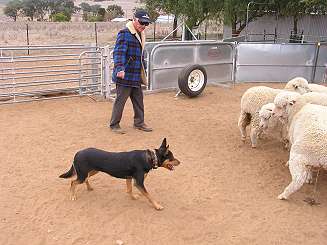 Ken with Tessa at Noonbarra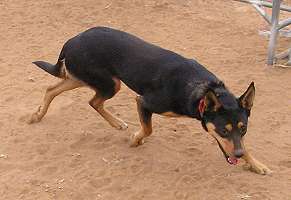 A beautiful stylish Kelpie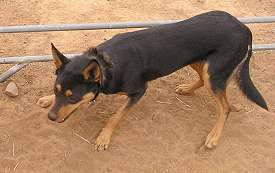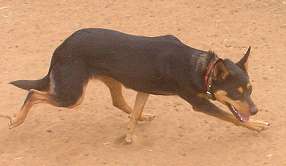 ---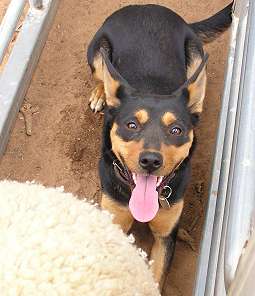 Tessa in the yard race behind the sheep.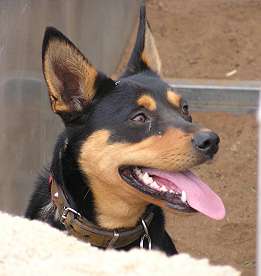 A very happy Tessa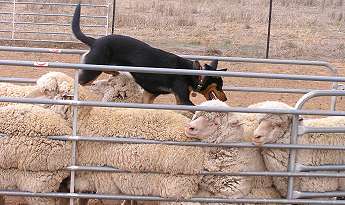 Backing in the yards is just second nature to her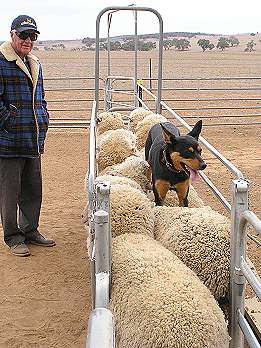 Ken with Tessa in the training yards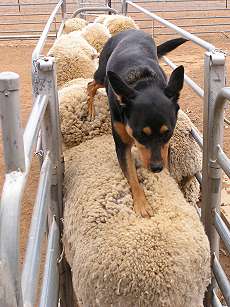 She walks across backs of moving sheep with ease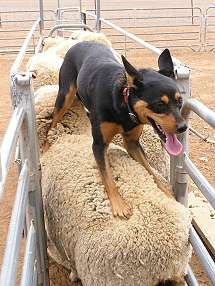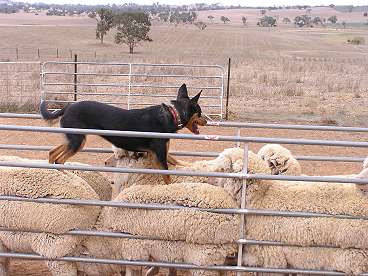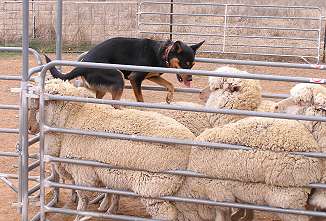 In this photo, Tessa is turning at the top of the race to allow the sheep to run out.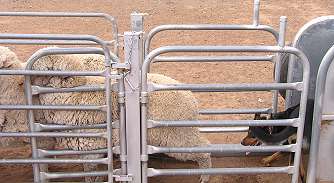 Tessa has some nice force and just the right amount of bark to get the job done.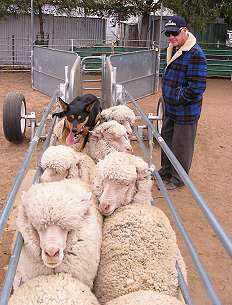 Ken watches Tessa go through her paces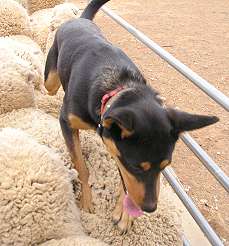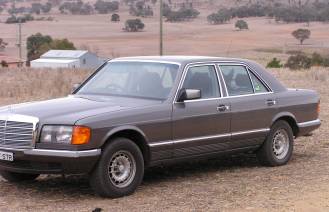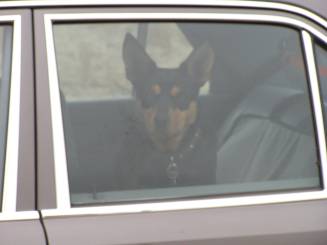 Noonbarra Tessa gets to travel around in style on leather seats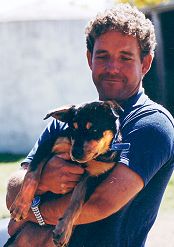 Ken's son with Tessa as a young Kelpie
---