NOONBARRA WORKING KELPIE STUD
Noonbarra Dan IV X Noonbarra Megan
Red & Tan Male Born: 6th Dec 2002
Sire: NOONBARRA DAN (BONORONG REX X NOONBARRA WENDY)
Dam: NOONBARRA MEGAN (NOONBARRA PRINCE X NOONBARRA JUDY)
---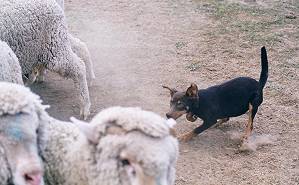 Noonbarra Zack was sold to a 300,000 plus acre property in Western Australia.
This young Kelpie had loads of natural working ability. He was showing good ability out in the paddock on a dozen sheep or so and balancing up well. Very keen and doesn't give up and can move fast. He is built to be athletic.
We have also had him in the stock yards and he is completely at home backing along the sheep in the drenching race. He is an astounding worker for his age and is sure to go on to be something really special.
He has a terrific temperament and is one of the friendliest young dogs you can find and real little larrikin. He loves people and has a real sense of humour and wants to be around us.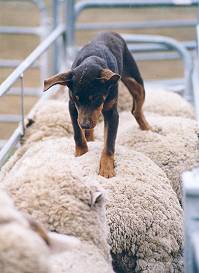 This mating is the combination of two of the best bloodlines in the country. These are fast agile dogs that are well built to run all day in all conditions.
Noonbarra Dan IV has been producing some excellent puppies for us that are very friendly and extremely impressive working dogs. He is well known for producing calm thinking dogs with very good natures and a strong presence on stock.
Dan's stock work is calm and steady with good droving skills. He is very keen and wants to please. Dan is always a big favourite with our customers. We already have Noonbarra Amy, Noonbarra Sue and Noonbarra Debbie in the Stud from three different litters by Noonbarra Dan.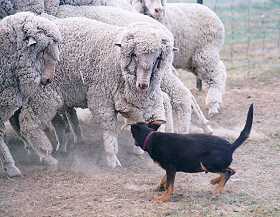 Noonbarra Megan is a full sister to Noonbarra Flash and Dusty. She has beautiful eye and style and nice distance out in the field work but she also has a real love of yard work. One of the best backing dogs we have ever produced. She takes the knocks and comes up smiling. Her work is very much like the old-style Kelpies that could cover and hold sheep well and had break out on a mob and style. We think a great deal of this girl.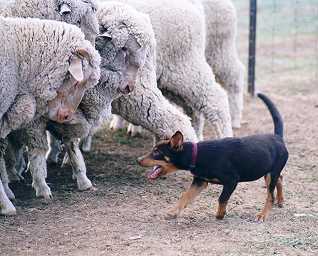 Noonbarra Megan is a delightful Kelpie and her nature can't be faulted. She is very outgoing and friendly and wants everyone to be her friend. She is definitely one of the happiest dogs we own. Megan is calm and quiet inside the house but can go all day in the hardest conditions when working outside. She is also very faithful like most of the Noonbarra Kelpies.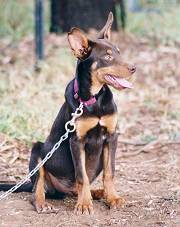 Photo of Noonbarra Zack shortly before flying to Western Australia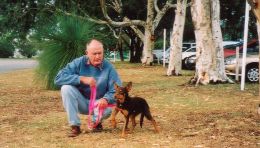 "Dear Stephen and Mary, A very belated note to give you an update on Zac along with a photo of John taken with Zac at Perth airport on the day of arrival. He has settled in very well and is very much part of the family, he is very sweet natured , seems to love everyone and everything.
We have been continually fencing since he arrived and he comes out every day. He learnt very quickly that the Blue esky is a source of food! He always comes when called which is a relief when you are in the middle of such a large place. The first few nights here he found Milo our pet Damara sheep a bit off putting. Milo would stand just out of arm's reach and stare at Zac for quite long periods and Zac would get quite upset ! However as time has passed, Milo has got quite used to him and our two other dogs have accepted him well. We haven't done any sheep work as yet but plenty will come. We had good May rains but nothing since, hoping for some very soon. "
Kind Regards, Judy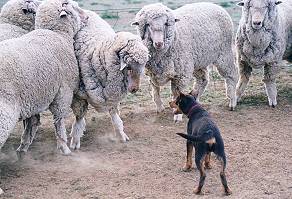 Unfortunately Noonbarra Zack died from multiple snake bites in 2004 while in the house yard of their property. The family was quite devastated by the loss.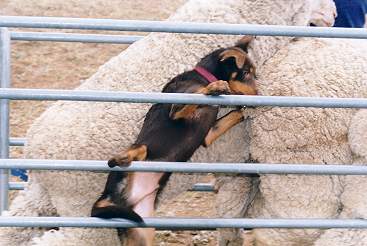 Noonbarra Zack was already doing fantastic work in the stockyards when he was just a puppy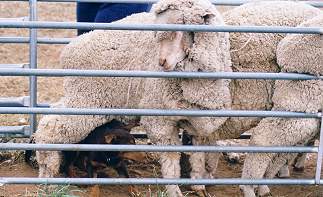 Like his mother [Noonbarra Megan], nothing bothered Zack and he was quite happy coming through the sheep in a race.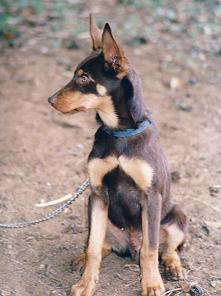 ---
---
CLICK HERE TO SEE INFORMATION ON SIRES AND PRICES
CLICK HERE FOR OVERSEAS SALES
CLICK HERE FOR INFORMATION ON BUYING A NOONBARRA KELPIE
---

EMAIL US NOW
---

INFORMATION PAGE