INFORMATION
NOONBARRA KELPIES
TRAVEL & NOONBARRA KELPIES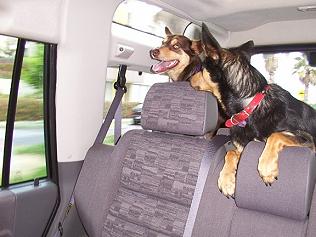 We get many enquiries about travelling with Noonbarra Kelpies and especially puppies. Some people are very worried because they know other dogs that have travelled poorly.
We train all our adult dogs and pups to travel well and we also train them to be crated and to enjoy their own little den. Because of that we have dogs that can be exported all over the world with the minimum of fuss.
We also have customers drive from interstate, sometimes over 1000 kilometres and our pups are very calm and well behaved for these long journeys. Most people are very surprised and pleased and it makes the trip enjoyable for everyone.
On this new page, we will include a few comments from our actual customers about travelling with their Noonbarra Kelpies.
---
NOONBARRA JARRAH
"Hi, Well, if my two children would travel as well as this little fella, I'd be a happy man.

For four hours I only had one little episode. I switched on the air-conditioning and he went straight back to snooze-mode!" - David. Sydney.
---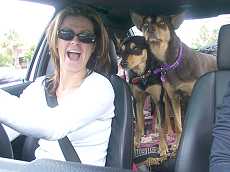 NOONBARRA TALLY AND NOONBARRA DAISY
WITH MORGAN IN MELBOURNE
---
Noonbarra Mani
"We are extremely pleased with her behaviour as well, putting in the time and effort to the 'down stays' that you advised us to do in the beginning have certainly paid off and we think that for her age, she is very obedient, although I must say we put a lot of time and heaps of energy into her training. We take her on lots of dog friendly holidays and its opened up a whole new world for us, we are so happy that she travels well because we often go on long drive holidays, sometimes up to 6 hours at a time and it doesn't faze her at all. She is just our pride and joy." - Vicky and Charlie
Noonbarra Gemma enjoys her travel in the Ute.
---
Noonbarra Nippa
"Just a short e-mail to let you know we arrived home safe. Nippa travelled well for such a long trip for him.
"He has bonded well with the kids and joins in for some fun. He has been on numerous walks with the kids around the streets near home. We took him down to the property we have bought and he had a great time running with the kids through the paddocks, then down to Robyn's parents place for lunch where he meet 2 other dogs and played with them. He went for a ride in the back of a Ute with the kids around their poppy's farm."
Ian & Robyn Townsend
Noonbarra Jackaroo loves to travel
---
Noonbarra Gus
Just a short note to let you know that the 5.5 hour trip home yesterday was completely uneventful – Gus slept for 98% of the time at Helen's feet. ...
Stephen was a little inaccurate when he suggested that it may take Gus a day or two to settle in to his new surroundings – it only took him around 45 minutes to become a real puppy after we arrived home!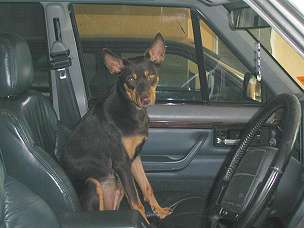 Noonbarra Jett in Darwin, loves a ride!
---
Noonbarra Bonnie
Hello Mary & Stephen, at long last I have gotten around to sending some photos of our Bonnie. She is now just over two years old and is such a constant delight to us both. She has so many funny characteristics and keeps us amused with her antics.
Last year we set out on a five month, 15 000 klm caravan holiday travelling to outback Queensland, across to the NT and then up to Karumba, east to the coast and home. We set out with some trepidation as she was only 12 months old at the time of leaving. She travelled well and met so many people and won quite a few hearts. We left her on occasions at kennels to allow us to go to places she could not go, sometimes it was just for the day, sometimes over night and another time for a week. We think this was good for her.
She is a very social animal - with people and with other dogs. Still loves to swim, the rougher the waves the better. She is still bringing the paper in. Will try to take photos of her doing so and forward to you. She will do anything we ask for a liver treat - but some other times she suffers from 'parent deafness'.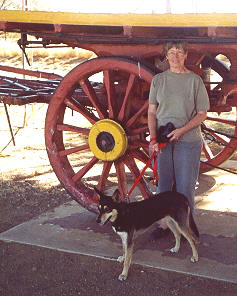 Noonbarra Bonnie with Shirley on their trip
---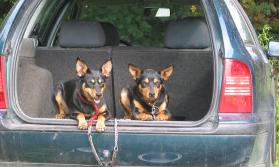 Noonbarra Betje and Crom in Belgium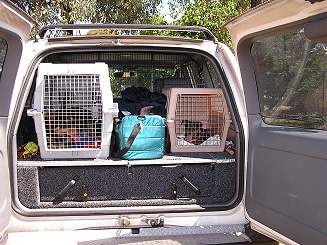 Noonbarra Dusty IV and Noonbarra Tilly travel in comfortable crates
---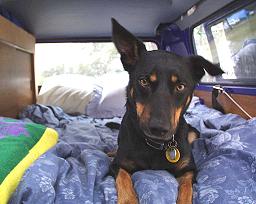 Noonbarra Calis travelling in van
New 3rd edition of this very popular manual designed for all Kelpie owners of every level from raw beginners through to experienced trainers. This practical manual deals with everything involved in owning and training a Kelpie to ensure he grows up to be a well mannered, obedient dog.
The book is not about training on livestock! It deals with general obedience training, socialising your Kelpie, feeding, crating, toilet training, preventing problem behaviour, dominance issues, car travel, bathing, digging holes, stealing food, walking on a lead, coming when called... and much more.
---
Information on Kelpie history & the outstanding Kelpies of the past can be found in the new 2006 edition of our book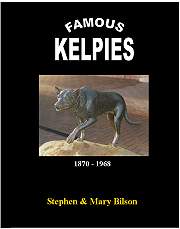 Softcover 136 pages.
CLICK HERE FOR MORE DETAILS & PAYMENT ETC.
---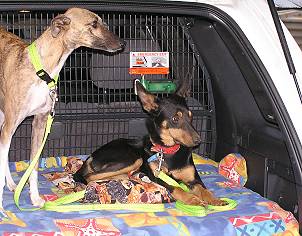 Noonbarra Matilda III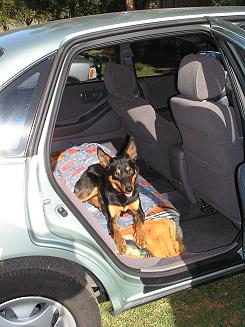 Noonbarra Megan II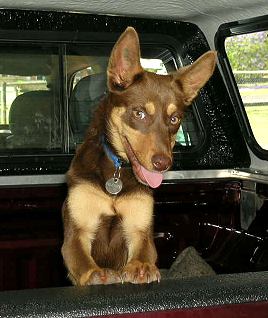 Noonbarra Misty in 2006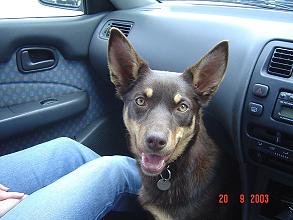 Noonbarra Ruby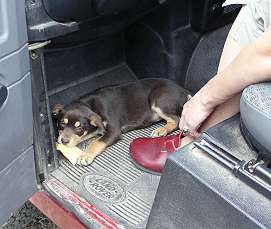 Noonbarra Tashi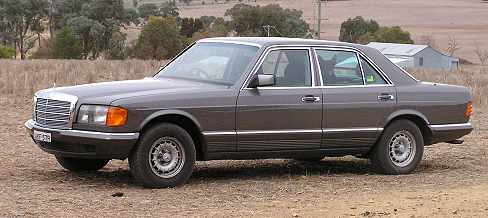 Noonbarra Tessa travels in style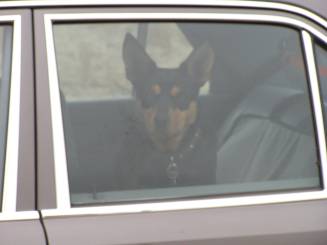 Noonbarra Tessa
---